Misinformation campaign tells VA Dems to vote on wrong day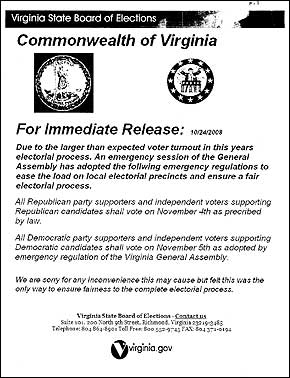 A forged flyer going to voters in a closely fought Virginia congressional district seems aimed at suppressing Democratic turnout on Election Day.

Purporting to come from Virginia's Board of Elections, the flyer says "All Democratic party supporters and independent voters supporting Democratic candidates shall vote on November 5th." That's one day after Election Day.

Whoever is circulating the flyer seems concerned with electing Republicans. The phony information tells "Republican party supporters and independent voters supporting Republican candidates" to vote on Nov. 4, the real day of the election.

The flyer's circulation was first reported in the Virginian-Pilot.
The somewhat official-looking flier - it features the state board logo and the state seal - is dated Oct. 24 and indicates that "an emergency session of the General Assembly has adopted the follwing (sic) emergency regulations to ease the load on local electorial (sic) precincts and ensure a fair electorial process."

The four-paragraph flier concludes with: "We are sorry for any inconvenience this may cause but felt this was the only way to ensure fairness to the complete electorial process."
The flyer was circulated around several locations in Hampton Roads, according to the paper.

Hampton Roads, in southeast Virginia near Virginia Beach, sits in the commonwealth's 2nd Congressional District, where Democrats are in a hard-fought race to unseat incumbent Republican Rep. Thelma Drake, who won re-election two years ago by a margin of just 5,000 votes. The latest poll in the district shows Drake leading by just 5 percent.

It is unclear who is circulating the flyer, but state police are investigating.

Hampton County Virginia also was strongly supportive of Barack Obama's candidacy during this year's primary. Obama took nearly 80 percent of the vote from the county's Democrats; the county's Republicans split their votes between John McCain and Mike Huckabee.

Polls have showed Obama is pulling away in Virginia in recent weeks, and many analysts say it is becoming more likely he will prevail in the state.