Siegelman believes Rove will never testify truthfully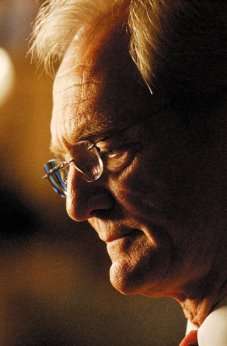 Former Alabama Democratic Governor Don Siegelman is trying to get answers as to why he was targeted for prosecution by the Department of Justice.

In an exclusive interview with Raw Story, Siegelman expresses his concerns about the negotiations taking place between former White House Deputy Chief of Staff Karl Rove and Congress over Rove's failure to appear before the US House Judiciary Committee and testify about Siegelman's case. Rove has denied any involvement in Siegelman's prosecution and has offered to testify to Congress about the matter but has failed to appear when subpoenaed.

Rove received a third subpoena on February 13 relating to Siegelman and his alleged involvement in the firing of US Attorneys, and is scheduled to appear today. The House Judiciary Committee, the White House and Rove are said to be in negotiations.

Siegelman believes that the topic of these negotiations is Rove's demand for immunity from prosecution in exchange for his testimony. He does not believe that Rove would risk showing up and testifying under oath and answer truthfully without immunity.

"Rove will never show up under oath and answer truthfully," Siegelman said. "He can't because he is guilty as sin."

"He should ultimately go to jail for contempt, for perjury or for his abuse of power," the ex-governor added. "He must not be granted immunity. Giving him immunity will just ensure that he will not tell the whole truth."

Siegelman believes, too, that Rove still has loyalists in the Justice Department looking after his interests. "Rove has followers, just like Rove was a follower of Don Segretti in the Nixon White House," noted the former governor.

Rove's attorney, Robert Luskin, vehemently denies that his client was involved in the prosecution of Siegelman.

"Rove is already on the record regarding the Siegelman allegations – they are wholly without merit – and he would obviously like to put this to rest," he told Raw Story earlier this month.

He added, "We're continuing to engage in constructive discussions with the committee" over Rove's testimony, "and I'd hesitate to speculate about what form Rove's cooperation might ultimately take."


Background
The Democratic governor of Alabama from 1999 to 2003, Siegelman became a Department of Justice target shortly after George W. Bush became president in 2001.

The person leading the Justice Department investigation of Siegelman, starting in 2001, was Bush's newly-appointed US Attorney for the Middle District of Alabama, Leura Canary. During the 2002 gubernatorial election, Canary's husband, Bill Canary, became a campaign advisor for Siegelman's opponent.

Rove and Bill Canary had worked for many years together running judicial campaigns in Alabama.

In 2007, a Republican opposition researcher for the Riley 2002 gubernatorial campaign came forward with startling allegations.

The whistleblower, Dana Jill Simpson, alleged that during a 2002 telephone conversation among Bill Canary, Governor Riley's son Rob, and Riley campaign aides, Canary had said that "Rove had spoken with the Department of Justice" about "pursuing" Siegelman and had also advised Riley's staff "not to worry about Don Siegelman" because "'his girls' would take care of" the governor.

The "girls" Bill Canary allegedly referenced were his wife, US Attorney Leura Canary, and Alice Martin, another 2001 Bush appointee who was the US Attorney for the Northern District of Alabama.

Simpson testified about these allegations under oath in front of the House Judiciary Committee in 2007.

In 2004, Martin and her office brought bribery charges against Siegelman and several others. The judge on the case threw out all of the charges for lack of evidence and held an Assistant US Attorney in Martin's office and others in contempt of court.

In 2005, however, Canary charged Siegelman with 32 counts of bribery and other alleged crimes relating to the bribery of public officials.

Despite allegations of jury tampering, the judge's ties to Rove and Bill Canary, Siegelman was convicted on seven of the 32 counts. He was sentenced to seven years in prison and denied bond while he appealed his case. After questions surfaced about his prosecution, Siegelman was released on appeal in April 2008.


Interview
Larisa Alexandrovna: Governor Siegelman, we have seen the back and forth between Congress and Karl Rove for quite some time now. Adding to that, the White House has now gotten involved in asking for Rove and Congress to reach an agreement on Rove testifying in front of the House Judiciary Committee. What do you make of the recent developments and do you see hope in your case?

Don Siegelman: I don't think [Attorney General] Eric Holder has control over DOJ yet. Don't forget Rove had eight long years to get his people in place. The DOJ has been part of the problem and has been responsible for much of the cover up and delays in the Judiciary's attempt to get to the truth.

LA: What do you mean by his people?

DS: Rove has followers, just like Rove was a follower of Don Segretti in the Nixon White House. Rove has his admirers, young Federalist Society want-to-bes, people who have done and who will do his bidding in his absence.

LA: What compromise do you think Rove is seeking? I have heard rumors of immunity in exchange for his testimony or he won't show up at all.

DS: Rove will never show up under oath and answer truthfully. He can't because his is guilty as sin. He should ultimately go to jail for contempt, for perjury or for his abuse of power. He must not be granted immunity. Giving him immunity will just ensure that he will not tell the whole truth.

LA: Wait, are you saying that you know he is seeking immunity from prosecution in exchange for testimony?

DS: Of course Rove is seeking immunity! That's why he has a good criminal lawyer negotiating for him.

LA: What do you make of Rove's attorney Robert Luskin's statement that with regard to you and your case, his client won't seek Fifth Amendment privileges?

DS: Rove will never testify under oath about my case. He will try to get immunity, not show up, lie or take the Fifth.

LA: Have you considered a civil suit?

DS: I just want the truth to be told. I will keep fighting to restore justice in this country and to preserve our American democracy. It must start with the truth and holding accountable those who abused their power for political purposes.

LA: Yes, but what if Congress continues to hold no one accountable. Then what? What I am saying is, do you see a civil suit as a viable alternative for getting at the truth?

DS: A viable civil suit would need to come after Congress forces discovery of documents and testimony.

LA: Let's talk about the concept of Executive Privilege. You are an attorney and perhaps I do not fully understand this concept, so I am interested on your take. Rove is being asked to provide testimony about conversations with officials in the Department of Justice, and others, some not even in government about your case and other alleged political prosecutions and US Attorney firings. My understanding is that Executive Privilege relates only to conversations with the President and only under certain conditions. Is my understanding accurate?

DS: The US Supreme Court was clear. Executive Privilege does not protect anyone from a Congressional investigation of a crime and secondly it covers military and diplomatic secrets; it covers matters where the president of the United States is involved. It does not cover or protect the kinds of abuse that Congress is investigating.

LA: Then if the law is clear, then what is there to negotiate and why is Rove simply able to blow off a subpoena? If I were subpoenaed, I would have to show. If you don't show, you get arrested. I don't understand why there need to be negotiations. Is it because they want his testimony and can only get it if they negotiate?

DS: [Yes, simply] Rove is seeking immunity [from prosecution].

LA: Do you have faith in the new Attorney General, Eric Holder? What about in the new White House counsel?

DS: I have faith in the people. If the heat stays hot, the right actions will follow from the DOJ and the White House. We must keep the pressure on.

LA: What do you feel are the implications if Obama fails to act?

DS: President Obama is a good man, a smart man. He knows what is at stake. We must restore justice and take steps to preserve our democracy before we can safely move forward.

LA: What do you feel he can do directly that would help restore justice, as you see it?

DS: Attorney General Holder needs just to be the good people's lawyer that he is: order his subordinates to cooperate with Congress and stop the stonewalling that was done under Bush, Rove, and [former Attorney General, Alberto] Gonzales. Turn over documents and offer DOJ employees to House Judiciary Chairman Conyers for questioning.

LA: You allege that you were the victim of a series of break-ins during the period in which you were being investigated. Others in similar cases have told me similar stories. There is the fire, arson, that destroyed the home of the whistleblower in your case. Have you been approached by anyone, agency that is, who is actively investigating this?

DS: Surely you didn't expect the FBI working under Bush and Gonzales' appointed US Attorneys to investigate anything that might connect the dots between here and Washington?

LA: No one has even approached you to ask about it?

DS: No [they have not]. The FBI has been tainted by this scandal. They have an internal mess to clean up. President Obama and Attorney General Holder need to make it clear that they expect the agency to get its house in order. There are some who need to be disciplined. Some crimes were ignored while Democrats were pursued ruthlessly, without regard to constitutional safeguards.

LA: What do you want Congressman Conyers to specifically ask Rove about under oath? About which people and relationships?

DS: His relationship with Bill Canary, [US Attorney for the Middle District of Alabama] Leura Canary, [US Attorney for the Northern District of Alabama] Alice Martin, [Republican Senator from Alabama] Jeff Sessions, [Republican Senator from Alabama] Richard Shelby, Judge Mark Fuller, former Alabama Attorney General Bill Pryor, [former chief of the public integrity section of DOJ] Noel Hillman.

LA: Why do you think Conyers is not calling Bill Canary, Leura Canary, and others in to testify, given that they would be far easier to get into deposition as they have no claims of any sort of privilege. Wouldn't that be easier and put pressure on Rove to have to appear?

DS: Well I believe in John Conyers. I believe he is determined to get at the truth. I do hope that others who were in Rove's chain of command will be called to testify.

LA: Let me ask you about another case that is similar to yours. In Mississippi, prominent Democratic trial lawyer and fundraiser Paul Minor was also convicted of seemingly trumped-up bribery charges. Why do you think the media, which has at least given you some coverage, will not mention the other cases?

DS: I think it is just too much for people to believe that this nation would be involved in stealing elections, going to war under false pretenses, using torture and illegal wiretaps to get information or that the DOJ would be used as a political weapon to win elections. People just don't want to believe those things about the country that they love.

LA: Do you think we need to pass laws, as we did after Nixon's abuses of power, that would deal with these types of alleged abuses?

DS: Yes, after we investigate the crimes.

LA: Do you think the Congressional Democrats have failed you, the rule of law, and so forth?

DS: I have been uplifted by the spotlight of the national media and Congress's investigation. It's time for the Republicans to stop being part of the problem, stop protecting Rove, and time for them to step up and work with John Conyers in his effort to get at the truth.

LA: Finally, I wanted to ask what if there is an issue between you and Alabama Congressman Artur Davis? He seems to be pulling back from supporting you. (Davis recently left the House Judiciary Committee and told NPR journalist Gwen Ifill for her new book that Siegelman's case will fade from view by next year). If he is, do you know why?

DS: I thank Congressman Davis for all he has done for me and for trying to get at the truth. Congressman Davis is embarking on a very arduous journey and one that will require his full attention. He is trying to make sure that he can do the job he was elected to do and make sure that he gives this upcoming race for Governor his best shot.

LA: In other words, he has to distance himself from this scandal, no matter how justified he thinks you are in seeking justice for what was done to you?

DS: No, I think he just wants to stay focused on his immediate goal of winning as governor.

LA: Governor, one more question. What is the status of your appeal with the 11th Circuit Court of Appeals?

DS: Waiting on their ruling.

LA: Thank you for your time.

####

Larisa Alexandrovna is managing editor of investigative news for Raw Story and regularly reports on intelligence and national security stories. Contact:

[email protected]

.


RELATED ARTICLES:

Part One – The Political Prisoner

Part Two – Exclusive interview with jailed governor's daughter, Dana Siegelman

Part Three – Running Elections from the White House

Part Four – How Bush pick helped prosecute top Democrat-backed judge

Part Five – Mississippi Justice: Bush US Attorney targeted my wife, supporters and friends

Part Six - Break-ins plague targets of US Attorneys

Part Seven - Justice for Sale: How Big Tobacco and the GOP teamed up to crush Democrats in the South

Alabama station drops 60 Minutes expose on Don Siegelman prosecution

Interview with Dana Jill Simpson and alleged Rove smear campaign

Justice Department investigating two US Attorneys for political prosecution

Jailed governor Siegelman says Rove subpoena 'restores people's faith in democracy'




Get Raw exclusives as they break -- Email & mobile