USA Today runs ad for dubious AIDS charity two days after it was exposed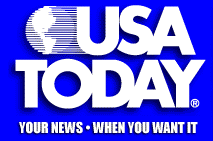 USA Today has apparently chosen to run an advertisement for a sketchy AIDS charity two days after the organization was exposed for running bogus statements about HIV and its history, RAW STORY has found.

The ad, which flies over the newspaper's home page (pictured below), links to a charity that just two days ago claimed that HIV could be prevented by using birth control pills. An ad also recently appeared on the front page of The New York Times website.

The Center for AIDS Prevention appears dubious at best. An investigation of the group by ProPublica published on Tuesday found that the group's founder has ties to a for-profit company that marketed herbal remedies as a replacement for anti-retroviral therapy, which is used to control the HIV virus.

Moreover, they found that the charity had hawked false information about the transmission of the disease on its website, which at the time of publication contained the suggestion that birth control pills prevented the spread of HIV. That claim was taken down after the ProPublica expose.

And despite running a flyover ad on the front page of USA Today and the Times, the group's founder claims it's just part of "a little fundraising campaign to pay the rent."

Originally, the charity had also claimed on their site a history of more than two decades fighting AIDS -- an allegation that was demonstrably false.

"The center's own financial and legal history is, at best, questionable," ProPublica's Christopher Weaver wrote. "So far, the ad campaign has fallen well short of its "six-figure" fundraising goals, according to Lomax Burnett, the Center for AIDS Prevention's chief fundraiser. The center's tax filings with the IRS were available for 2006 and 2007, and they show no revenues, expenses or assets. Steve Neely, the center's director, said those were the first he'd ever filed on behalf of the charity."

Weaver's full expose can be read here. An update, published Thursday, shows how the group changed their website after his original story.




Correction: Due to an editing error, an earlier version of this story referred to the name of the ProPublica author incorrectly. His name is Christopher Weaver, not Christopher Neely



Get Raw exclusives as they break -- Email & mobile