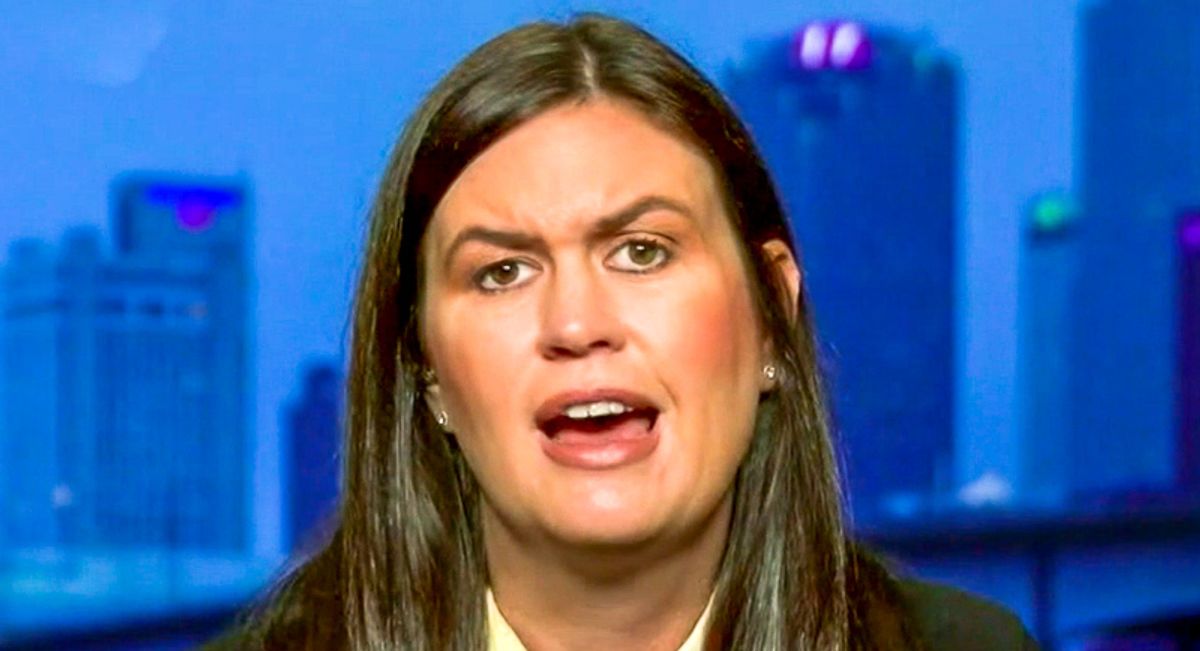 Sarah Sanders appears on Fox News (screen grab)
On Monday, confirming reports initially circulating on Sunday evening, former Trump White House Press Secretary Sarah Huckabee Sanders released a video announcing her candidacy for governor of Arkansas, loaded to the brim with red meat for the pro-Trump base.
"I took on the media, the radical left, and their 'cancel culture,' and I won," Sanders said in the video. "As governor, I will be your voice, and never let them silence you."
I'm in —> https://t.co/8bmfl3ZPgp

Watch ⬇️ pic.twitter.com/khDPEk0orU
— Sarah Huckabee Sanders (@SarahHuckabee) January 25, 2021
Her announcement prompted derision from commenters on social media, with many people pointing out her infamous propensity to tell obvious, provable lies from the White House briefing podium.
This should be interesting. You will fail in spectacular ways.
— Ranger's Dad (@_mahnke) January 25, 2021
"I took on the media, the radical left and their 'cancel culture,' and I won."

Sanders admitted to investigators she gave false info during briefings.
Trump announced Sanders' departure in 2019. https://t.co/63MsxdF89T
— Austen Bundy (@AustenBundyDC) January 25, 2021
Oh yes that's just what people need a Governor whos focus is on something that primarily exists on Twitter! Meanwhile, her and her people literally tried to cancel America but go off, they'll buy the stupid you're selling https://t.co/tRIHlczNji
— WhereisLBNYC (@WintersNight18) January 25, 2021
Who the hell in the media and on the left is fixated on "canceling" voices in Arkansas? Most Arkansans have no idea what she's talking about but are wondering what she thinks about the potholes, the schools, and property taxes. https://t.co/XG9ZAnBqp6
— curtis marshall (@wxcurtis) January 25, 2021
Gubernatorial candidate Sarah 2021 claiming she fought "cancel culture" is the same Smokey eyed lying press sec Sarah 2018 who helped cancel Michelle Wolf for really funny, truthy jokes. https://t.co/ea2AYNXvfy
— Butchmasked (@ButchJ50) January 25, 2021
How and what did the former White House Liar and Propagandist "win"? https://t.co/sigftSUAZG
— HawaiiDelilah™ is celebrating President Biden (@HawaiiDelilah) January 25, 2021
You forgot 2nd amendment...but YES!
— Original_Schmid 🐺 (@el_locolobo) January 25, 2021
How does her non-stop grievance create jobs, balance the state budget, improve schools, and provide infrastructure?

You know, the stuff governors actually need to be good at?
— Philip Beckert (@zoobadger) January 25, 2021
Funny how that seems to be working these days.....All of the LOSERS claiming they've won. LOL! It truly boggles the mind.
— Cheyenne Dawne Beach (@GypsyDawne) January 25, 2021
Exactly, JFC. Elected officials aren't supposed to "take on the media" unless, I guess, they are actively promoting lies. This mindset that Trump ushered in, needs to be discouraged, not promoted as some qualification for high office.
— Orange Owl (@orangeowl18) January 25, 2021
Still gaslighting you didn't win anything but you worked for us and all we got was insults lies and then stopped doing your job if people in Arkansas have any sense they will know you'll do the same thing to them as you did in the WH
— Betsy (@collcher2) January 25, 2021
A more honest rollout would be, "As Press Secretary, I lied to reporters daily for Trump. If you elect me
as Arkansas's next governor, I promise to lie to you too."
— Brian Ray (@slimray11) January 25, 2021