---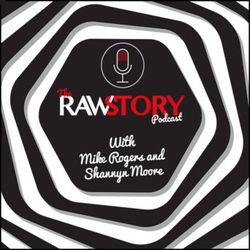 Episode 16: The Exclusive Behind the Exclusive

Shannyn has headed outside. And by outside we mean she's left Alaska to come to the contiguous state. Travel won't stop her from meeting up with Mike and talking about the latest in progressive news. AND, we chat about King George III's long range plan to take over America... and we mean loooooong range.

Episode 15: The Exclusive Behind the Exclusive

Shannyn and Mike welcome independent journalist Daniel Newhauser. Writing for Raw Story, Daniel uncovered the use of South Dakota's state plane by Governor Kristie Noem to attend political events. . We chat with Daniel about the story, but also about the story behind the story. How does investigative reporting work? How are the dots connected? It's an interesting look at how the stories you read come to be. Mike and Shannyn also talk about the first days of the Biden Administration, and Trump's attacks on, shockingly, Republicans.
Episode 14: 58 Steps

Biden is President and breaking news is the information coming from the Trump impeachment trial (Round 2). We talk about the latest about Lin Wood, the attorney even team Trump thought was too crazy to be a part of their lies. With the insurrection attempt foiled and the impeachment underway, we also chat about President Biden (nice ring to it, eh?), a plan to really save the USPS, and the division of Jeff Bezos's billions.
Episode 13: Reality vs. Insanity: Ben Jealous of People for the American Way.

Godwin's law tells us that the longer an online discussion goes on, the chance of someone invoking the Nazis is almost guaranteed. But what happens when it's true? Mike and Shannyn talk to People for the American Way president and civil rights leader Ben Jealous about the tactics used by those trying to manipulate and use vulnerable citizens to keep power. We also have our weekly dose of political chat covering everything from Matt Gaetz v. Liz Cheney and Marjorie Taylor Greene v. sanity.
Episode 12: Treasonists, Seditionists & Insurrectionists... Oh, my!

Just when you thought things might be getting back to normal -- Hedge funds are blown up by day traders, members of Congress are meeting with seditionists, and the poison that is Donald Trump continues to infect the nation. Mike and Shannyn speak to Democratic Coalition ( Twitter, website) co-founder and president Scott Dworkin (Twitter, podcast @DworkinReport) about the organization's work in exposing behind the scenes stories necessary to maintain a democracy.office. We take a deep dive into crazy Congresswoman Marjorie Taylor Greene and the newest tapes exposed by the Democratic Coalition.
Episode 11: Wow, we're in charge... or are we?

Shannyn and Mike talk about breaking news under the new Biden administration. We'll talk about President Biden's press conference and at what exact moment we realized adults were in charge again. We cover the covid vaccine scene and steps Democrats need to take now that we are in control (Hint: do not let Mitch McConnell act as if he is Majority Leader). David Levinthal, Senior Washington Correspondent for Business Insider joins the conversation to talk about the post-Trump media landscape and legal options to hold the former president accountable for his crimes. (You can find David on Twitter at @davelevinthal). Mike and Shannyn will also chat about the 17 Executive Orders signed by the President on his first day in office.
Episode 10: Impeachment, Insurrection and Insanity

In a special live-to-tape episode covering the day-to-day changes in Washington, Mike and Shannyn talk about the first President in history to be impeached twice, 20,000 troops on the ground in DC, Congressmembers aiding and abetting insurrectionists, and the right wing funders behind the operation. We welcome Lauren Windsor of American Family Voices to the show to talk about the funders of the modern conservative movement and the organizations they support. You can follow Lauren on Twitter at @lawindsor and hear her at theundercurrent.tv. Visit projectveritas.exposed to see her work on exposing right wing players and their deceit..
Episode 9: Do We Reconstruct the Nation?

At this time of great strife, Shannyn and Mike talk to Professor Melissa Harris-Perry about the treasonous insurrection at the US Capitol. We'll also cover developing stories, including Speaker Pelosi's demand the Cabinet invoke the 25th Amendment and the aftermath of Georgia elections... Finally, Melissa and Shannyn talk about their mutual love of... oh, just listen and you'll find out.
Episode 8: 20/20 Vision: Looking Back at This Crazy Year

Mike and Shannyn talk to two special guests today about changes over the past year and the damage Trump can still inflict on America with less than a month left in his term. Michelangelo Signorile joins us to talk about his end of year retrospective on Trump (Substack) and to talk about hope for the Biden administration when it comes to LGBT equality post-Trump. We chat with Florian Schulz (Instagram) about Trump's effort to turn open the Arctic National Wildlife Refuge to oil exploration. We also talk with Florian about his work documenting wildlife and the environment throughout Alaska.
Episode 7: Trump, Osteen, and that Muslim guy…

Shannyn and Mike welcome Sirius XM's Dean Obeidallah to the show to talk about his interview with the President's niece Mary Trump and his experience as the first Muslim host of a coast-to-coast radio show. We touch on talk about the religious community's abuse of the Payroll Protection Program and how right-wing religious leaders have manipulated the masses. We also talk about GOPers bailing and the reputations they are trying to save. We'll talk about how democracy is on the edge and but for a few lucky events, the election truly could have been stolen.
Episode 6: When you thought Election Day had passed…

Over a month has passed since the election and Donald Trump still refuses to acknowledge his loss. While Trump is acting like a petulant child, the Georgia Senate races heat up. We talk to Brad Friedman, one of the nation's preeminent experts on election fraud. Brad breaks down all the talk about Dominion Voting, Diebold, and Republican efforts — wait for it — to subvert Democracy. We also chat about Biden's cabinet diversity and other news stories of the day. Find Brad at BradBlog, The BradCast, The Green News Report, and @TheBradBlog.
Episode 5: Georgia on My Mind

Join Mike and Shannyn as they talk about the upside down race for Senate in Georgia. With Republicans increasingly angry with US Sens. Kelley Loeffler David Perdue. We welcome Justin Horwitz of the Really American PAC to talk about their unique… and successful messaging. We also take a look at the transition and whether or not Trump will leave the White House when the law says he must.
Episode 4: A 'stolen' Senate race and the legal landscape
Deep breaths. It's now Election Day+9 and Trump has still not accepted the will of the American people. Join Mike and Shannyn in conversation with former Federal prosecutor Renato Mariotti ( Twitter) about the legal status of the presidential race. Investigative reporter and best-selling author Greg Palast (Web, Twitter) joins us to explain how fraud has changed the result of two elections… in the same state! We'll talk to Greg about The Purged: The Vanished Voters of Trump's America. Watch the film here:



Episode 3: Florida Redux?
It's Election Day+2 and predictions are looking good as Mike and Shannyn chat with Yahoo! News's chief investigative correspondent, Michael Isikoff. What does a post-Trump era look like look? Will Trump leave the White House? Will he attend Biden's inauguration? If you thought 2000 was close, fasten your seatbelt, it's going to be a bumpy road until the end of this election. With results coming in by the minute and vote totals swinging wildly, we'll take a look at the future under all the scenarios.
Episode 2, Mark Cuban: Trump as Political Chemotherapy
Episode 2, October 29, 2020: Listen to today's episode during which Shannyn and Mike give their latest take on progressive news and spend some time chatting with Shark Tank star and owner of the Dallas Mavericks, Mark Cuban. We'll talk about the theft of a Supreme Court seat and what Roberts should do to save his Court. Mark, Shannyn and Mike chat about solutions to political problems of the day, the ways we conduct elections and why Mark holds a special place in the hearts of Alaska kids.
Episode 1: Carter vs. Trump
Join Mike Rogers and Shannyn Moore for the first episode of The Raw Story Podcast. The hosts will kick off with top stories of the week and new ways to look at them. In Correcting the Record, author Jonathan Alter talks about the legacy of President Jimmy Carter. Often misunderstood, many of Carter's accomplishments are unknown. We also talk to Daily Show creator Lizz Winstead from the road where she is engaged in the fight against those who make it their mission to ban abortion. We're warming up the microphones and creating a show we're proud of and one that you will enjoy. Shannyn and Mike will put the stories of the day in a new perspective. And where else will you find out how the price of chicken and how it is connected to the Purdue Pharma settlement?
(The Raw Story Podcast is a production of Raw Story Media and is editorially independent from RawStory.com.)