Don't miss stories. Follow Raw Story!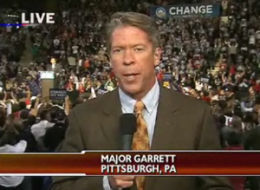 A believer of evolution might think with so many critics out there — liberal, presidential or otherwise — that Fox News reporters would develop thick skin.
But a grammatically challenged Tweet by a user with just two followers managed to unnerve Major Garrett, the Senior White House Correspondent for Fox News.
Rose Marie Starce, Tweeting under the Roestar moniker, complained to Garrett Monday afternoon, "[email protected] Why you can't you be the journalist who wins the big prize awarded by the public and report what really is going on?"
"if you've got such a problem with me, take a hike," Garrett responded.
Unlike former Kansas City Chiefs running back Larry Johnson, Garrett won't find himself unemployed for responding, since "take a hike" isn't close to calling a fan of your team a "fag". But, just like Johnson, Garrett lost his cool in the face of friendly fire.
A quick scan of Roestar's Tweets reveals that she loves Fox & Friends, Glen Beck and Sarah Palin, hates President Obama and is upset that the "global warming hoax" isn't getting 24-7 coverage.
An earlier Twitter comment the day before by Garrett noted that he "appreciate[d] praise and constructive criticism" so conservative Fox fans might want to hold the ammo and Tweet more sycophantically in the future.