Oh, *That's* Why You Call Them Jerkoffs
Don't miss stories. Follow Raw Story!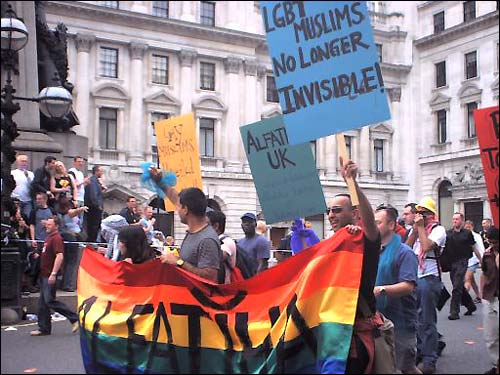 Since Muslims have decided to piss off conservatives by being Muslim on American soil, the inevitable response has finally come: an extended gay joke.
So, the Muslim investors championing the construction of the new mosque near Ground Zero claim it's all about strengthening the relationship between the Muslim and non-Muslim world.

As an American, I believe they have every right to build the mosque – after all, if they buy the land and they follow the law – who can stop them?

Which is, why, in the spirit of outreach, I've decided to do the same thing.

I'm announcing tonight, that I am planning to build and open the first gay bar that caters not only to the west, but also Islamic gay men. To best express my sincere desire for dialogue, the bar will be situated next to the mosque Park51, in an available commercial space.

This is not a joke. I've already spoken to a number of investors, who have pledged their support in this bipartisan bid for understanding and tolerance.

As you know, the Muslim faith doesn't look kindly upon homosexuality, which is why I'm building this bar. It is an effort to break down barriers and reduce deadly homophobia in the Islamic world.
It goes on, but you get the point.
You see? People are angry about something a group of Muslims did. Therefore, it is a perfect and totally proportionate response to do something that you think will totally piss Muslims off, except it's actually just asinine and completely disingenuous. It's like that time your neighbors dropped their leaves on your lawn, so you converted your house into an S&M-themed clothing store called "Fuck 908 Higgins Avenue". Totally rational.
Of course, this has resulted in much glee and pun-based hilarity:
And of course, Twitter is getting into the swing of things by naming Greg's gay bar. Here are some ideas:

Al Gayda — Chuck_Dizzle

The Velvet Sword, Jihard and/or Dome of the Cock — AceofSpades

United 69 — Iowahawkblog

Ba'ath House — DuchessRebecca
Now, I'm not particularly offended that these people are assembling to engage in the world's biggest gay joke ever, or that they're juvenile assholes. This is America – we were founded on the premise that everyone's allowed to be a juvenile asshole! Megan McArdle is waiting for the outrage to arise:
I am hoping that at least one person will attempt to explain why we should support the mosque near Ground Zero, but not the gay bar next to the mosque near Ground Zero. I would find that very entertaining.
I'm sure she would.
Now, if there's anything wrong with this plan, it's not a gay bar qua gay bar next to a Muslim community center qua Muslim community center. It's that it's a gay bar qua people who are not gay and don't particularly like gay people and don't particularly like Muslims next to a Muslim community center qua Mohameddan obelisk of terror and jihadist victory.
The plan only works for the builders of the gay bar if they think that Park 51 is being built as a disingenuous effort to piss off specific sensitive groups of people, which makes this simply a mirror effort to (you guessed it) piss off specific sensitive groups of people. Oddly enough, this makes it eminently worthy of criticism if you believe that the community center is being built for one set of clearly stated reasons and the gay bar would be build for another set of clearly stated reasons that are based on a deliberate misunderstanding of the former set of reasons. (This isn't even to mention the fact that another group, gays and lesbians, gets their identity appropriated for a cheap and insulting political stunt. If it works, the best that's happened is that a bunch of straight Christian Republicans have made life harder for Muslims, gays and lesbians at no actual risk or harm to themselves. Well done!)
Personally, I just think if you can get together the money to build a fake gay bar just to piss off a bunch of people who are getting together to take Pilates classes, you've got enough money to start an actual business that would make actual money and employ actual employees. But fuck it, we're not in a recession, and I know nothing about business. Fake gay bar it is.
UPDATE: Glenn Beck clip on this under the fold. Swear to God.