Outdoing even himself, Rush Limbaugh says Obama looks 'demonic'
The ever-quotable Rush Limbaugh has fired a new zinger, this time at President Barack Obama.
The conservative talker averred that Obama looked "demonic" in a photograph featured on the conservative website The Drudge Report.
"There are some pictures on the Drudge Report," Limbaugh said, referencing the conservative website. "I'm gonna hold them up here to the Dittocam. I've got too many things to do here, but, folks, these pictures, they look demonic. And I don't say this lightly. There are a couple pictures, and the eyes, I'm not saying anything here, but just look. It is strange that these pictures would be released. Snerdley is looking at them and … see what I'm talking about? It's very, very, very strange. An American president has never had facial expressions like this. At least we've never seen photos of an American president with facial expressions like this."
The photograph follows.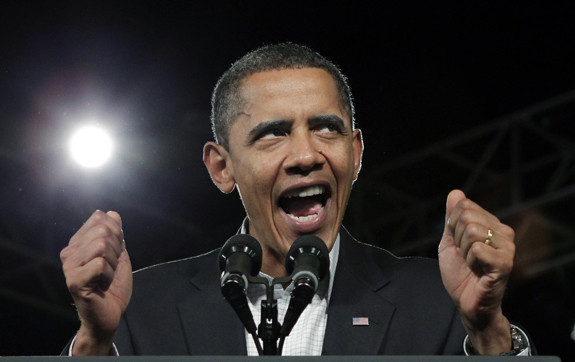 Earlier this month, in a polemic almost worthy of Ayn Rand herself, Limbaugh declared that "some people are just born to be slaves."
But that's fine, Limbaugh explained, because "everybody's needed for something."
"There is no equality," he said on his radio show. "You cannot guarantee that any two people will end up the same. And you can't legislate it, and you can't make it happen. You can try, under the guise of fairness and so forth, but some people are self-starters, and some people are born lazy. Some people are born victims. Some people are just born to be slaves."
Limbaugh seemed to be echoing the "objectivist" philosopher Ayn Rand's belief that only a few gifted people are capable of moving society forward, while all others must depend on the efforts of the elite few for their well-being.
"Some people … are born and they're not going to take anything from anybody," Limbaugh continued. "They're going to be totally in charge of their lives. They're not going to sit around and wait for something. They're going to make it happen. You can see this throughout the American population."
With earlier reporting by Raw Story.
Trump fans smacked down for whining the president is being called a 'racist' in righteous rant
Addressing complaints from both White House officials and fans of Donald Trump that they are tired of hearing the president called a racist, "AM Joy" regular Tiffany Cross fired right back saying they better get used to it.
Following clips of White House adviser Stephen Miller attempting to explain the White House's policies on immigrants, the co-founder of The Beat DC stood up for labeling the president as a bogot.
"It's accurate, you have to call a thing a thing," she began. "I think that's part of the reason why we got here because in 2015, when he kicked off his campaign with a bunch of racist rhetoric, there was a hesitancy to call it out. And there was the first two years of his presidency when he introduced ridiculous white supremacist policies and would follow that up with additional racist rhetoric and we have an echo chamber of people repeating these things, so we have to call a thing a thing."
Before Trump eyed Greenland: Here's what happened last time the US bought a large chunk of the Arctic
Editor's note: Reports that President Donald Trump has urged aides to look into buying Greenland make us think of the last time the United States bought a major territory in the Arctic: the purchase of Alaska from Russia in 1867. Two years ago, we asked William L. Iggiagruk Hensley, a visiting professor at the University of Alaska Anchorage, to write about that historic sale.
'That is ridiculous': Andrew Gillum obliterates Santorum for claiming guns aren't 'problem' in mass shootings
CNN contributor Andrew Gillum called conservative pundit Rick Santorum "ridiculous" on Sunday for suggesting that guns are not the problem in mass shootings.
During a CNN discussion on gun control, Santorum criticized calls from Democratic candidates for the government to buy back assault-style weapons in addition to banning them.
"The truth is something has to give," Gillum said. "The stranglehold that the NRA seems to have over Congress, over Washington, D.C., in my opinion, is insane. How can we put the priorities of one interest group above the safety, the security of the American people?"