Revealed: Rand Paul reverses on core campaign pledge before even taking office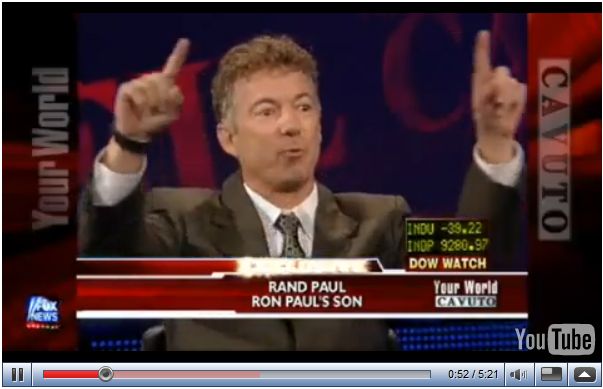 Money talks.
Rand Paul, the next Republican US senator from Kentucky, has done an about-face on earmarks even before taking office.
In an interview published over the weekend with the Wall Street Journal, Paul signaled a major backtrack on a core campaign promise: cutting federal earmarks. The promise is a hallmark of Republican candidates of all stripes, who advocate that a smaller government is in the national interest and that money doled out for special progress is tantamount to backroom dealing.
"In a bigger shift from his campaign pledge to end earmarks, he tells me that they are a bad "symbol" of easy spending but that he will fight for Kentucky's share of earmarks and federal pork, as long as it's doled out transparently at the committee level and not parachuted in in the dead of night," Paul told the Journal for an interview published Saturday.
"I will advocate for Kentucky's interests," he added.
The comments markedly diverge from a promise still live on his campaign website, titled, "Earmark ban coming?"
"Rand Paul has made a ban on wasteful earmark spending in Washington D.C. one of the key points of his campaign," Paul's campaign wrote on his website. "He has supported Sen. Jim DeMint's vocal support for an earmark ban and he supports news that House Democrats are even coming around on the idea of a partial ban."
"The Tea Party movement is an effort to get government under control," Paul is quoted as saying on his site. "I'm running to represent Kentuckians and to dismantle the culture of professional politicians in Washington. Leadership isn't photo-ops with oversized fake cardboard checks. That kind of thinking is bankrupting our nation. Senator DeMint understands that and has taken action to stop it."
Paul's predecessor, Sen. Jim Bunning, requested $21 million in earmarks in his last two years in Congress alone, including more than $10 million for a "Laser Phalanx" in 2010 and "Next Generation Phalanx with Laser Demo" in 2009. (Bunning was recently in the news for holding up an unemployment bill.)
The Journal interview also provides more insight into Paul's thinking, and how his approach to government differs from his father, Rep. Ron Paul (R-TX), a veteran congressmember in the House.
"Father and son, age 47, have different styles," the Journal's Matthew Kaminski writes. "Asked what he wanted to do in Washington in a Wednesday morning television interview, the senator-elect said that his kids were hoping to meet the Obama girls. He has made other concessions to the mainstream. He now avoids his dad's talk of shuttering the Federal Reserve and abolishing the income tax."
Kaminski also adds that Paul jokes that Congress shares similarities with the Soviet Politburo, the executive committee that ran communist Russia.
"Next on his docket are term limits," Kaminski adds. "He jokes that the Soviet Politburo saw more turnover than Capitol Hill. He also wants to "sunset" all regulations until approved by Congress. 'Let them write all the regulations they want,' he says. 'They do anyway, but in two years they're gone unless they get voted on by Congress.'"
The Republican senator-elect, despite supporting earmarks for his home state, told ABC News' Christiane Amanpour that he would support slicing military spending.
"You need … compromise on where the spending cuts come from," Paul told Amanpour. "Republicans traditionally say, oh, we'll cut domestic spending, but we won't touch the military. The liberals — the ones who are good — will say, oh, we'll cut the military, but we won't cut domestic spending."
"Bottom line is, you have to look at everything across the board," he added.
"Where, then? Military? Would you cut the military?" Amanpour asked.
"Yes. Yes," Paul replied.
With earlier reporting by David Edwards.
Pilots, including Chesley "Sully" Sullenberger III, tell US Congress more training needed on 737 MAX
US pilots called Wednesday for enhanced pilot training on the Boeing 737 MAX before the aircraft is returned to service after being grounded worldwide following two deadly crashes.
The pilots -- including Chesley "Sully" Sullenberger III, who famously landed a damaged plane on the Hudson River in New York in 2009 -- pushed back against the aviation giant's assurances that pilots will only need to review the 737 MAX modifications in a computer program.
Daniel Carey, president of the Allied Pilots Association, told a congressional panel he was encouraged by changes Boeing made to a flight system seen as a factor in both the Lion Air and Ethiopian Airlines crashes that killed 346 people.
Shelling on American interests threaten Iraq's fine line between Iran, US
A nearly week-long barrage of anonymous shelling attacks on American interests across Iraq are intended to signal Iran's long reach and "embarrass" Baghdad amid spiralling US-Iran tensions, observers say.
The incidents were not claimed but largely originated from areas where Shiite-dominated armed groups loyal to Tehran and deeply opposed to Washington have free reign.
Starting Friday, mortars and rockets have rained down on the Al-Balad and Taji bases, the Baghdad military airport, and a military command centre in northern Mosul -- all sites where US troops and army equipment are present.
Get your fax right: Bungling officials spark Japan nuclear scare
Bungling Japanese officials sparked a nuclear scare after a violent, late-night earthquake by ticking the wrong box on a fax form -- inadvertently alerting authorities to a potential accident.
Employees of the Tokyo Electric Power Company (TEPCO), operator of the Kashiwazaki-Kariwa nuclear plant in Niigata -- where the 6.4-magnitude quake struck -- faxed a message to local authorities seeking to allay any fears of damage.
But TEPCO workers accidentally ticked the wrong box on the form, mistakenly indicating there was an abnormality at the plant rather than there was no problem.