Three Republican lawmakers were accused of violating a federal ethics law through their prolific stock trading, according to complaints filed by a watchdog group Friday.
Sen. Tommy Tuberville and Reps. Pat Fallon and Blake Moore all reportedly failed to disclose dozens of trades worth up to $22 million within the 45 days mandated by a 2012 law called the STOCK Act, which was intended to fight conflicts of interest by lawmakers.
"When members of Congress trade individual stocks and fail to disclose those trades, they break the law and diminish the public's trust in government," the complaints, filed by the nonpartisan Campaign Legal Center, say. The organization also wrote that a recent spate of stock-related misconduct shows that the STOCK Act is not working as intended — indeed, fines for missing required filing deadlines are as low as $200 and more serious lapses are rarely forwarded to the Department of Justice or the Securities and Exchange Commission for criminal investigation.
As Salon reported earlier this month, Fallon also dumped $250,000 worth of Microsoft stock just weeks before the company's high-profile cloud computing deal with the Pentagon, valued at up to $10 billion, was abruptly cancelled. He sits on the House Armed Services Committee's brand new Subcommittee on Cyber, Innovative Technologies, and Information Systems, which has oversight over the deal in question, known as the Joint Enterprise Defense Infrastructure (JEDI) contract.
"The recent prevalence of STOCK Act violations in the House shows that merely the threat of a fine is not deterring members of Congress from breaking the law; real accountability is necessary," the CLC wrote in its complaint.
All three lawmakers told Insider that the trades were executed by financial advisors who buy and sell stocks on their behalf — though the STOCK Act states that each Congressperson is personally responsible for following the law.
The number of ethics complaints related to Congressional stock trading has grown over the last few years — and is one of the rare areas of Washington, D.C. where bipartisanship still reigns. Two Democrats, Rep. Tom Malinowski of New Jersey, and Rep. Sean Patrick Maloney, from New York, also had similar complaints filed against them earlier this year by the CLC and Foundation for Accountability and Civic Trust, respectively.
CONTINUE READING
Show less
Rep. Lauren Boebert of Colorado, a right-wing Republican and prominent member of the "Sedition Caucus," frequently speaks about her upbringing in a family struggling with poverty, describing herself as a "welfare child." Boebert has even blamed the liberal ideals held by her mother as the reason why her family was poor and required government assistance during her childhood.
But both in Washington circles and in speaking to voters in her Colorado district, Boebert has not discussed in detail exactly what circumstances landed the future right-wing firebrand and her mother in this disadvantaged situation. An investigation by Salon suggests that it had less to do with liberal ideology and more to do with her mother's failure to obtain the child support payments to which she was rightfully entitled.
Boebert's mother, Shawn Roberts Bentz, tried valiantly for years to receive child support. — and it appears likely that she and her daughter fell victim to a corrupt phlebotomist, a professional wrestler turned deadbeat dad and a negligent North Carolina child support system that allowed Bentz's case to slide through the cracks.
Boebert has occasionally been asked what role her biological father played in her family's struggles, and has repeatedly declined to answer. Exactly who her father was, in fact, remains officially uncertain: No father's name was listed on her 1986 Florida birth certificate, nor in the local newspaper's birth announcement.
But both Boebert and Bentz apparently believe that her father is Wallace Stanfield Lane, a former North Carolina pro wrestler known in the trade as "Sweet" Stan Lane — and there is significant evidence to back up that theory.
Boebert and her mother believe that Lane may have engaged in fraud regarding a paternity test he took more than 30 years ago that appeared to rule him out as Boebert's father.
Karen Weary, the North Carolina phlebotomist who took Lane's blood sample in July of 1990, was convicted of switching samples in a different case. Once child support services in North Carolina found out about this, they were mandated to notify everyone involved in Weary's cases and retest all the samples she had taken that excluded fathers.
But Boebert's mother was never notified, and Lane was never retested.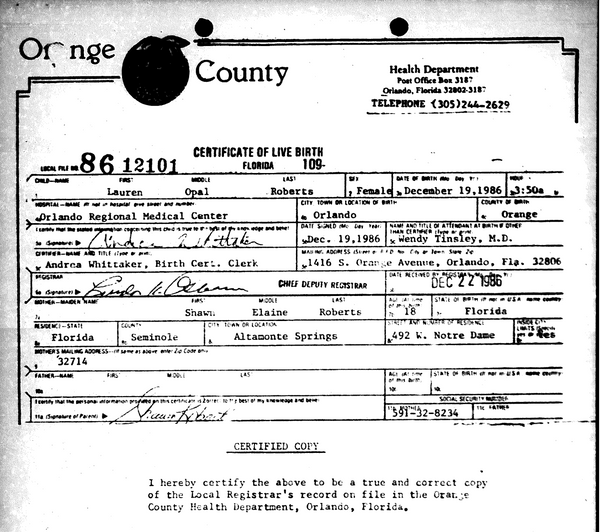 (Record above obtained by Salon.)
As her birth certificate makes clear, Lauren Opal Roberts was born in Orlando, Florida, on Dec. 19, 1986. Her mother, Shawn Elaine Roberts, was 18 years old and unmarried. As mentioned above, no father was listed either on the birth certificate or in a birth announcement published a few weeks later in the Orlando Sentinel.

(Record above obtained by Salon.)
Two months after Boebert's birth her mother opened a child support case against Wallace Stan Lane, who, under the name "Sweet" Stan Lane was a member of at least two pro wrestling tag teams, the Midnight Express and the Fabulous Ones.
Over the course of Salon's reporting on the matter, MEL Magazine published a detailed report on Lane and the paternity dispute, nailing down many of the details also used in this story. Lane was a prominent professional wrestler who performed several times in central Florida around the time of Boebert's conception in early 1986. He was 33 years old when Boebert was born, and by all accounts was financially solvent. (He also had a reputation in the wrestling game as a ladies' man.)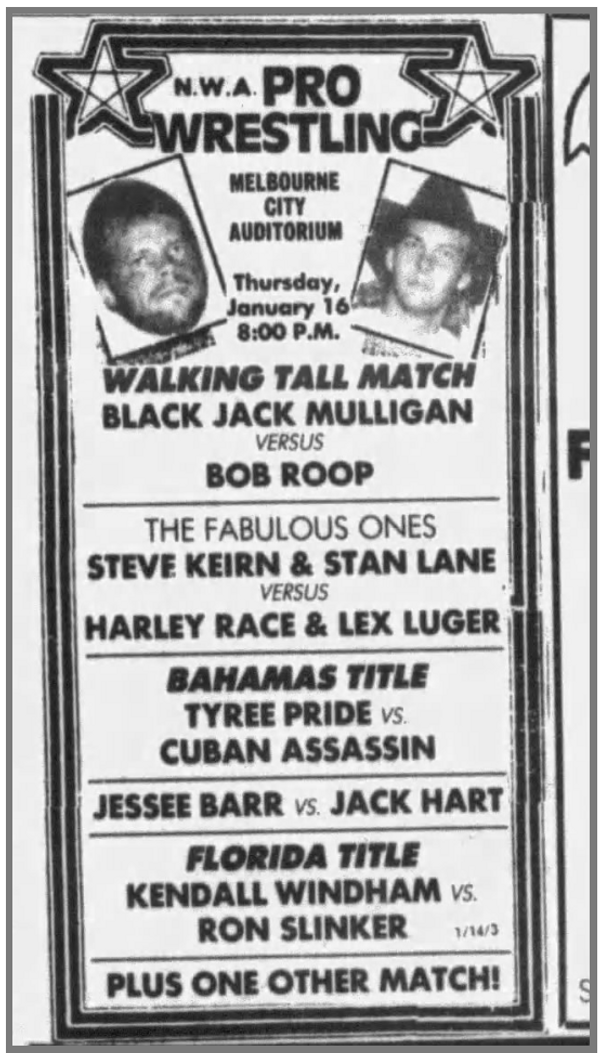 Shawn Roberts' child support case was first filed in Orange County, Florida, where Lauren had been born, but was then moved to nearby Seminole County, where Lane was eventually ordered to pay child support of $100 per week or $430 per month. At the time of the judgment, Boebert's mother was working full-time at a convenience store called Handy Way for $4 an hour, then the minimum wage. Her average take-home check would have been about $650 a month, which even 30-plus years ago was well below the federal poverty line. (The extra $100 a week would have put Roberts and her daughter just above that level, in 1987-88 standards.)
It appears that Lane made few, if any, of those mandated child support payments, although his pro wrestling career continued and there's no evidence he was in financial distress. Lane admitted he had had sexual relations with Roberts, according to court records reviewed by Salon, and Roberts swore in an affidavit that she had not had sex with anyone other than Lane at the time her daughter was conceived.
Roberts finally had papers served on Lane that compelled him to take a paternity test, which he did in the summer of 1990, when Lauren was 3 years old. That test, administered by the above-mentioned Karen Weary, appeared to rule out Lane as the girl's father. So the child support case was closed, and Lane was no longer required to pay Shawn Roberts anything.
That, however, was not the end of the story.
Years later, Roberts apparently learned that Weary was subsequently convicted for taking a $500 bribe from a former NFL player in a strikingly similar case, involving a blood sample collected just two months later than Lane's, in September 1990.
In both cases, Weary collected a sample at the Department of Child Support Enforcement and then delivered it to a company called Genetic Design for testing. This story became big news in North Carolina in 1993 when Weary's corrupt scheme was exposed, but by then Roberts and her daughter had moved from Florida to the Denver area and never learned of it. They also never learned that Genetic Design offered "to retest, at no cost," all samples drawn by Weary that excluded a man from a paternity case. Weary, also known as Karen Best Sherow, died in 2012, before Lauren Boebert or her mother discovered Weary's involvement in criminal blood-sample switching.
In October 2012 Boebert's mother, who by then was known as Shawn (or Shawna) Roberts Bentz and lived in Rifle, Colorado, contacted the North Carolina State Bureau of Investigation to ask for an investigation of Lane, whom she believed was shirking his responsibilities. Records indicate that throughout 2013 Bentz contacted numerous other agencies, including the Mecklenburg County District Attorney, the Charlotte-Mecklenburg Police Department, and court clerks in both Mecklenburg County, North Carolina, and Seminole County, Florida, asking that Lane's case be reopened on the matter. She could not rouse the bureaucracy in any of those agencies to pay attention.
One letter that Boebert's mother wrote to Seminole County Superior Court in 2013 specifically called for a new paternity test. Bentz wrote:
Her father is Stan Lane a former professional wrestler who at that time was a member of the tag team The Fabulous Ones. When Stan learned I was pregnant, he encouraged me to have an abortion and said that the child would be damaged because of the steroids he had taken. … Stan did end our relationship when he learned I was pregnant and soon fled the state of Florida.

Bentz's letter, reproduced below (with some of her personal information redacted), includes a number of other compromising or incriminating details about Lane's 1990 paternity test, including the suggestion by Charlotte newspapers that Karen Weary may have falsified numerous other tests and the fact that the photograph used to identify Lane at the time appeared to be a staged publicity shot rather than a candid portrait. Bentz also included a letter from Cindi Straughn, a cousin of Stan Lane's, who wrote to Lane urging him to cooperate and saying that Straughn believed Lauren Boebert to be his daughter.
Despite Bentz's considerable efforts, Stan Lane — long retired from pro wrestling and more recently an announcer for speedboat races — has never taken a second paternity test and has continued to insist that Lauren Boebert, now a nationally known figure in conservative politics, is not his child.
Boebert's congressional office did not return a request for comment on this story. Salon's attempts to reach Shawn Roberts Bentz and Stan Lane for comment were unsuccessful.
CONTINUE READING
Show less
Lawmakers in the House Oversight Committee released new evidence on Friday of former President Donald Trump's extensive pressure campaign to use the Justice Department to help him overturn the result of the 2020 presidential election in the final days of his administration.
Notes from conversations between the president and DOJ officials detail his aggressive push to have the department validate the wild conspiracy theories about election fraud that he fomented, despite the lack of evidence.
On Dec. 27, when told the department couldn't "snap its fingers" and "change the outcome of the election," Trump said, "Don't expect you to do that, just say that the election was corrupt + leave the rest to me and the R. Congressmen," according to the notes.
These new revelations follow a recent report from the Washington Post that Trump called acting Attorney General Jeffrey Rosen about the election almost daily at the end of 2020 about the election. Bill Barr had resigned as attorney general in part because of his split with Trump on the legitimacy of the election

Publicizing notes of communications between the president and the heads of administration departments is highly unusual, but the Biden administration concluded that it was an "extraordinary circumstance" to have "congressional investigators were examining potential wrongdoing by a sitting president," according to the New York Times.
Trump repeatedly pressed the department to investigate the wild claims of election fraud that percolated in right-wing media and corners of the internet at the time, which were repeatedly debunked. At one point, having been told that certain claims he was pushing were simply untrue, Trump reportedly responded: "Ok fine — but what about the others?"
According to the notes, he also told the DOJ officials: "You guys may not be following the internet the way I do."
Perhaps one of the most significant revelations is that Trump was recorded as directly threatening the officials' jobs based on their handling of the investigation. The New York Times explained:In a moment of foreshadowing, Mr. Trump said, "people tell me Jeff Clark is great, I should put him in," referring to the acting head of the Justice Department's civil division, who had also encouraged department officials to intervene in the election. "People want me to replace D.O.J. leadership."
"You should have the leadership you want," Mr. Donoghue replied. But it "won't change the dept's position."
Mr. Donoghue and Mr. Rosen did not know that Mr. Perry had introduced Mr. Clark and Mr. Trump. Exactly one week later, they would be forced to fight Mr. Clark for their jobs in an Oval Office showdown.
George Conway, a conservative lawyer, argued on Twitter that the evidence could support a potential criminal case against the president.
CONTINUE READING
Show less

Don't Sit on the Sidelines of History. Join Raw Story Investigates and Go Ad-Free. Support Honest Journalism.
Subscribe Annually
$95 / year — Just $7.91/month
Subscribe Monthly
$1 trial
I want to Support More
$14.99 per month
{{ post.roar_specific_data.api_data.analytics }}