Tired of ads? Want to support our progressive journalism? Click to learn more.
GO AD-FREE FOR $1

Hong Kong's pro-democracy Apple Daily newspaper warned Monday it is unable to pay staff and is at imminent risk of closure after the government froze the company's assets using a sweeping new national security law.
Apple Daily has long been a thorn in Beijing's side, with unapologetic support for the city's pro-democracy movement and caustic criticism of China's authoritarian leaders.
Its owner Jimmy Lai is in jail and was among the first to be charged under the security law after its imposition last year. Its chief editor and CEO have been detained and its finances frozen.
Mark Simon, an aide to Lai, said the freeze order by the city's security chief last week had crippled the newspaper's ability to do business.
"Our problem at Apple Daily is not that we don't have funds, we have $50 million dollars in the bank," he told CNN.
"Our problem is the Secretary of Security and the police will not let us pay our reporters, they will not let us pay our staff, and they will not let us pay our vendors. They have locked up our accounts."
Lai, 73, is in prison for attending democracy protests in 2019. He faces a life sentence if convicted of national security crimes.
Last Thursday, more than 500 police officers raided the paper's newsroom and arrested five executives over a series of articles that police said called for international sanctions.
Two of those executives -- chief editor Ryan Law and CEO Cheung Kim-hung -- have been charged with "colluding" with foreign forces to undermine China's national security and were remanded into custody over the weekend.
The operation was the first time political views and opinions published by a Hong Kong media outlet have triggered the security law.
But it is the use of the law's powerful financial freezing tools that looks set to permanently put Apple Daily out of commission.
- Security crackdown -
The law, written in Beijing and imposed on Hong Kong last June, allows authorities to freeze assets of any individual or company in the international business hub that is deemed to be a security threat.
It does not require a court order.
Last month, Lai's personal assets in Hong Kong and his media company shares were frozen.
Then on Thursday, Secretary for Security John Lee said a further HK$18 million (US$2.3 million) of Apple Daily's company assets had now been blocked.
"These are all orders from basically the Secretary of Security, we are facing a security agency we are not facing courts," Simon told CNN.
Simon is himself wanted by Hong Kong police on national security charges but left the city last year and has since relocated to the United States.
In its own reporting over the weekend, Apple Daily said it was planning to ask Lee to unfreeze some money so it can pay some 700 employees.
If the application is unsuccessful, they plan to go to court, the paper added.
© 2021 AFP
CONTINUE READING
Show less
U.S. land borders with Canada and Mexico will remain closed to non-essential travel until at least July 21, the U.S. Homeland Security Department said on Sunday.
The 30-day extension came after Canada announced its own extension on Friday of the requirements that were set to expire on Monday and have been in place since March 2020 because of the coronavirus pandemic.
The U.S. government held working-group meetings with Canada and Mexico on the travel restrictions last week and plans to hold meetings about every two weeks, U.S. officials told Reuters.
Homeland Security said in a statement it noted "positive developments in recent weeks and is participating with other U.S. agencies in the White House's expert working groups with Canada and Mexico to identify the conditions under which restrictions may be eased safely and sustainably."
Some U.S. lawmakers and border communities that have been hit hard by the restrictions have pushed to relax them ahead of the busy summer travel season.
Canada is also under pressure from companies and the tourism industry to ease the ban, which was imposed to help contain the spread of the coronavirus and has been renewed on a monthly basis since March 2020.
Canadian Prime Minister Justin Trudeau stood firm, saying last week the border would stay largely shut until 75% of Canadians had received the first of a two-dose coronavirus vaccine and 20% had been given both shots.
In talks between the United States and Canada last week, the U.S. government did not endorse setting a specific threshold to trigger lifting the restrictions, a person briefed on the talks said.
"The inability of the U.S. and Canadian governments to reach an agreement on alleviating border restrictions ... is simply unacceptable," Democratic Representative Brian Higgins and Republican Representative Bill Huizenga, co-chairs of the Canada-U.S. Interparliamentary Group said on Friday.
The United States is also holding working-group meetings on relaxing travel restrictions with the UK and the European Union, but U.S. and airline officials said previously they did not expect the Biden administration to lift the restrictions until around July 4 at the earliest.
(REUTERS)
CONTINUE READING
Show less
Fox News host Dan Bongino has returned to posting on Twitter after telling his supporters in January of this year that he would be leaving and never returning to the "anti-American" social platform after giving it up for Parler, the right-wing alternative where Bongino has claimed to be an investor.
Bongino, a rising conservative media heavyweight, even told Twitter to "fuck off" while pledging he would never return to the popular social media site. "I'll make my last post, my one final 'Fuck you' to Twitter — and you can print that, by the way — tomorrow," the firebrand told The Wrap back in January.
The multiply-failed Republican congressional candidate turned Fox News host also wrote on Twitter — in a tweet that has since been deleted tweet — that his supporters should follow him to Parler.
"This will be my final post on this anti-American platform. The greatest threats to liberty are the destructive tech tyrants who have acted as publishers," Bongino declared. "You can find me on Parler," he added.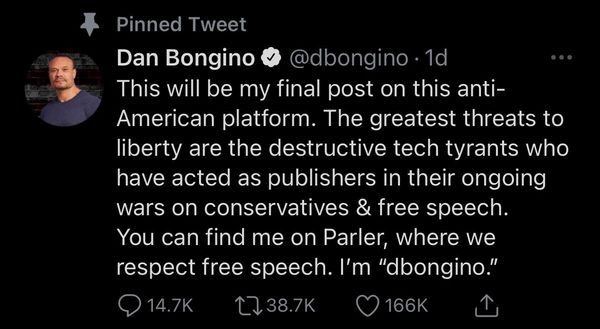 But sometime in May, only five months after declaring he was leaving Twitter for good, Bongino's account became active again, retweeting right-wing content. In early June, Bongino suddenly started posting again, never mentioning his departure or his vows not to return.
"Lt. Gov. Mark Robinson to Appear on Unfiltered With Dan Bongino," he tweeted on June 12 from his iPhone.
Bongino didn't respond to multiple Salon requests for comment on this story.
It's unclear exactly what prompted Bongino's return to Twitter, but there's plenty of speculation as to why the tough-talking former Secret Service agent has reversed field. For starters, Parler, in which Bongino claims to be an investor, is on the skids after the Jan. 6 Capitol riot, with the platform being booted from Amazon's web services and hosting platform.
Since then, as Salon has reported, Trump supporters and MAGA loyalists have apparently started bailing out on Parler following a series of extended blackout periods. To this day the site remains extremely glitchy and it's clear that Trump supporters or other denizens of the far right are dubious that it offers a viable platform for the future.
Another possible reason why Bongino may have fled Parler lies in the theory that he got hustled by right-wing billionaire Rebekah Mercer and never received actual shares in the social media company, a claim made by former Parler CEO John Matze in court documents filed in March. Bongino has fervently denied Matze's allegations, although Bongino has also publicly distanced himself from day-to-day operations at Parler.

CONTINUE READING
Show less

Don't Sit on the Sidelines of History. Join Raw Story Investigates and Go Ad-Free. Support Honest Journalism.
Subscribe Annually
$95 / year — Just $7.91/month
Subscribe Monthly
$1 trial
I want to Support More
$14.99 per month
{{ post.roar_specific_data.api_data.analytics }}