Like this article ? Text `Support` to 50123 to donate.
Sex is an expensive business, biologically speaking. Finding a suitable mate takes time and energy. Offspring are also a huge investment of resources. But sex does offer a rewarding possibility: children who are fitter than their parents thanks to new and "better" combinations of genes. Darwin realised that many animal species therefore carefully select their mates.
There is an innate biological inequality, however. Eggs are relatively few in number – a large and costly investment – while sperm are small and vastly more abundant. And embryos often need further investment in the body or outside. Since the greater investment tends to fall on females, they are often the more selective sex (while males compete to be chosen).
But according to a new paper, published in Science, Charles Darwin's patriarchal world view led him to dismiss female agency and mate choice in humans.
He also downplayed the role of female variation in other animal species, assuming they were rather uniform, and always made similar decisions. And he thought there was enormous variation among the males who battled for female attention by showing off stunning ranges of skills and beauty. This maintained the focus on the dynamics of male dominance hierarchies, sexual ornamentation and variation as drivers of sexual selection, even if females sometimes did the choosing.
But do Darwin's ideas on sexual selection hold up today?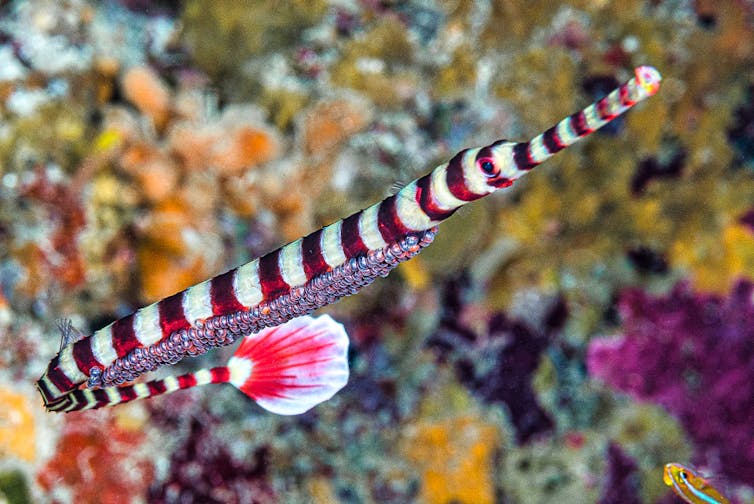 Male ringed pipefish carry the eggs until they hatch.
François Libert/flickr
Complex choices
When animals choose a partner, their appearance, sound and smell can all be accurate guides to the survival ability of the prospective mate. For example, large antlers in deer are a good indicator of fighting ability, dominance and overall fitness. But many other traits can be chosen because they are otherwise conspicuous and attractive yet may be a poor guide to overall genetic quality, or even misleading.
Females may evolve to choose mates with whom their offspring are less likely to survive, provided there are more such offspring as a trade off. In some species of poecilid fish, for example, male attractiveness is linked to genes that can reduce their survival. Females therefore face a dilemma: mate with a more attractive male and produce some highly attractive but otherwise less vigorous sons, or mate with a less attractive male to maximise the survival of those sons. Which strategy will produce most grandchildren?
Females may therefore select for traits in males that apparently have no other bearing upon their ability to survive. The peacock's tail is a handicap in most other aspects of its life – an impediment to flight and evading predators – save for the attraction of a female. However, it may also be true that the ability of a male to manage such a burden is itself a marker of overall genetic quality and rigour.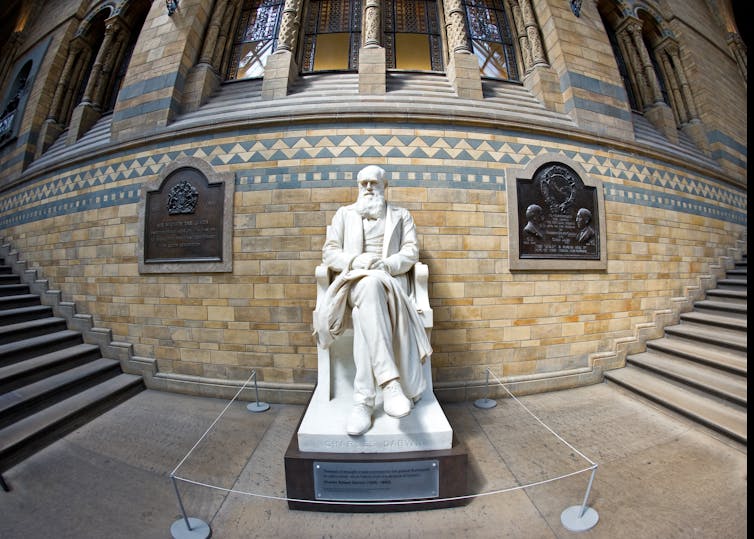 Darwin, Natural History Museum. London.
It isn't always females who choose. In pipefishes, the males invest heavily by carrying the fertilised eggs until they hatch, and it is the females who compete with each other in order to secure the attentions of males.
Optimal mate choice is not the same for all individuals, or at all times in their development. For example, younger satin bowerbirds are frightened by the most vigorous male displays, while older females typically find these most attractive. And many fishes are sequential hermaphrodites, changing sex – and therefore mate choices – as they age.
Research since Darwin therefore reveals that mate choice is a far more complex process than he may have supposed, and is governed by variation in both sexes.
Was Darwin a sexist?
So, is the accusation of sexism levelled at Darwin really valid, and did this cloud his science? There is certainly some evidence that Darwin underestimated the importance of variation, strategy and even promiscuity in most female animals.
For example, Darwin - possibly as a result of a prevailing prudishness - placed little emphasis on mechanisms of sexual selection that operate after mating. Female birds and mammals may choose to mate with multiple males, and their sperm can compete to fertilise one or more eggs within the reproductive tract.
Cats, dogs and other animals can have litters with multiple fathers (the gloriously named "heteropaternal superfecundation" - even though the sound of it is really quite atrocious!). There is even some suggestion that the human penis – being thicker than our nearest primate relatives – is an adaptation for physically displacing the sperm of competing males. Such earthy speculations were anathema to Darwin's sensibilities.
Female blue tits often mate with multiple males in order to ensure their protection and support - a somewhat manipulative strategy when paternity for the prospective fathers is uncertain. All this challenges Darwin's assumption that females are relatively passive and non-strategic.
Where males make a greater investment, they become more active in mate choice. Male (rather than female) poison dart frogs (Dendrobates auratus) protect the young, and therefore attract multiple females who compete to lay eggs for them to fertilise. Many bird species have biparental care, and therefore a richer diversity of mating systems.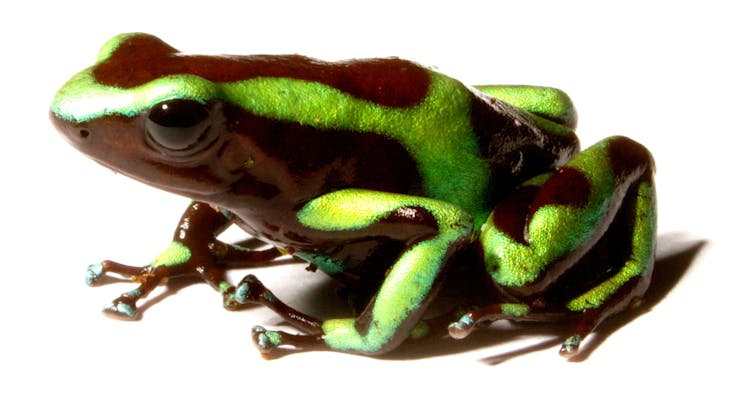 Dendrobates auratus, a poison dart frog.
Brian Gratwicke/flickr
Inevitably, Darwin's world view was shaped by the culture of his time, and his personal writings make it difficult to mount a particularly robust defence. In a letter from 1882, he wrote "I certainly think that women, though generally superior to men to [sic] moral qualities are inferior intellectually; & there seems to me to be a great difficulty from the laws of inheritance … in their becoming the intellectual equals of man".
He also deliberated over the relative merits of marriage, famously noting: "Home, & someone to take care of house — Charms of music & female chit-chat. — These things good for one's health. — but terrible loss of time".
Unsurprisingly there is much that Darwin did not fully understand. Darwin – like Albert Einstein, H.G. Wells and Edgar Allan Poe – married his first cousin, Emma Wedgwood. Ironically, he knew nothing of genetics and the mechanisms by which close relatives are more likely to have offspring with certain genetic diseases. Intriguingly, our closest relatives in the tree of life, the chimpanzees, naturally circumvent this problem, since females select mates that are more distantly related to them than the average male in the available pool.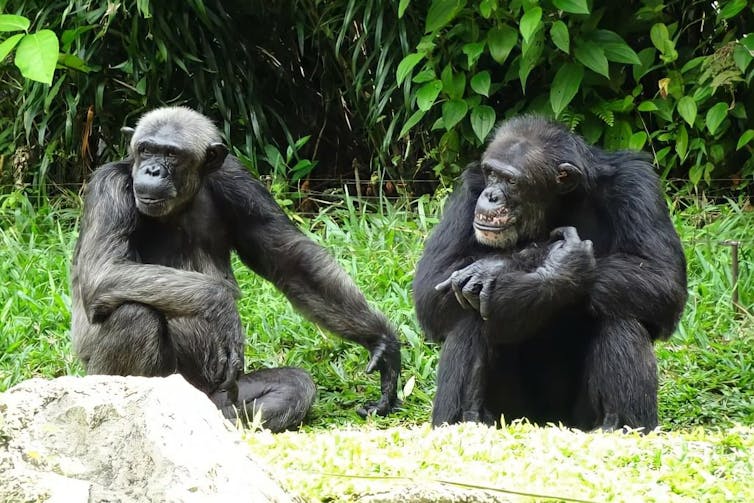 Female chimpanzees make good choices.
Despite its omissions, however, Darwin's understanding was radically more advanced than anything that preceded it. When combined with the subsequent understanding of genetics and inheritance, Darwin's writings are still the bedrock of all modern evolutionary biology.

Matthew Wills, Professor of Evolutionary Palaeobiology at the Milner Centre for Evolution, University of Bath
This article is republished from The Conversation under a Creative Commons license. Read the original article.
CONTINUE READING
Show less
The Federal Reserve signaled plans to begin raising interest rates "soon" in a bid to tamp down inflation before it poses a serious risk to the U.S. economy. A hike would be the first time the central bank has increased its benchmark lending rate in over three years.
Lifting the borrowing costs consumers and businesses pay for loans has the effect of slowing economic activity, which in turn could curb inflation. But there are also concerns that it could put on the brakes too quickly. We asked Alexander Kurov, a finance professor at West Virginia University, and Marketa Wolfe, an economist at Skidmore College, to explain what the Fed is doing and what it means for you.
1. Why is the Fed raising interest rates?
Short-term interest rates in the U.S. are now essentially zero.
The Fed quickly cut rates to zero at the beginning of the COVID-19 crisis in March 2020 in an attempt to soften the blow of the sharp recession that began that month as the U.S. went into lockdown. As a reminder of how bad things were back then, over 40 million workers – a quarter of the American workforce – filed for unemployment in the first few months of the pandemic, a staggering number with no precedent in the job market.
Although the recession was short-lived – lasting only two months – and the economy has mostly recovered, the Fed has kept rates at rock bottom because many workers and businesses still need support as the pandemic continues to rage.
The big problem for the Fed now is that U.S. consumer prices have surged. For 10 months in a row, inflation has been above the Fed's 2% target and reached an annual pace of about 7% in December. This is the highest rate of inflation recorded in the U.S. in the last 40 years. High inflation means the prices people pay for goods and services are continually going up – especially for basic items like meat and gasoline, as well as for manufactured goods like cars.
The Fed can ill afford to allow this to continue because if higher inflation becomes entrenched, it would damage the economy. And the longer it lasts, the harder – and more painful for consumers and businesses – it is going to be to bring it back to a more sustainable 2%.
So the Fed has to act quickly before it's too late.
2. How does the Fed raise rates?
The Fed sets a target range for what is called the "federal funds rate." This rate acts like a benchmark for all interest rates in the economy.
While the Fed didn't specify a time when it plans to raise rates, analysts expect the first increase to come in March, probably by 0.25 percentage point. This would affect banks' cost of borrowing, which in turn slowly filters throughout the economy as lenders charge more for loans on homes, cars, businesses, college tuition and anything else you might want to buy with debt. Banks would also gradually increase the interest they offer on deposits and savings accounts.
The Fed does not directly control all these other rates, and the exact path they will take is not completely predictable, but the overall trend will be up if the Fed keeps raising its target rate.
Markets expect the Fed to raise interest rates at least two more times in 2022.
3. What does that mean for consumers and businesses?
Put simply, higher interest rates mean borrowers would need to pay more for the loans they get.
If the Fed lifts interest rates this year by 0.75 percentage point, as expected, this would translate into about US$45,000 in additional interest payments on a 30-year, $300,000 mortgage.
[Get the best of The Conversation, every weekend. Sign up for our weekly newsletter.]
So if you want to borrow to start a business, pay for college, buy a car or do anything else, you should expect your borrowing costs to be higher later this year.
On the other hand, higher rates is good news for savers and investors, as their returns from activities like making deposits and buying bonds will go up.
4. And how will it affect the broader economy?
Higher interest rates would likely slow down business activity. While this can help reduce inflation, it also means lower economic growth.
The Fed always makes decisions based on what is happening in the economy and on how economic conditions are expected to change. And changes in the economy are often hard to predict.
The biggest unknown at this point is what will happen to inflation later this year. This is uncertain because inflation is driven by multiple factors, such as supply chain shortages and strong demand.
In addition, the labor force participation rate has still not recovered to pre-pandemic levels, and the economy is experiencing labor shortages, which could push wages and prices higher. If these COVID-19-related pressures don't ease up soon, inflation could continue to stay high or continue to accelerate, which may force the Fed to increase interest rates faster than currently expected.
On the other hand, if economic or employment growth stalls, this will make it much harder for the Fed to raise rates without making things worse. The Fed will need to find the right balance between taming inflation and avoiding slowing down the economy too much.

Alexander Kurov, Professor of Finance and Fred T. Tattersall Research Chair in Finance, West Virginia University and Marketa Wolfe, Associate Professor of Economics, Skidmore College
This article is republished from The Conversation under a Creative Commons license. Read the original article.
CONTINUE READING
Show less
Precedent shows us that justices tend grow old in the position. Breyer is one such example. When he joined the Supreme Court in 1994, he was an already very accomplished 55-year-old former law professor and appeals court judge. Now, at age 83, he is set to retire from the court at the end of the current term in June.
Supreme Court justices in the U.S. enjoy life tenure. Under Article 3 of the Constitution, justices cannot be forced out of office against their will, barring impeachment. This provision, which followed the precedent of Great Britain, is meant to ensure judicial independence, allowing judges to render decisions based on their best understandings of the law – free from political, social and electoral influences.
Our extensive research on the Supreme Court shows life tenure, while well-intended, has had unforeseen consequences. It skews how the confirmation process and judicial decision-making work, and causes justices who want to retire to behave like political operatives.
Problems with lifetime tenure
Life tenure has motivated presidents to pick younger and younger justices.
In the post-World War II era, presidents generally forgo appointing jurists in their 60s, who would bring a great deal of experience, and instead nominate judges in their 40s or 50s, who could serve on the court for many decades.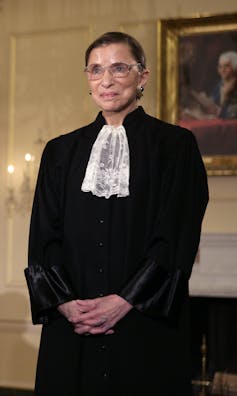 Justice Ruth Bader Ginsburg.
Brooks Kraft LLC/Corbis via Getty Images
And they do. Justice Clarence Thomas was appointed by President George H.W. Bush at age 43 in 1991 and famously said he would serve for 43 years. There's another 12 years until his promise is met.
The court's newest member, Donald Trump's nominee Amy Coney Barrett, was 48 when she took her seat in late 2020 after the death of 87-year-old Justice Ruth Bader Ginsburg.
Ginsburg, a Clinton appointee who joined the court at age 60 in 1993, refused to retire. When liberals pressed her to step down during the presidency of Democrat Barack Obama to ensure a like-minded replacement, she protested: "So tell me who the president could have nominated this spring that you would rather see on the court than me?"
Partisanship problems
Justices change during their decades on the bench, research shows.
Justices who at the time of their confirmation espoused views that reflected the general public, the Senate and the president who appointed them tend to move away from those preferences over time. They become more ideological, focused on putting their own policy preferences into law. For example, Ginsburg grew more liberal over time, while Thomas has become more conservative.
Other Americans' political preferences tend to be stable throughout their lives.
The consequence is that Supreme Court justices may no longer reflect the America they preside over. This can be problematic. If the court were to routinely stray too far from the public's values, the public could reject its dictates. The Supreme Court relies on public confidence to maintain its legitimacy.
Life tenure has also turned staffing the Supreme Court into an increasingly partisan process, politicizing one of the nation's most powerful institutions.
In the 1980s and 1990s, Supreme Court nominees could generally expect large, bipartisan support in the Senate. Today, judicial confirmation votes are almost strictly down party lines. Public support for judicial nominees also shows large differences between Democrats and Republicans.
Life tenure can turn supposedly independent judges into political players who attempt to time their departures to secure their preferred successors, as Justice Anthony Kennedy did in 2018. Trump appointed Brett Kavanaugh, one of Kennedy's former clerks, to replace him. A similar turn of events may occur if President Biden nominates Judge Ketanji Brown Jackson, a former Breyer clerk, to the current vacancy on the court.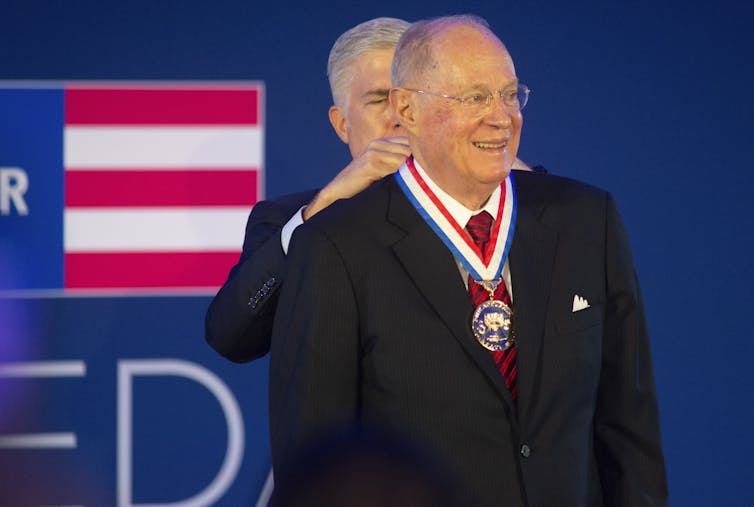 Justice Anthony Kennedy receiving the 2019 Liberty Medal from Justice Neil Gorsuch.
William Thomas Cain/Getty Images
The proposed solution
Many Supreme Court experts have coalesced around a solution to these problems: staggered, 18-year terms with a vacancy automatically occurring every two years in nonelection years.
This system would promote judicial legitimacy, they argue, by taking departure decisions out of the justices' hands. It would help insulate the court from becoming a campaign issue because vacancies would no longer arise during election years. And it would preserve judicial independence by shielding the court from political calls to fundamentally alter the institution.
Partisanship would still tinge the selection and confirmation of judges by the president and Senate, however, and ideological extremists could still reach the Supreme Court. But they would be limited to 18-year terms.
The U.S. Supreme Court is one of the world's few high courts to have life tenure. Almost all democratic nations have either fixed terms or mandatory retirement ages for their top judges. Foreign courts have encountered few problems with term limits.
Even England – the country on which the U.S. model is based – no longer grants its Supreme Court justices life tenure. They must now retire at 70.
Similarly, although many U.S. states initially granted their supreme court judges life tenure, this changed during the Jacksonian era of the 1810s to 1840s when states sought to increase the accountability of the judicial branch. Today, only supreme court judges in Rhode Island have life tenure. All other states either have mandatory retirement ages or let voters choose when judges leave the bench through judicial elections.
Back in 1894, the Supreme Court was older – not to mention whiter and all male.
C.M. Bell/Library of Congress/Corbis/VCG via Getty Images
Polling consistently shows a large bipartisan majority of Americans support ending life tenure. This likely reflects eroding public confidence as the court routinely issues decisions down partisan lines on the day's most controversial issues. Although ideology has long influenced Supreme Court decisions, today's court is unusual because all the conservative justices are Republicans and all the liberal justices are Democrats.
[Over 140,000 readers rely on The Conversation's newsletters to understand the world. Sign up today.]
In December 2021, the Presidential Commission on the Supreme Court of the United States released its report on Supreme Court reform, which examined term limits for the justices. Although the commission did not take a position on the merits of term limits, it did outline a variety of means by which they could be imposed, including through the constitutional amendment process and by congressional statute.
Ultimately, Congress, the states and the public they represent will decide whether the country's centuries-old lifetime tenure system still serves the needs of the American people.
Editor's note: This is an updated version of an article originally published on July 6, 2021.

Paul M. Collins, Jr., Professor of Legal Studies and Political Science, UMass Amherst and Artemus Ward, Professor of Political Science, Northern Illinois University
This article is republished from The Conversation under a Creative Commons license. Read the original article.
CONTINUE READING
Show less
{{ post.roar_specific_data.api_data.analytics }}