Tired of ads? Want to support our progressive journalism? Click to learn more.
GO AD-FREE FOR $1

With House Republicans having ousted Rep. Liz Cheney of Wyoming as House Republican Conference chair, Rep. Elise Stefanik of upstate New York is likely become the third highest-ranking Republican in the U.S. House of Representatives. It isn't hard to understand why House Minority Leader Kevin McCarthy and House Minority Whip Steve Scalise want Stefanik to replace Cheney, who has infuriated supporters of former President Donald Trump by refusing to go along with former president Donald Trump's lies about the 2020 election and saying, without hesitation, that Joe Biden is the legitimately elected president of the United States. Stefanik, in contrast, has become a devout Trump supporter. But the Center for Responsive Politics' Karl Evers-Hillstrom, in an article published this week, notes that some conservative groups have strong reservations about the 36-year-old congresswoman.
Stefanik wasn't far-right when she was first elected to the U.S. House of Representatives in 2014 back when President Barack Obama was serving his second term. In those days, she had a reputation for being more moderate. Stefanik, in fact, was critical of Trump during his 2016 campaign. But Stefanik has since rebranded herself as a full-fledged Trump loyalist, and after the 2020 election, she shamelessly promoted his false claims of widespread election fraud — unlike Cheney, Sen. Mitt Romney of Utah or Rep. Adam Kinzinger, all of whom acknowledged Biden as president-elect and pushed back against the president's lie.
Evers-Hillstrom says of Stefanik, "Her rise to GOP leadership represents a blow to conservative groups that enjoy influence with House Republicans but cannot match Trump's grip on the party. Stefanik battled these groups during her time in Congress, even directly competing with them during 2020 primaries."
One of those groups is the Club for Growth, an anti-tax group whose president, David McIntosh, is highly critical of Stefanik for voting against the Tax Cuts and Jobs Act of 2017 and believes that she isn't a true fiscal conservative. McIntosh recently told CNN, "What they need in the Republican Party in Congress is people who truly believe the principles the Republican Party stands for: smaller government, freedom, common sense approach to rebuilding the economy. And Elise Stefanik has a long record of not being on board with those."
Evers-Hillstrom points out that the Club for Growth "clashed with Stefanik throughout the 2020 primary season."
"The group ran ads attacking several candidates endorsed by Stefanik's E-PAC, launched to elect more Republican women," Evers-Hillstrom observes. "The Club spent nearly $1 million opposing Rep. Stephanie Bice (R-Okla.) in last year's primary, releasing a controversial attack ad attempting to connect her to Harvey Weinstein. Bice ultimately won the primary, and a seat in Congress, with Stefanik's support."
Another conservative group that has criticized Stefanik is FreedomWorks. Evers-Hillstrom notes that Cesar Ybarra, senior director of legislative affairs for FreedomWorks, recently said of Stefanik, "Republican leadership is good at picking non-conservatives for those spots."
CONTINUE READING
Show less
Christopher C. Miller, who served as acting defense secretary during the final weeks of Donald Trump's presidency, was in the hot seat on Wednesday, when Rep. Ro Khanna of California, Rep. Steven Lynch of Massachusetts, and other Democratic lawmakers aggressively grilled him during a House Oversight Committee hearing on the response to the January 6 assault of the U.S. Capitol. Important questions also came from Rep. Alexandria Ocasio-Cortez of New York City, pointed to an apparent contradiction in the timeline of the invasion of the Capitol and Miller's response to it.
Ocasio-Cortez told the Oversight Committee she wanted to "figure out" and "nail down a basic timeline, which, for whatever reason, has been a little bit difficult" — adding that it was "important to get the facts on the timing of some of these things." The congresswoman noted that on January 6, Washington, D.C. Mayor Muriel Bowser — seeing how dangerous the situation at the Capitol was — asked for help from then-Army Secretary Ryan D. McCarthy. Miller would eventually even talk to then-Vice President Mike Pence, who was seeking the military's help at the Capitol, though Miller acknowledged Pence was not in the chain of command. He said he did not speak to Donald Trump during the attack.
Reporters Josh Kovensky and Kate Riga, in a Talking Points Memo, explained the background of the key issue Ocasio-Cortez was exploring:
The question comes down to two moments during the attack on the Capitol: 3:00 p.m., when the Pentagon says the order to mobilize the Guard was given, and 4:32 p.m., when the order to deploy them was given.
During that 90 minute period, Rep. Carolyn Maloney (D-NY) noted, then-Vice President Mike Pence called Miller. The two had a conversation that Miller described as "brief." The AP has reported that Pence, who was not legally capable of issuing military orders, told Miller to "clear the Capitol."
Debates over when the National Guard should have been deployed have been obfuscated by people misinterpreting the 3:00 p.m. order to mobilize the guard with an order to physically deploy soldiers to the Capitol.
Miller has faced sharp criticism for the long delay in the Pentagon's deployment of the guard to the Capitol. As the hours stretched on from 1 p.m. to 5 p.m before the guard arrived, some of the demonstrators were killed in the chaos, dozens of law enforcement officers were injured, some quite seriously, and lawmakers hid in fear for their lives. And the counting of the Electoral College votes was delayed, partially achieving the rioters' aims. Many parts of the federal government, including the FBI and the Capitol Police, have come under fire for allowing the attack to happen and for it getting as far as it did. But Miller refused to take any responsibility for failure on Wednesday, telling Congress that he stands by his decisions that day.
But his story doesn't totally add up, as Ocasio-Cortez showed. An evacuation was ordered of the Capitol at around 1:26 p.m., she said, and about 8 minutes after that, Mayor Bowser had called the military for help.
"At 3 p.m., about an hour and a half later, you determined that 'all available forces of the D.C. National Guard are required to reinforce MPD and USCP positions,'" she said. "Now that's not an authorization to deploy to the Capitol, correct?"
"Uh, I gave full authorization to deploy, ma'am," Miller said. "I'm sorry, it went out at 3:04. I did at 3, yes."
"It seems here that this is in contradiction with the Department of Defense timeline," Ocasio-Cortez pointed out. "According to the Department of Defense timeline, you authorized the National Guard to clear the Capitol at 4:32 p.m."
"I was waiting for the concept of operations, the plan, that Gen. Walker put together. So he had full authority, in my mind, at 3:04. And then he had to do his planning sequence to figure out how he wanted to accomplish that," said Miller.
The "in my mind" phrase is telling — he seems to be acknowledging that he might not have actually effectively given the order he says he's given. And even in his own telling, that plan still ended up going through an approval process after it was developed.
"So the actual order for the guard to help clear the Capitol," the congresswoman pressed, "did not happen until 4:32 p.m., correct?"
"That's when the plan was formally approved," Miller admitted, using the passive voice, apparently to avoid taking responsibility for the delay. DOD's timeline, however, specific that it was Miller who gave the approval then. He hadn't mentioned the 4:32 approval of the plan at all in his opening statement, apparently trying to use the earlier time to suggest he had acted quickly. But Ocasio-Cortez pointed out that Maj. Gen. William Walker, who led the National Guard that day, said he wasn't actually allowed to send in the guard until shortly after 5 p.m. Miller tried to explain the discrepancy in the timelines by appealing to the "fog and friction" of the events. Despite being the head of the Defense Department, Miller seemed to be trying to blame his subordinate any delay. In the end, the National Guard wouldn't arrive on the scene until nearly 4 hours after Bowser made her initial request.
In previous testimony, Walker had pinned the blame for the delay on Miller and the Pentagon. He disputed Miller's contention that the deployment was rapid, and he said he could have moved troops more quickly if he had been permitted to.
As AlterNet previously reported on March 3:
Maj. Gen. William Walker, the commander of the National Guard in Washington, D.C., delivered disturbing new testimony on Wednesday about the delay in deployment of his forces during the Jan. 6 attack on the Capitol.
He was prepared to send a large number of troops to the Capitol immediately at 1:49 p.m. when he received a "frantic" call for backup from then-Chief of the Capitol Police Steven Sund. Sund was desperate for support as his officers' perimeter had been breached by the mob of Trump supporters, gravely endangering members of Congress counting the votes of the Electoral College. Walker said Sund's voice was "cracking with emotion" and pleaded that there was a "dire emergency at the Capitol."
"He requested the immediate assistance of as many available National Guardsmen that I could muster," Walker said.
It wasn't until three hours and 19 minutes later that Walker would get permission from the Pentagon to deploy the troops, he said.
On Wednesday, Miller said: "Those of you with military experience or who understand the nature of military deployments will recognize how rapid our deployment was." He said criticism of the response "is unfounded and reflects inexperience." Yet that wasn't Walker's assessment:
But Walker contended that he was unnecessarily delayed and could have gotten about 150 troops out almost immediately.
"I would have had them assemble in the armory, and then get on buses and go straight to the armory and report to the most ranking Capitol Police officer they saw and take direction, and further," he said. "We could have helped extend the perimeter and push back the crowd."
It wasn't until 5:09 p.m., Walker said, that he was given permission to act. In less than 20 minutes, the National Guard arrived at the Capitol, where more than 100 officers had reportedly been injured.
And if the problem was insufficient planning ahead of time, that responsibility, too, falls on Miller's shoulders. He acknowledged in his opening statement that he did not believe Jan. 6 would be "business-as-usual" — suggesting he was aware that risks loomed over the day, he just wasn't prepared to appropriately handle them.
Watch below:
Former Trump Officials Testify on January 6 Capitol Attacks | LIVE youtu.be
CONTINUE READING
Show less
The DSA has upended local politics in this Democratic stronghold, and its wins extend well beyond New York – into Virginia, Nevada and beyond. How did socialism jump from the fringes of American politics into its very center?
American socialist history
The DSA's roots trace back to the Socialist Party of America, which was formed in New York in 1901 to promote such issues as establishing an eight-hour workday and public ownership of utilities like water and electricity.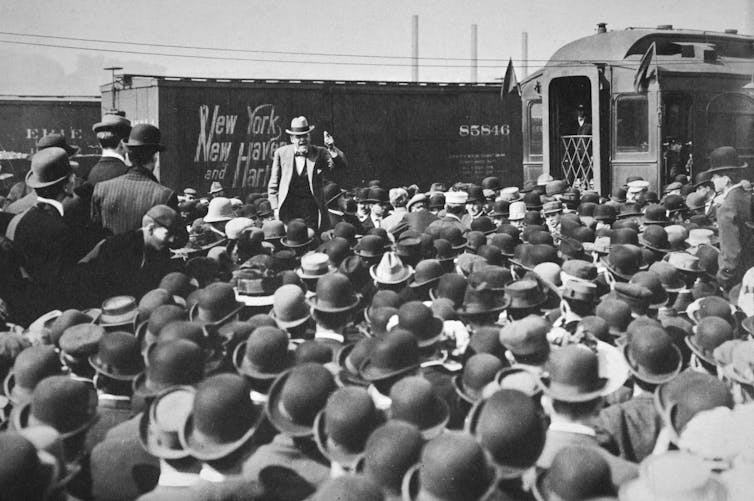 Union leader and Socialist Party presidential candidate Eugene Debs campaigning in 1900.
Historica Graphica Collection/Heritage Images/Getty Images
Writer Upton Sinclair, Christian theologian Reinhold Niebuhr and Planned Parenthood founder Margaret Sanger were prominent early members. But many early American socialists were Jews and Eastern European immigrants – groups that were considered well outside mainstream "white" society at the time.
My research as a historian of American socialists finds that early 20th-century socialists found electoral success by running candidates who represented the economic and racial diversity of their communities and championed the issues that mattered to working-class, immigrant constituencies.
In 1918 – the heyday of New York's socialist caucus, when socialists held 10 of 121 seats in the State House – socialist politicians were teachers, settlement house lawyers and union leaders. They proposed New York's first birth control bill, allowing advocates to give women educational pamphlets about contraception, and put forward programs to create old-age insurance and rent control.
The Socialist Party began losing members to the growing Communist Party in the 1930s. By the mid-20th century, it had responded to Americans' growing anticommunism with a rightward turn. In 1972, party leaders actually renamed the party the Social Democrats, USA because so many people associated the word "socialist" with America's great antagonist, the Soviet Union.
The DSA, past and present
Disillusioned, the activist and Marxist professor Michael Harrington left the organization and in 1973 formed the Democratic Socialist Organizing Committee, which later merged with another leftist group, the New American Movement, to form the Democratic Socialists of America.
Unlike the Socialist Party of America, which was a registered political party and ran candidates on its own ticket, the DSA is a political group. Harrington wanted to create the "left wing of the possible" within the Democratic Party.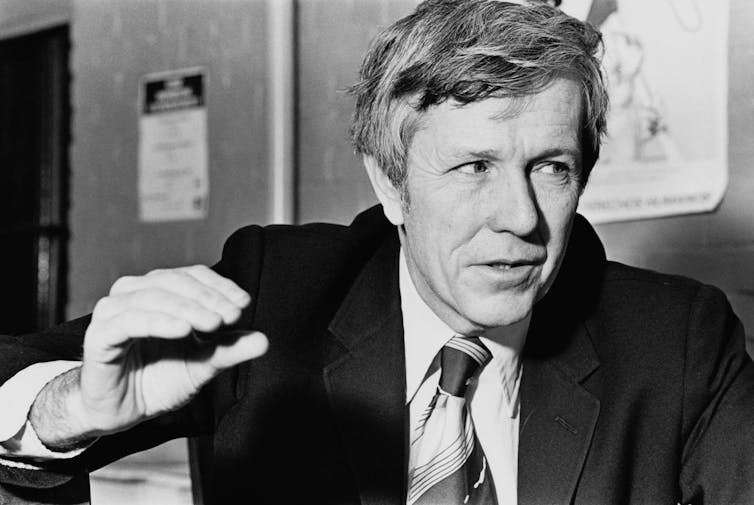 DSA founder Michael Harrington, who died in 1989.
Photo by Barbara Alper/Getty Images
For four decades, DSA members have mostly run in Democratic primaries, attempting to push the party leftward – on the Iraq War and NAFTA, for example – while endorsing Democratic presidential nominees from Walter Mondale to Barack Obama.
It had some early local successes. From the 1980s to the early 2000s, DSA members were elected to city councils nationwide and won mayoral races in liberal college towns like Berkeley, California; Ithaca, New York; and Burlington, Vermont, where the openly socialist politician Bernie Sanders was mayor from 1981 to 1989.
In 2016, Sanders ran for president. His campaign, coupled with Donald Trump's subsequent victory, created a surge in DSA membership among young voters. The group's median age dropped from 68 in 2013 to 33 by 2017. The DSA now claims over 90,000 dues-paying members, up from 6,000 in 2015.
The DSA's electoral strategies also changed after 2016, partly due to the influx of new members and partly in frustration with mainstream Democratic candidates.
In Democratic primaries across the country, DSA candidates ran to replace older, centrist, white incumbents with young leftists who promised to fight for "Medicare for all" and to "hold elected officials accountable."
It was a winning strategy for the Trump era. Since 2016, DSA-backed candidates have won district attorney races from Philadelphia to Travis County, Texas, and hold four seats in Congress. Forty DSA members sit in 21 state legislatures. DSA members hold five of Chicago's 50 city council seats.
The professional backgrounds of today's DSA legislators resemble those of their forebears. New York State Sen. Jabari Brisport, elected in 2020, was a teacher and tenant organizer. New York State Rep. Phara Souffrant Forrest was previously a tenant organizer and nurse.
The DSA's legislative proposals – rent control, free college and reproductive rights – are classic socialist issues, updated for the 21st century. The Democratic Party has now embraced many of these proposals, but moderates like West Virginia Sen. Joe Manchin have not.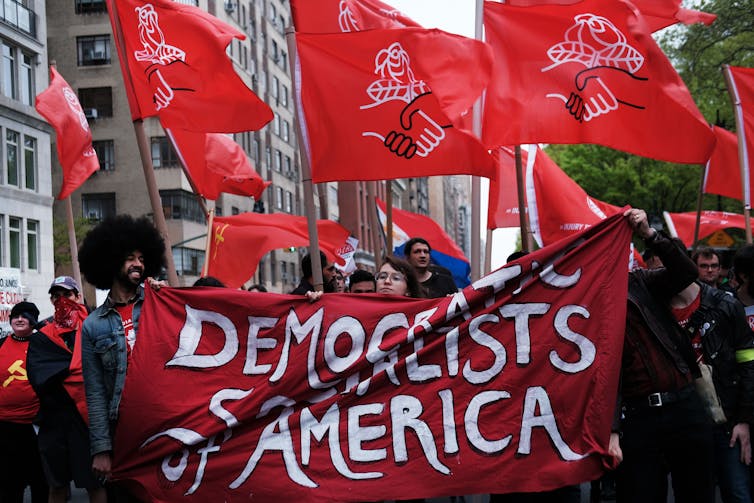 DSA activists in New York march for immigrant rights, May 1, 2019.
As in the past, the DSA tends to back candidates from marginalized groups – whether African American, Caribbean, South American or South Asian – who reflect the racial makeup of the neighborhoods they represent.
Angry Dems and DSA infighting
The DSA's growing political profile has caused tensions within the Democratic Party.
Shortly after DSA-backed candidates in March 2021 swept all five leadership positions in the Nevada Democratic Party, many longtime party staffers quit rather than work under the new leftist leadership. But first, according to the Nevada Independent and other local newspapers, the Democratic staffers transferred US$450,000 from the DSA-controlled Nevada Democratic Party coffers into the Democratic Senatorial Campaign Committee, which is controlled by the National Democratic Party.
Some DSA policies that diverge sharply from the Democratic party line – such as its support for the movement to boycott, divest from and sanction Israel for its militarized occupation of the Palestinian territories – draw fierce criticism from other Democrats.
The DSA has also been accused of having a "race problem." Despite running primarily candidates of color, the organization's leadership is largely white and male. Some DSA members say the group silences the concerns and voices of people of color.
After new groups arose within the DSA to recruit more Black leaders, the DSA's national committee announced in February 2021 that it would start an initiative to better attract, mentor and retain people of color.
In the 20th century, American socialism cracked under the weight of infighting and social change. Can the modern DSA survive its 21st-century challenges?
Its next test is in New York City on June 22.
This story has been corrected to accurately reflect Bernie Sanders' political identification. Sanders is a self-described "democratic socialist" and is endorsed by the Democratic Socialists of America, but is not a member of the group.

Joshua Kluever, Ph.D. Candidate of 20th Century American History, Binghamton University, State University of New York
This article is republished from The Conversation under a Creative Commons license. Read the original article.
CONTINUE READING
Show less

Don't Sit on the Sidelines of History. Join Raw Story Investigates and Go Ad-Free. Support Honest Journalism.
Subscribe Annually
$95 / year — Just $7.91/month
Subscribe Monthly
$1 trial
I want to Support More
$14.99 per month
{{ post.roar_specific_data.api_data.analytics }}