Pandagon is daily opinion blog covering feminism, politics, and pop culture. Come for the politics, stay for the complete lack of patience for the B.S. and bad faith coming from conservative leaders and pundits.
Don't miss stories. Follow Raw Story!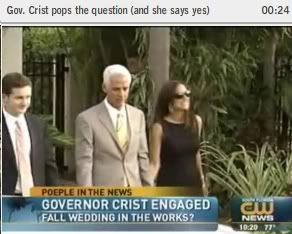 Drudge turns on the tired old police siren for breaking news — here it's time to flip on the rainbow siren!
Now that the Florida governor's found that "special someone," you know, the adulteress he's been allegedly boinking for sometime now, he's making his "union" legal — something gay and lesbian couples in the Sunshine State cannot do. Obviously, Charlie Crist wants that McCain VP slot so badly he can taste it…
Gov. Charlie Crist, single for nearly three decades, on Thursday morning became engaged to his girlfriend of nine months, Carole Rome.

"She's special in every way. She's brilliant, beautiful and sweet. I'm very, very lucky," Crist told the St. Petersburg Times in an exclusive interview.

Crist said he picked out the sapphire and diamond ring on Wednesday at the Gold and Diamond Center in St. Petersburg's Northeast Shopping Center.

…And his engagement is likely to reverberate well beyond Florida because the popular governor is widely viewed as a contender to be likely Republican presidential candidate John McCain's running mate. Not since Franklin Pierce picked William King to be his running mate in 1852 has America had a bachelor vice president.
Best wishes to the happy couple…I wonder if the McCain campaign will have a congratulatory press release out soon.

Click on the screenshot for the Sun-Sentinel video report. The anchor is so giddy. Oh, and the readership of the paper doesn't buy this one either: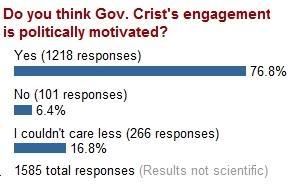 Related:
* The Talk of the Green Iguana: Will American voters elect the first gay vice president in November?
* Crist to be 'outed' as straight…by Roger Stone's alleged 'sex tape'
* Tongues wag whether Crist's 'girlfriend' is 'the one'
* Poor Charlie Crist – he's really desperate for that VP slot
* Howie Klein: Charlie Crist Has A "Girlfriend"– A First Step Towards Getting On The Mccain Ticket… To Nowhere?
* Oh my — more GOP closet doors are flying open…
* Florida gov Charlie Crist: leave ban on adoption rights for gays on the books