Pandagon is daily opinion blog covering feminism, politics, and pop culture. Come for the politics, stay for the complete lack of patience for the B.S. and bad faith coming from conservative leaders and pundits.
Don't miss stories. Follow Raw Story!
Liddy Dole is dropping like a stone in the polls and so the best that the National Republican Senatorial Committee can do at this point is to go after the one group probably more reviled than teh gayz in the mind of the wingnuts – atheists.
First the Dole campaign released a ridiculous mailer: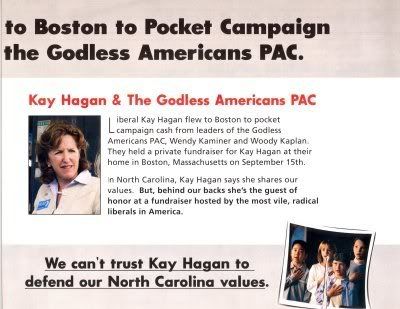 Blogger Robert Eldredge:
Atheists are people that North Carolinian's would not want to have over for dinner? They don't share North Carolina's values? Atheists are the most vile, radical liberals in America? The most vile? Really? The most VILE? That is complete insanity.
When that mailer didn't work — Hagan's poll numbers kept going up — the NRSC decided to try this ad, "Godless: Kay Hagan and the Godless Americans PAC":

Liberal Kay Hagan flew to Boston to pocket campaign cash from leaders of the Godless Americans PAC. What is Godless Americans PAC? Godless Americans Political Action Committee is a left-wing organization based in Washington, DC — dedicated to 'Mobilizing America's nonbelievers for political activism.'

Kay Hagan's friends actively support political candidates who who support their liberal agenda to remove 'under God' from the Pledge of Allegiance, remove any reference to God in the public arena and eliminating the Christmas Holiday.
More below the fold. By the way, Dole's still losing ground. Too bad, so sad. (Daylight Atheism)
I continue to be disappointed by the lackluster quality of these smear ads. The melodramatic piano music in the background is way over the top. Also, the NRSC doesn't appear to have a copyeditor who knows how to spell "atheism". And when it comes to the scary, scary goals of the atheist movement, they can only think of three: removing "under God" from the Pledge of Allegiance, removing "In God We Trust" from the currency, and no longer designating Christmas an official federal holiday. Really? That's the worst they could come up with? Anti-atheist bigotry is usually much more inventive than this. No claims that atheists want to ban prayer from all public schools, or outlaw parents' teaching their children about God? No wild-eyed assertions about how the Evil Atheist Conspiracy will send jackbooted thugs to break down little old ladies' doors and take away their Bibles? Frankly, I could make a better attack ad against me.

But what this ad does show is that the Republican party is the party of theocracy, and proud of it. The worst innuendo they could come up with is a GAMPAC spokesman's statement that atheists have no real representation in Congress, but "we fully intend to change that"; and my claim that Kay Hagan deserves praise for being willing to meet with atheists and consider our concerns. In their eyes, these are crimes, and atheists should be condemned and reviled merely for seeking political representation. Kay Hagan has made no statement to the effect that she'll support any part of the atheist political agenda (I have no illusions about that) – in fact, she's an elder of the Presbyterian church – but that hasn't stopped the Republicans from targeting her in this smear campaign. They want to make it so that politicians are afraid even to listen to us.
Hemant Mehta at Friendly Atheist:
While many atheists would like to see "Under God" removed from the Pledge of Allegiance and "In God We Trust" removed from our money — The Pledge and paper money were both God-free before the 1950s Communist scare — it's not the highest priority on our "agenda" — we don't have one of those.

(We can't even get a thousand people to attend an atheist conference and they think we're organized enough to have an agenda?!)

…And to say that Kay Hagan supports those "agenda" items is definitely misleading.

To say that because she associated loosely with someone who might not share the values of most Americans, she must be stopped? That's what John McCain was doing to Barack Obama with William Ayres. It implies a much closer connection than actually exists.

It's all just a pathetic, last-ditch effort for Dole, who is losing a campaign she thought she would be winning handily.