Pandagon is daily opinion blog covering feminism, politics, and pop culture. Come for the politics, stay for the complete lack of patience for the B.S. and bad faith coming from conservative leaders and pundits.
Dude Nation turns Supreme Court stupid
Don't miss stories. Follow Raw Story!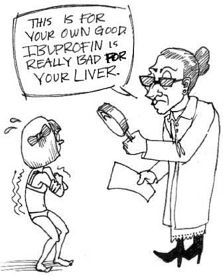 One of the major problems with lack of female representation in Congress and the courts is that even when men are generally liberal and try to get it, the boys club mentality seems to set in and infect their ability to act like compassionate adults who grasp that women are full human beings instead of slightly comical pieces of meat. (Of course there's always exceptions—shout out to Henry Waxman!) Ruth Bader Ginsburg must have retired to her office today and spouted off like a cliched cop in a B movie, "I'm too old for this shit," which is lately a common problem for her as the sole voice on the court to consistently and loudly attempt to remind her fellows that women are people.
Today's source of massive disappointment is Stephen Breyer. The court was looking at the case of 13-year-old Savana Redding who was traumatically strip-searched (which started her on a path of mental health problems that led to her dropping out of school) because some little brat who was actually caught with drugs on her claimed, falsely, that Redding had ibuprofen on her. The liar was not punished for her part in this. Feminists can immediately see what's going on, as we're more than a little attuned to the way that authoritarian pigs have more than a little bit of the sexually sadistic streak that means they look for every opportunity to humiliate teenage girls with nudity. Unfortunately, getting the dudes on the Supreme Court to understand this is an uphill battle.
Adam Wolf, the ACLU lawyer who represents Redding, explains that "the Fourth Amendment does not countenance the rummaging on or around a 13-year-old girl's naked body." Wolf explains that he is arguing for a "two-step framework," wherein schools can use a lower standard to search "backpacks, pencil cases, bookbags" but a higher standard when you "require a 13-year-old girl to take off her pants, her shirt, move around her bra so she reveals her breasts, and the same thing with her underpants to reveal her pelvic area." This leads Justice Stephen Breyer to query whether this is all that different from asking Redding to "change into a swimming suit or your gym clothes," because, "why is this a major thing to say strip down to your underclothes, which children do when they change for gym?"

This leads Ginsburg to sputter—in what I have come to think of as her Lilly Ledbetter voice—"what was done in the case … it wasn't just that they were stripped to their underwear! They were asked to shake their bra out, to stretch the top of their pants and shake that out!" Nobody but Ginsburg seems to comprehend that the only locker rooms in which teenage girls strut around, bored but fabulous in their underwear, are to be found in porno movies. For the rest of us, the middle-school locker room was a place for hastily removing our bras without taking off our T-shirts.
You see this sort of thinking all the time, but usually in more obvious sexual assault cases, where rape apologists will imply that because a woman had sex before she was raped, she was obligated to take all comers. This is a matter of reducing women to the physicality of their bodies, as if context had no bearing on nudity. One wonders if a boy had been required to pull his penis out of his underwear and shake it in front of the teacher if that would have seemed different than the practice of using public urinals to Breyer. I think it's quite likely. What's traumatic about strip searches and sexual assault isn't that someone touched or saw something previously untouched or unseen. It's the horror of having someone use your nudity and your sexuality as a weapon to degrade and humiliate you. And anyone who's been subject to the routine degradation and humiliation dished out by sadistic school administrators has a pretty damn good idea of what was going on here.
The conservative branch of the seemed to think the entire situation is hilarious, and so, all taken together, we shouldn't be expecting justice for Redding. Unfortunately, this also means that sadistic school administrators will feel all the more empowered to use hysterical concerns about drugs to terrorize and humiliate public school kids.