Pandagon is daily opinion blog covering feminism, politics, and pop culture. Come for the politics, stay for the complete lack of patience for the B.S. and bad faith coming from conservative leaders and pundits.
Welcome to the state of North Carolina, Bernie Madoff!
Don't miss stories. Follow Raw Story!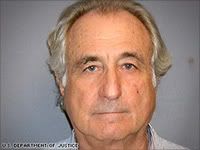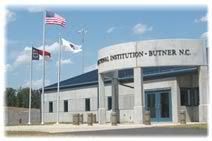 Bernard Madoff, #61727-054, will be heading to the Tar Heel State's federal prison in Butner. He was given a 150-year prison sentence last month for an elaborate Ponzi scheme that ripped off thousands of victims.
Madoff will be joining several other well-known inmates at Butner. They include Omar Abdel-Rahman, the terrorist known as the "Blind Sheik" who masterminded the 1993 World Trade Center bombing and former Adelphia Commmunications Chief Executive Officer John Rigas.

Also incarcerated there: former U.S. Naval Intelligence Analyst and convicted spy for Israel Jonathan Pollard; former Colombo crime family boss Carmine Persico; and Russell Weston, the perpetrator of a 1998 U.S. Capitol shooting that left two U.S. Capitol Police officers dead.
Bernie wanted to serve out his sentence at up in Otisville, NY to be near home, but too bad, so sad for the white collar criminal. The Butner site, which has two medium-security facilities and a low-security prison facility, will provide him with a few creatur comforts — and a new way to earn a living.
From rubbing elbows with millionaires to sharing a prison yard with drug dealers and gangsters, Bernard Madoff's life is about to change dramatically.

Madoff will find himself earning pennies a day sweeping floors, cleaning toilets or manning a stove in the prison kitchen. Like all prisoners, corrections officers will shine a light in his face twice in the middle of the night as part of six or seven daily checks.
Among the amenities Bernie will receive when he arrives in Butner will be a prison-issued hygiene kit containing a matchbook-sized bar of soap (no info whether he has a selection of manly scents to choose from or it's just Cashmere "signals luxury" Bouquet in the kit), a toothbrush, a comb and a razor. He can call home for at the rate of 25 cents/minute, but if Mrs. Madoff shows up, there aren't any conjugal visits allowed.