FOTF's Citizenlink blog: GLSEN is sexualizing Santa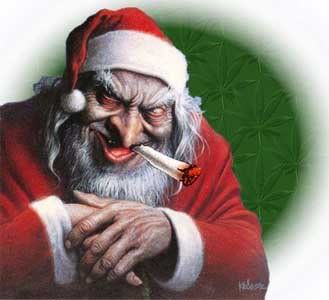 Focus on the Anus is back at it again, this time on its Citizenlink blog Drive Thru. Not content to just do a "Jesus is the reason for the season" kind of obsession, author "Candi" ludicrously accuses Gay, Lesbian and Straight Education Network (GLSEN) of "revealing its dark side" and sexualizing Old Saint Nick.
At issue this time is a GLSEN fundraiser featuring a theatrical play called Santa Claus is Coming Out!

GLSEN's fundraiser invitation says the play depicts "Santa in his heartfelt struggle to reconcile his romantic relationship with Italian toy maker Giovanni Geppetto." Pictures on a Web site promoting the production depict Santa in not-so-subtle sexually suggestive situations. The play also mocks those who support traditional values.

It's sad that GLSEN, which claims that it wants to protect kids, has chosen to use a fundraising tool that perverts the innocence of Christmas and sexualizes the longtime, child-revered icon of Santa Claus.

…Clearly homosexual activists like [the play's writer and performer, Jeffrey] Solomon have no qualms about using shock tactics to expose children to homosexuality. And it's sad that GLSEN promotes these tactics.
Yawn. The fundies are breathtaking — they just throw caution to the wind and toss batsh*ttery so extreme out there, that only pushes the GOP further into the margins. Keep it coming, folks.
The NY benefit for GLSEN is on December 8th @ 6:00 p.m. Get your tickets today.
Democrat moves to impeach Trump immediately following House condemning president's racism
Immediately following the House of Representatives voting to condemn racist remarks by President Donald Trump, a Democrat introduced a privileged motion to impeach the president.
Rep. Al Green (D-TX) gave an impassioned speech to begin impeachment proceedings for Trump committing high crimes and misdemeanors.
"Therefore, Donald John Trump, by causing such harm to the society of the United States, is unfit to be president and warrants impeachment, trial and removal from office," he said.
Watch:
Trump 'reached into the Genesis chapter of the bigot's bible' to attack the Squad: journalist
On Tuesday, journalist Jamil Smith wrote a column scorching President Donald Trump's attacks on "The Squad," as an act of utmost bigotry — and narcissism.
"Trump would surely love to run against these four women in 2020 rather than an actual opponent, positioning them all as racial bogeymen," wrote Smith. "It's a royal flush for his racist campaign: two black women, including one who wears a hijab and is a Somali refugee; a boricua from the Bronx; and a first-generation Palestinian-American from Detroit."
House of Representatives votes for resolution condemning President Donald Trump's racism
President Donald Trump was condemned by the House of Representatives on Tuesday for his racist attacks on young women of color in Congress.
The resolution was passed with the support of every Democrat. The final vote was 240-187.
The text said "Trump's racist comments have legitimized fear and hatred of new Americans and people of color."
The resolved that the body "strongly condemns President Donald Trump's racist comments that have legitimized and increased fear and hatred of new Americans and people of color by saying that our fellow Americans who are immigrants, and those who may look to the President like immigrants, should "go back" to other countries, by referring to immigrants and asylum seekers as "invaders," and by saying that Members of Congress who are immigrants (or those of our colleagues who are wrongly assumed to be immigrants) do not belong in Congress or in the United States of America."