Don't miss stories. Follow Raw Story!
Kate and I will mark six years of marriage on July 1 — though both of us have to hold off on the real celebration until late July when we both take off for a long-deserved getaway to a place…heh…will share that some time later.
We married in Vancouver, BC Canada in 2004 (no, wrong guess, we're not heading back there for our anniversary this year). The landscape has changed quite a bit in the U.S. when it comes to same-sex couples getting hitched. As things stand today —
Same-sex marriages are currently granted by five of the 50 states, one federal district, and one Indian tribe:

In Connecticut, Iowa, Massachusetts, New Hampshire, Vermont, and Washington, D.C., marriages for same-sex couples are legal and currently performed.
The Coquille Indian Tribe in Oregon also grants same-sex marriage.

State(s) which previously granted same-sex marriage licenses.

In California, same-sex marriages were performed between June 16, 2008, and November 4, 2008, after the California Supreme Court held the statutes limiting marriage to opposite-sex couples violated the state constitution; however, the California electorate then approved California Proposition 8, a voter initiative that made the ban part of California's constitution. The California Supreme Court upheld the voter-approved constitutional ban. Today, all same-sex unions are given the benefits of marriage under California law, although only those performed as marriages before November 5, 2008, retain the designation "marriage".[1] Proposition 8 is now being challenged in federal court in Perry v. Schwarzenegger.

States which recognize same-sex marriage but do not grant same-sex marriage licenses:

In New York, Rhode Island, and Maryland, same-sex marriages are recognized, but not performed
Back when we decided to marry, there were no options stateside open to us. The brief period when San Francisco issued marriage licenses (February 12 – March 11, 2004) had expired, and while Massachusetts began offering marriage to same-sex couples back in May of 2004, it was not yet possible for out-of-state residents to do so there (in 2008, the Commonwealth eventually repealed the 1913 law preventing this).
So we went to Canada, where the province of British Columbia's court ruled on July 8, 2003 that same sex couples could legally marry, and there was nothing precluding couples outside of the country to cross the border to get hitched. Incidentally, same-sex marriage was legally recognized in the provinces and territories as of the following dates:
10 June 2003: Ontario
8 July 2003: British Columbia
16 March 2004: Quebec
14 July 2004: Yukon territory
16 September 2004: Manitoba
24 September 2004: Nova Scotia
5 November 2004: Saskatchewan
21 December 2004: Newfoundland and Labrador
23 June 2005: New Brunswick
The rest came along with the enactment of the 20 July 2005 Civil Marriage Act: Alberta, Prince Edward Island, Nunavut territory, and the Northwest Territories
***
I shared the above historical reminder because Kate and I were out to dinner the other evening, and one of the hosts who we're friendly with, who is openly gay, came over to chat us up about the big Elaine Marshall win. He also shared with us that he was getting engaged. Of course we all cooed over that, because he's such a sweet guy. He asked us about a gay-friendly jeweler in town to look for a rings, so we talked about that for a bit.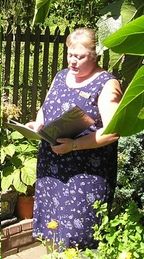 He asked us about the when and how we got married, you know, some of the basic logistics of doing so in Canada, such as obtaining a license, where a civil ceremony is performed by a marriage commissioner (the equivalent of a justice of the peace, it currently costs $75 plus GST in B.C., paid directly to the MC). You can find a list of gay-friendly MCs here (hi to Pat Mitten, who performed ours)
Another BTW — this is not like a Vegas marriage – there is no easy "undo."
Although Canada has no residency requirement for marriage, it does have one for divorce. At least one partner must reside in Canada for one year to be eligible for divorce. American courts, who do not recognize the marriage, are not likely to grant you a divorce.
But of course our young host doesn't have to go to Canada — he and his partner have, as we've seen above, many more legal options available to them.
One of the other interesting questions that came up, and this leads to my Q of the Day, was about what kind of ceremony to have. The irony is that while same-sex couples can marry, there is no set way to get hitched – you can do it the traditional hetero way with the gowns, suits, bridesmaids, invitations – the full gamut, or you can create your own traditions, so we didn't have a lot of advice for him except to ask what did he and his partner want.
We just shared our experience.
Neither of us wanted to deal with the stress of planning and executing a traditional wedding so our ceremony was pretty minimalist. We did it at a B&B, barefoot with the ceremony in the beautiful backyard garden.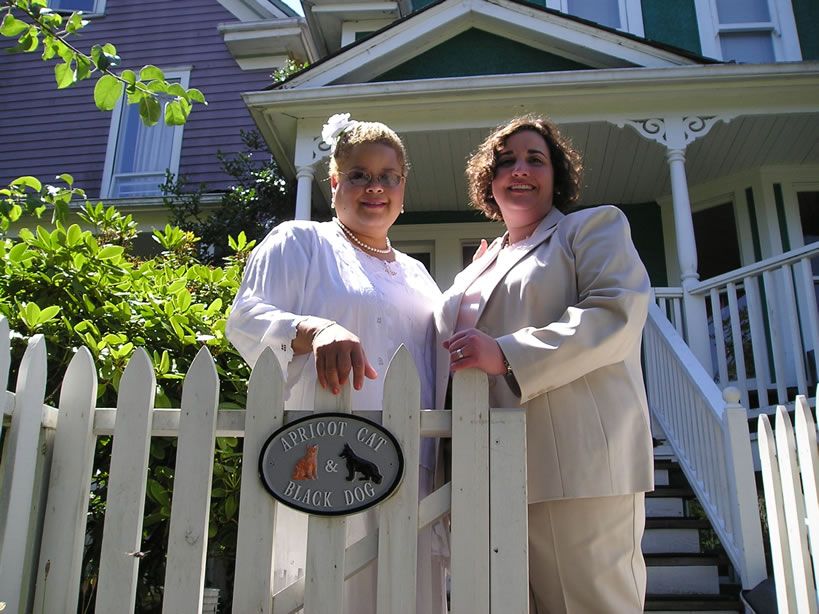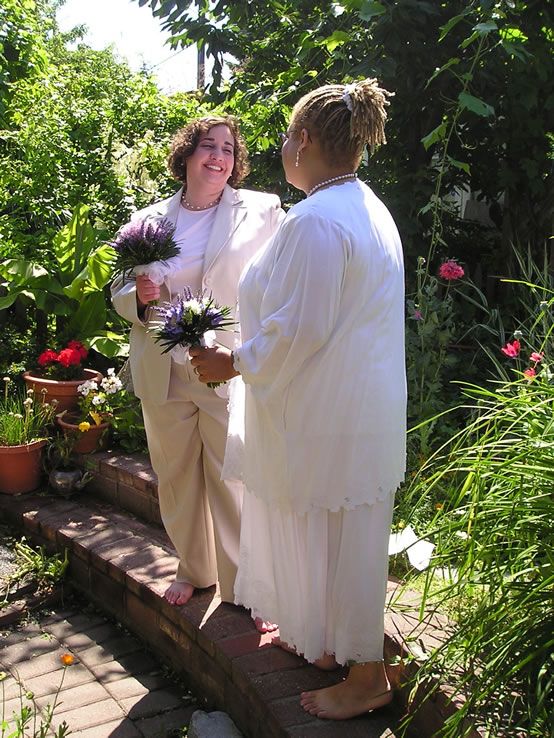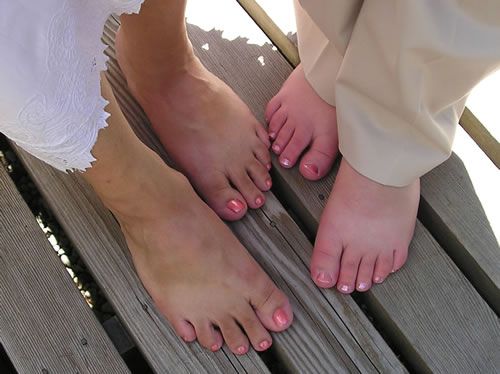 The only guest was my brother, and we all went sightseeing in Vancouver the same day; he returned home and we stayed on for a few more days and enjoyed the diverse environs of the city.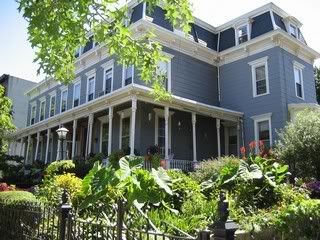 My mom's side of the family threw us a casual reception in the equally beautiful garden and backyard of my uncle's Bed-Stuy Brooklyn home several months later.
Since June is the month of weddings for so many couples and our friend the restaurant host was fishing for ideas, here is my Q of the day.
Q of the day: For those of you who married – gay or straight – what kind of wedding ceremony did you have?

Traditional? Religious or not? Large or small number of guests? Were your parents onboard and present? Did you do the whole bridezilla shebang, or go the simple route?