Hair relaxer stench and toxicity send beauticians and clients into 'gas masks'
What have I been saying about hair relaxers for the longest time? That sh*te is toxic and yet women with kinky hair put themselves through burned scalps, headaches and god knows what else to rid themselves (and sadly, even their little girls) of the hair texture they were born with.
Finally, it comes down to some salons dealing with the stench of the chemicals and realizing that "hey, maybe this stuff isn't good to breathe in." One relaxer has the clients and the salon workers wearing respirators. (NYT):
AS more women began clamoring for the latest sensation in hair care, the so-called Brazilian hair-relaxing treatments, the Neil George Salon in Beverly Hills, Calif., added a cabana with open sides and a fabric roof to isolate the process from the salon itself. "I couldn't stand the fumes," said Neil Weisberg, an owner.

Mark Garrison, the owner of a salon on the Upper East Side of Manhattan that bears his name, set aside a floor for the treatment, equipped it with special ventilators and began providing industrial-strength respirators to his clients and stylists. And a West Hollywood salon, John Frieda, relegated its straightening treatments to an open-air courtyard.

Just like the permanents that were once the height of fashion, the lucrative process of converting frizzy or kinky hair into smooth locks produces unpleasant odors. But is it dangerous, especially to the operators who apply the product repeatedly?

Last month, the beauty world was rattled when the occupational health agency in Oregon found significant levels of formaldehyde in the hair-smoothing solution sold under the name Brazilian Blowout. (A common ingredient found in many products, formaldehyde is a recognized carcinogen if it is present at high levels.) The agency said it had conducted lab tests after receiving numerous complaints from stylists citing nosebleeds, breathing problems and eye irritation after applying the product.
The fact is, whether it's this Brazilian toxic hair straightening agent or the crap you buy for $7.99 in a drug store, when you open the jar and slap the creamy crack on your hair, it STINKS AND IT BURNS. No way around it. In a beauty business where women of color drop an inordinate amount on money on hair procedures and products – we're talking a $9 billion-dollar industry, there's too much money to be made off of the backs of women who feel that chemically straightened hair (and that's not the same as straight natural hair, mind you) is the only way to achieve beauty or professional success. And some professions, it's still not going to put you on the fast track if you don't bend to the Euro beauty standard.
But let's just say that salons with these toxic product offerings don't have the health of women in mind. Bottom line:
Yet for many salon owners and stylists, who are usually independent contractors, it is hard to contemplate eliminating such a profitable procedure. "It's one of the most popular services we've had in years," said the salon owner John Barrett. "People think it's an absolute godsend." …Prices generally start at about $250 and can go as high as $700 in some salons.
Really, sisters. Is it worth it?
UPDATE: These vintage relaxer ads are both entertaining and sad. Notice the older ones feature light-skinned women (many may not have had kinky hair to begin with), and ones as you head toward the later 60s you see darker-skinned women, including this model who favors the image of Diahann Carroll's Julia, one of TV's first black female characters who was in a profession other than as someone's maid or servant (and even Beulah didn't have kinky hair).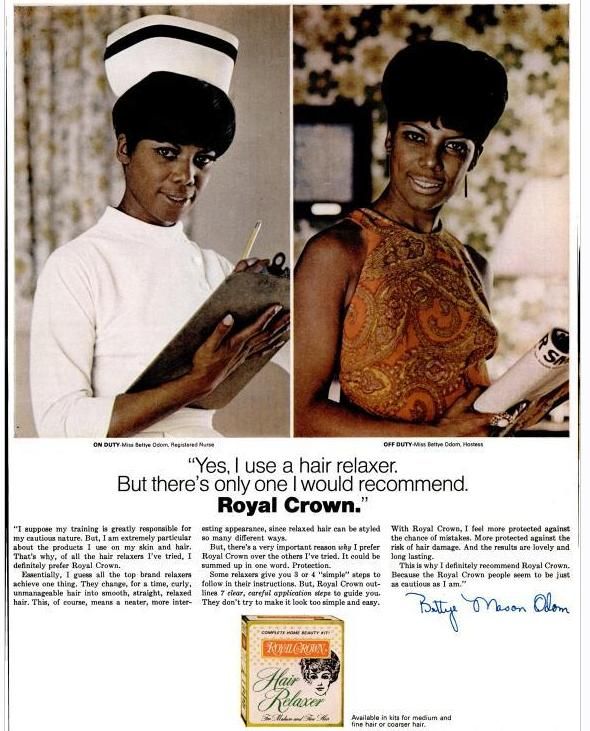 And below the fold, the brothers were also told that "the conk" was the way to professional success. And read that fine print with the flat-out lie about the lye not burning your scalp. Even then the companies selling this shite knew it was toxic.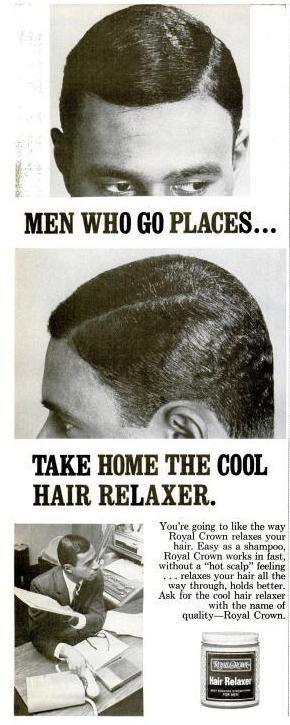 ***
A must-view — a clip from the documentary "My Nappy Roots:"
Related:
* The care of kinky hair, daddy edition
* Essence can't seem to find a woman with natural hair for its Top 10 celeb hairstyles
* Documentary on the politics of hair
* Hair and black self-loathing
* My Hair Journey
* The politics of hair (again)
'Go look at President Trump's Twitter': Portland right-wing rally organizer claims 'mission success'
The organizer of a far-right rally in Portland, Oregon claimed the event was a "success" after President Donald Trump attacked Portlandiers protesting the group.
"A confluence of protesters on opposite ends of the ideological spectrum merged on Portland's waterfront Saturday in a tense but relatively uneventful face-off that brought national attention, including a tweet in the hours before the protest by President Trump decrying the city's signature anti-fascist movement," the Oregonian reported Saturday.
When a similar right-wing rally in Charlottesville, Virginia killed Heather Heyer, Trump argued there were "fine people" on both sides of the "Unite the Right" rally.
Why was Jeffrey Epstein buying size 5 women's panties — while in jail?
The Miami Herald has another bombshell report on Jeffrey Epstein, who died in a Manhattan jail while waiting to stand trial on federal sex crimes charges.
"A decade ago, during a brief stint in Palm Beach County Jail, convicted sex offender Jeffrey Epstein made an odd purchase at the facility's store: two pairs of small women's panties, size 5," the Herald reported Saturday night.
The newspaper noted, "the panties raise questions about why a childless male inmate, accused of sexually abusing girls as young as 14, would be allowed to buy female undergarments so small that they wouldn't fit an average-sized adult woman."
White nationalist Republican ridiculed after only 2 people show up for his town hall meeting
Embattled Rep. Steve King (R-IA) suffered further humiliation on Saturday when only two people showed up for his town hall meeting with Iowa constituents.
King, who was stripped of all committee assignments for his white nationalism, was been an embarrassment for Republicans with his constant racism and misogyny.
A photo of the town hall meeting was posted on Twitter by Reuters photo editor Corinne Perkins.
https://twitter.com/corinne_perkins/status/1162806565109473280
Rep. King was quickly mocked in the comments.
Here's some of what people were saying:
https://twitter.com/sedespres/status/1162811223186006018