Hair relaxer stench and toxicity send beauticians and clients into 'gas masks'
What have I been saying about hair relaxers for the longest time? That sh*te is toxic and yet women with kinky hair put themselves through burned scalps, headaches and god knows what else to rid themselves (and sadly, even their little girls) of the hair texture they were born with.
Finally, it comes down to some salons dealing with the stench of the chemicals and realizing that "hey, maybe this stuff isn't good to breathe in." One relaxer has the clients and the salon workers wearing respirators. (NYT):
AS more women began clamoring for the latest sensation in hair care, the so-called Brazilian hair-relaxing treatments, the Neil George Salon in Beverly Hills, Calif., added a cabana with open sides and a fabric roof to isolate the process from the salon itself. "I couldn't stand the fumes," said Neil Weisberg, an owner.

Mark Garrison, the owner of a salon on the Upper East Side of Manhattan that bears his name, set aside a floor for the treatment, equipped it with special ventilators and began providing industrial-strength respirators to his clients and stylists. And a West Hollywood salon, John Frieda, relegated its straightening treatments to an open-air courtyard.

Just like the permanents that were once the height of fashion, the lucrative process of converting frizzy or kinky hair into smooth locks produces unpleasant odors. But is it dangerous, especially to the operators who apply the product repeatedly?

Last month, the beauty world was rattled when the occupational health agency in Oregon found significant levels of formaldehyde in the hair-smoothing solution sold under the name Brazilian Blowout. (A common ingredient found in many products, formaldehyde is a recognized carcinogen if it is present at high levels.) The agency said it had conducted lab tests after receiving numerous complaints from stylists citing nosebleeds, breathing problems and eye irritation after applying the product.
The fact is, whether it's this Brazilian toxic hair straightening agent or the crap you buy for $7.99 in a drug store, when you open the jar and slap the creamy crack on your hair, it STINKS AND IT BURNS. No way around it. In a beauty business where women of color drop an inordinate amount on money on hair procedures and products – we're talking a $9 billion-dollar industry, there's too much money to be made off of the backs of women who feel that chemically straightened hair (and that's not the same as straight natural hair, mind you) is the only way to achieve beauty or professional success. And some professions, it's still not going to put you on the fast track if you don't bend to the Euro beauty standard.
But let's just say that salons with these toxic product offerings don't have the health of women in mind. Bottom line:
Yet for many salon owners and stylists, who are usually independent contractors, it is hard to contemplate eliminating such a profitable procedure. "It's one of the most popular services we've had in years," said the salon owner John Barrett. "People think it's an absolute godsend." …Prices generally start at about $250 and can go as high as $700 in some salons.
Really, sisters. Is it worth it?
UPDATE: These vintage relaxer ads are both entertaining and sad. Notice the older ones feature light-skinned women (many may not have had kinky hair to begin with), and ones as you head toward the later 60s you see darker-skinned women, including this model who favors the image of Diahann Carroll's Julia, one of TV's first black female characters who was in a profession other than as someone's maid or servant (and even Beulah didn't have kinky hair).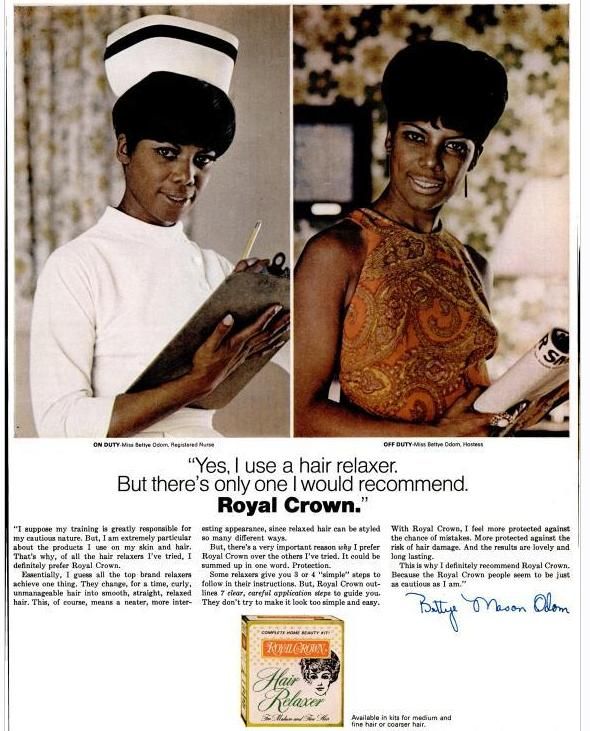 And below the fold, the brothers were also told that "the conk" was the way to professional success. And read that fine print with the flat-out lie about the lye not burning your scalp. Even then the companies selling this shite knew it was toxic.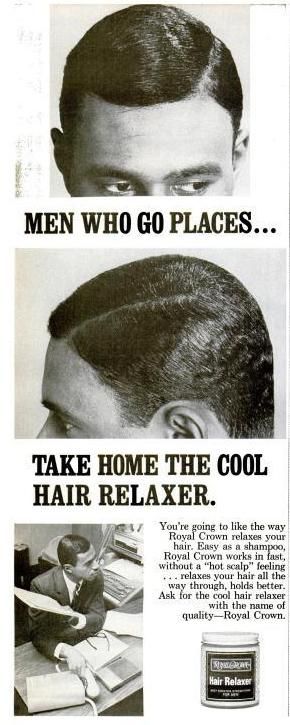 ***
A must-view — a clip from the documentary "My Nappy Roots:"
Related:
* The care of kinky hair, daddy edition
* Essence can't seem to find a woman with natural hair for its Top 10 celeb hairstyles
* Documentary on the politics of hair
* Hair and black self-loathing
* My Hair Journey
* The politics of hair (again)
There's no respite from Trump's vindictiveness and foolishness
As we know, even in the midst of a national emergency, Donald Trump could find time and bandwidth to continue his retribution campaign.
He dismissed Michael Atkinson, the inspector general for the intelligence agencies, for doing "a terrible job," satisfying his own thirst for vengeance for anyone who actually adhered to law and practice over blind loyalty to Trump himself. Indeed, asked about it the next day, Trump underscored his action by saying, Atkinson "was no Trump supporter, that I can tell you."
It was an act that we once would have labeled corruption, by Democrats and Republicans – that is using the office for personal purposes – if Congress and too many Americans had not since become inured by so many like instances.
This is how Taiwan and South Korea bucked the global lockdown trend
As the coronavirus pandemic sparks global lockdowns, life has continued comparatively unhindered in places like Taiwan, South Korea and Hong Kong after their governments and citizens took decisive early action against the unfolding crisis.
At first glance Taiwan looks like an ideal candidate for the coronavirus. The island of 23 million lies just 180 kilometres (110 miles) off mainland China.
Yet nearly 100 days in, Taiwan has just 376 confirmed cases and five fatalities while restaurants, bars, schools, universities and offices remain open.
The government of President Tsai Ing-wen, whose deputy is an epidemiologist, made tough decisions while the crisis was nascent to stave off the kind of pain now convulsing much of the rest of the world.
Republican ex-lawmaker with coronavirus scolds Wisconsin GOP for forcing voters to risk their health
On CNN Tuesday, former Rep. Charlie Dent (R-PA), who is himself dealing with a bout of COVID-19, chastised the Wisconsin GOP for doing everything in their power to block the state elections from being moved — and forcing many voters to stand in line and risk exposure to the virus to cast their ballot.
"I have to tell you, here in Pennsylvania we have a Democratic governor and Republican legislature," Dent told host Don Lemon. "They postponed the election here from April 28 until June 2. Without any controversy. Everybody agreed it was the right thing to do and they moved on. I'm surprised Wisconsin took this risk, knowing they don't have to."