Okay, my vanity can't take it any longer. Confession time: The picture yesterday was staged. I thought the voluminous amount of drool (actually water, though I was willing to move onto Vaseline if that didn't show up properly under the flash) was a dead giveaway, as is the oversized (borrowed from boyfriend) sweatshirt that would be murderously hot this time of year in Texas. It was my attempt to satirize the "blogging femme fatale naps with her favorite weapon" picture in the NY Times profile of Emily Gould.
---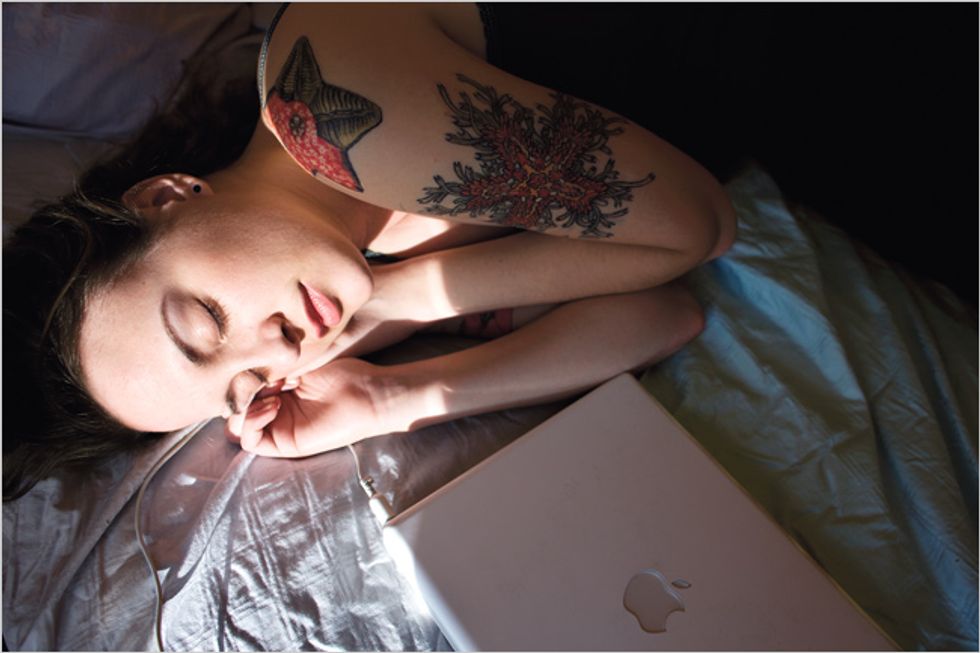 Like Penn and Teller, first I show you the trick and then I explain it.
Okay, you know the drill. Ten songs at random from your MP3 collection.
1) "If You Stayed Over"---Bonobo

2) "Him For Me"---The Ex-Boyfriends

3) "Sock It To Me"---John O'Brien Docker

4) "A Love Problem"---Eldrige Holmes

5) "Up To You"---Conner

6) "Panic"---Fifty On Their Heels

7) "If You Should Try To Kiss Her"---Dressy Bessy

8) "Jocko Homo"---Devo

9) "You Ain't Woman Enough To Take My Man"---Loretta Lynn

10) "Furnace Room Lullaby"---Neko Case
I found a cat picture on the camera when I was downloading that shot yesterday. I'll try to be more on top of it, I promise.
">