Pandagon is daily opinion blog covering feminism, politics, and pop culture. Come for the politics, stay for the complete lack of patience for the B.S. and bad faith coming from conservative leaders and pundits.
Don't miss stories. Follow Raw Story!
My, how the mighty have fallen. Over at the fabulous Jed Report, he screen captured a Fox News chyron: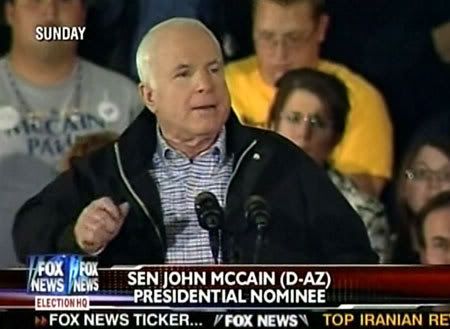 You might recall the last time the network made this "mistake," it was when they labeled GOPerv Mark Foley "(D)". I guess this is Fox's way of tossing McCain under the bus.
Other signs of the feeble, weakening McCain campaign are below the fold. * Look at this statement — the official statement from McCain's camp — about last night's primetime Obama ad:
McCain spokesman Tucker Bounds followed up after the ad aired: "As anyone who has bought anything from an infomercial knows, the sales-job is always better than the product. Buyer beware."
That's it? Wow. Bounds must have been busy reworking his resume instead of thinking up a better response.
* McCain camp trying to scapegoat Palin.
In recent days, a McCain "adviser" told Dana Bash of CNN: "She is a diva. She takes no advice from anyone." Imagine not taking advice from the geniuses at the McCain campaign. What could Palin be thinking?

Also, a "top McCain adviser" told Mike Allen of Politico that Palin is "a whack job."Maybe she is. But who chose to put this "whack job" on the ticket? Wasn't it John McCain? And wasn't it his first presidential-level decision?
* Conservatives plan secret post-election strategy session. Again, the body isn't cold, but plans are under way to remake the GOP.
The meeting will include a "who's who of conservative leaders — economic, national security and social," said one attendee, who shared initial word of the secret session only on the basis of anonymity and with some details about the host and location redacted.

…Should McCain lose next Tuesday, the conversation will include who to groom as the next generation of conservative leaders – a list that will feature Palin at or near the top.

…Many on the right, both elites and the rank-and-file, see a rudderless party that is in dire need of new blood and old principles: small government, a robust national security and unapologetic social conservatism.
As long as they cling to that last bit of garbage, that is going to be an anchor on the party.
* And in a final bit of news, you know your campaign is in the sh*tter when you receive this thumbs up, available on grocery news stands around the country. (Weekly World News):
OCTOBER SURPRISE: UFO ALIEN NOW ENDORSES McCAIN!