Pandagon is daily opinion blog covering feminism, politics, and pop culture. Come for the politics, stay for the complete lack of patience for the B.S. and bad faith coming from conservative leaders and pundits.
Catholic church strongarms org from hiring anti-Prop 8 priest
Don't miss stories. Follow Raw Story!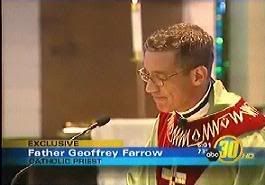 Father Geoffrey Farrow, the Fresno priest who came out against Prop 8 during Mass and was suspended for following his conscience by the Archdiocese of Los Angeles is still being hounded by the church.
Since he was out of a job, you'd think the church would be satisfied that Farrow would seek employment elsewhere and fade from its PR radar. Think again. Father Geoff applied for a position with the Los Angeles branch of Clergy and Laity United for Economic Justice (CLUE) and look at the thuggery of the Church in action. Father Tony at The Bilerico Project and at his pad:
CLUE derives a significant part of its funding from the Roman Catholic archdiocese of Los Angeles.

Today I spoke with a member of CLUE's board of directors, Rev. James Conn, a Methodist minister and Director of New Ministries for the California-Pacific Conference of the United Methodist Church. Reverend Conn had been directly involved in the recruitment and interview process involving Father Geoff.

I asked him if CLUE had denied Father Geoff a second interview specifically because the Roman Catholic Archdiocese of Los Angeles threatened to cut off all its significant funding for CLUE should Father Geoff ever be offered the position in question.

As incredible as it may seem, Reverend Conn confirmed the truth of this and expressed his heartfelt disappointment over the fact that CLUE had to choose between continuing the interview process with an extremely promising and qualified candidate or risk losing the financial support of the Roman Catholic archdiocese of Los Angeles that is critical to CLUE's work.

…I am writing this because I've learned over the years that the Roman Catholic Church gets away with this kind of despicable and inhumane treatment of men who choose to follow their conscience only when its bad deeds are not held up to a strong light. Father Geoff does not wish CLUE to lose its funding and therefore has remained silent about this, but his friends have brought this situation to my attention, and I want Catholics in California and beyond to understand clearly the level of unchristian behavior and deliberate malice of which their bishops and cardinals are capable.
Read what Father Geoff said about the incident on his blog. It's below the fold. Father Geoff :
In brief, I had applied for the position of Executive Director of a non-profit organization in Los Angeles. I had very successfully completed the lion's share of the interview process and was all but assured that I would be given the position. I had one final interview left with the Board of Directors on December 15th, 2008. Two days before that interview, I received a phone call from a Board Member informing me that the final interview had been cancelled. He was extremely apologetic and explained that they had received a phone call from the Archdiocese threatening them with disaffiliation if I were to be hired as the Executive Director.

I decided not to pursue any legal remedy for three reasons. First, I did not in any way wish to harm the non-profit for which I had applied. They do outstanding and laudable work helping the working poor. Second, I have extremely limited financial resources and am no match for the extremely well financed and influential Archdiocese of Los Angeles. Third, my own family asked me not to pursue the matter further. They felt that I was being made "an example of" by the powers within the Church to discourage other priests from speaking out. My folks basically suggested that I just find a job and move on with my life.

Paradoxically, the actions of churchmen are pushing me in the opposite direction. On this final point, I must say that I have received first a command and then, "warnings" not to publish, not to speak with the media, and not to make public appearances. I am in a "David and Goliath" scenario with powerful churchmen who have the staff and vast wealth of the institution at their command. I was effectively blackballed by the Archdiocese from obtaining the position at CLUE-LA and I am aware that the hierarchy may try this and other means to attempt to intimidate me into silence. It is the basic civil right for freedom of speech that is at stake here for both myself and the reader.

These authoritarian churchmen are threatened by the free expression of ideas which differ from their own. They are even more acutely sensitive on this particular issue than on most others because they know that many priests (and bishops) are gay. They take it as a personal affront that threatens not only their power and position, but perhaps even more frightening, it threatens to unmask many of them as closeted gay men. The simple solution of granting gay and lesbian Catholics the practical dignity which they have conferred upon them theoretically is a non-option. This is true because of sociological reasons. Most Catholics live in the Third World and are not prepared to accept women priests, let alone gay and lesbian equal rights.
This is sick. Why is the church persecuting this man – all he wants is to serve the community? WWJD? Apparently the level of paranoia among Ratzi's boyz in this diocese has reached incredible levels.
You can ask Cardinal Roger Mahoney why the Archdiocese is acting more like Tony Soprano than men of true faith.
Archdiocese of Los Angeles
3424 Wilshire Blvd.
Los Angeles, CA 90010-2202
213 637 7000
[email protected]
Oh, for a reminder of the kind of messaging the church has out there to LGBTs as far as Prop 8 goes, hold your nose and read this trash on the Archdiocese web site:
A PASTORAL MESSAGE TO HOMOSEXUAL CATHOLICS IN THE ARCHDIOCESE OF LOS ANGELES

As Bishops of the Archdiocese of Los Angeles, we are addressing this message first of all to the homosexual members of our Church. Given the controversy generated by the passage of Proposition of 8, we want to reassure each of you that you are cherished members of the Catholic Church, and that we value you as equal and active members of the Body of Christ. At the same time, we would like to address this message to all the members of the Catholic Church in the Archdiocese of Los Angeles, and to all men and women in the wider community.

The passage of Proposition 8 in the State of California does not diminish in any way the importance of you, our homosexual brothers and sisters in the Church. Nor does it lessen your personal dignity and value as full members of the Body of Christ.
A reader at my pad noted:
It's mostly interesting to me — to compare this drastic and direct action to the Catholic Church's behavior regarding Richard Williamson— specifically how in Williamson's case they're all like, oh, well, if a bishop publicly denies the holocaust, that's his personal opinion, we can't take a position on secular matters like that, there's nothing we can do shrug…