Goldman Sachs 2009 bonuses to double 2008's; $23 billion could send 460,000 to Harvard, buy insurance for 1.7 million families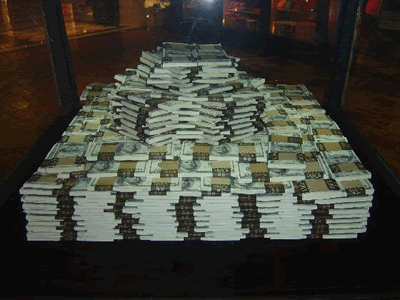 Yesterday, we brought you the insurance company that wouldn't insure a 17-pound infant because he was too heavy. Today, we bring you the investment bank that manages to double its bonuses during the worst recession since the Great Depression.
On Thursday, Goldman Sachs will announce the firm's bonus payments for 2009. Analysts expect the bonus pool to mushroom to $23 billion — double the bonus pool paid to employees in 2008. Earlier this year, Goldman Sachs said that it had put aside $11.4 billion for bonuses during the first half of the year.
"The absolute size of compensation payouts will rise significantly," Keith Horowitz, an analyst at Citigroup, wrote in a note to clients two weeks ago, highlighted by Andrew Sorkin in The New York Times' dealbook column Tuesday.
How much is $23,000,000,000?
For one thing, it's enough to send 460,000 full paying students to Harvard University for one year, or 115,000 for four years.
It's enough to pay the health insurance premium for the average American family ($13,375) 1.7 million times.
It's enough to upgrade 191 million computers to Windows 7 operating system (priced at $119.99), or to buy 115 million iPhones at $199.99 (provided the recipient was willing to sign a two-year contract).
Or, apparently, it's enough to reward the employees of Goldman Sachs for a bonanza trading year, at a firm where average employee compensation was recently $622,000 — and likely to be greater this year.
The $23 billion figure could leave some American taxpayers woozy — the US government bailed out Goldman Sachs with a multi-billion payment last year, which the firm has since repaid.
But while Goldman is likely to pay its biggest bonuses ever to employees, the firm pays very little in taxes worldwide. In 2008, the company was said to have paid just $14 million in taxes worldwide, and paid $6 billion in 2007.
The firm's corporate tax rate? About 1 percent. According a prominent tax lawyer, "They have taken steps to ensure that a lot of their income is earned in lower-tax jurisdictions."
Sorkin says Goldman's CEO is trying to hold off criticism by making a big charitable donation.
"Now there's talk inside Goldman that it is considering making a huge charitable donation — perhaps more than $1 billion — as a way to help deflect the criticism," Sorkin says. "Such a donation would be a welcome gesture that would no doubt benefit many needy organizations. But it would most likely be seen for what it is: a one-time move to draw attention away from where most of the money is really going. A large charitable donation also raises questions about the company's fiduciary duty to its shareholders; it could be seen as giving away profits that ostensibly belong to them."
Australia offers safe haven to Hong Kongers, sparking China fury
Australia offered pathways to permanent residency for thousands of people from Hong Kong on Thursday in response to China's crackdown on dissent, drawing a furious reply from Beijing.
Prime Minister Scott Morrison said his government was suspending its extradition agreement with the city and, in addition to extending the visas of 10,000 Hong Kongers already in the country, threw open the door to thousands more wanting to start a new life Down Under.
Morrison said the decisions were taken in response to China's imposition last week of a tough new security law in Hong Kong, which he said "constitutes a fundamental change of circumstances" for the semi-autonomous territory.
'Glee' star Naya Rivera missing, feared drowned
"Glee" star Naya Rivera is missing and feared drowned at a California lake, local officials said, with rescuers to continue a search for her on Thursday.
The Ventura County Sheriff's office earlier tweeted it was looking for a "possible drowning victim" at the lake, and said a dive team was being deployed to the area.
Rivera, 33, is best known for her role as high school cheerleader Santana Lopez in "Glee", the TV series that she starred in for six seasons.
She rented a boat on Wednesday to take her four-year-old son onto Lake Piru, northwest of Los Angeles, local media cited the County Sheriff as saying.
Houston convention center operator cancels in-person Texas GOP meeting
The Republican Party of Texas' in-person convention next week has been canceled, Houston Mayor Sylvester Turner said Wednesday.
The news came after Turner directed the city's legal department to work with the Houston First Corp., which operates the George R. Brown Convention Center, to review the contract with the state party.
Turner said officials with Houston First sent a letter this afternoon to the State Republican Executive Committee, the state party's governing board, canceling the gathering, which was set to happen July 16-18 and was expected to draw roughly 6,000 attendees.