Goldman Sachs 2009 bonuses to double 2008's; $23 billion could send 460,000 to Harvard, buy insurance for 1.7 million families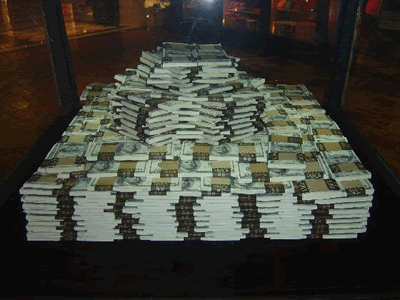 Yesterday, we brought you the insurance company that wouldn't insure a 17-pound infant because he was too heavy. Today, we bring you the investment bank that manages to double its bonuses during the worst recession since the Great Depression.
On Thursday, Goldman Sachs will announce the firm's bonus payments for 2009. Analysts expect the bonus pool to mushroom to $23 billion — double the bonus pool paid to employees in 2008. Earlier this year, Goldman Sachs said that it had put aside $11.4 billion for bonuses during the first half of the year.
"The absolute size of compensation payouts will rise significantly," Keith Horowitz, an analyst at Citigroup, wrote in a note to clients two weeks ago, highlighted by Andrew Sorkin in The New York Times' dealbook column Tuesday.
How much is $23,000,000,000?
For one thing, it's enough to send 460,000 full paying students to Harvard University for one year, or 115,000 for four years.
It's enough to pay the health insurance premium for the average American family ($13,375) 1.7 million times.
It's enough to upgrade 191 million computers to Windows 7 operating system (priced at $119.99), or to buy 115 million iPhones at $199.99 (provided the recipient was willing to sign a two-year contract).
Or, apparently, it's enough to reward the employees of Goldman Sachs for a bonanza trading year, at a firm where average employee compensation was recently $622,000 — and likely to be greater this year.
The $23 billion figure could leave some American taxpayers woozy — the US government bailed out Goldman Sachs with a multi-billion payment last year, which the firm has since repaid.
But while Goldman is likely to pay its biggest bonuses ever to employees, the firm pays very little in taxes worldwide. In 2008, the company was said to have paid just $14 million in taxes worldwide, and paid $6 billion in 2007.
The firm's corporate tax rate? About 1 percent. According a prominent tax lawyer, "They have taken steps to ensure that a lot of their income is earned in lower-tax jurisdictions."
Sorkin says Goldman's CEO is trying to hold off criticism by making a big charitable donation.
"Now there's talk inside Goldman that it is considering making a huge charitable donation — perhaps more than $1 billion — as a way to help deflect the criticism," Sorkin says. "Such a donation would be a welcome gesture that would no doubt benefit many needy organizations. But it would most likely be seen for what it is: a one-time move to draw attention away from where most of the money is really going. A large charitable donation also raises questions about the company's fiduciary duty to its shareholders; it could be seen as giving away profits that ostensibly belong to them."
This Trump-backing Indiana city is 'flashing a warning sign' that a recession is coming: Wall Street Journal
Last week's inverted yield curve set off fresh worries about whether the American economy is headed toward a recession, and a new report from the Wall Street Journal is sure to further stoke concerns.
In the report, the WSJ writes that Elkhart, Indiana -- a key industrial city in a district that voted for former President Barack Obama in 2008 and current President Donald Trump in 2016 -- is "flashing a warning sign about the economy."
Spooked Trump insists US economy not in trouble
President Donald Trump is so convinced that his reelection depends on the economy staying strong that the merest hint of recession has sent him into political crisis management mode.
Unpopular and with a middling record of legislative achievements, Trump enters the 2020 campaign season facing significant headwinds -- except on the economy.
Growth has been on the upside for a decade now and Trump takes all the credit that he can for record low unemployment and what he repeatedly claims to be "the hottest" economy in the world.
But what he doesn't want to talk about is the bad news -- and that's starting to accumulate.
Weapons cache, grenade launcher, Neo-Nazi literature and instructions for owning slaves found in man's home
A New Jersey man is facing life in prison after he was found to have a cache of illegal firearms and Neo-Nazi literature.
According to U.S. Attorney Craig Carpenito, State Troopers became suspicious after 57-year-old Joseph Rubino wrecked his vehicle on July 24. Officers noticed a number of firearms at the scene of the accident.
Inside the vehicle, officers found "a semi-automatic assault handgun, a 9mm semi-automatic assault pistol with a high-capacity magazine, a loaded 9mm pistol, two barrels sawed off from a double-barrel shotgun, a sight for an assault rifle and a stripped AR-15 bolt carrier," NJ.com reported.