Goldman Sachs 2009 bonuses to double 2008's; $23 billion could send 460,000 to Harvard, buy insurance for 1.7 million families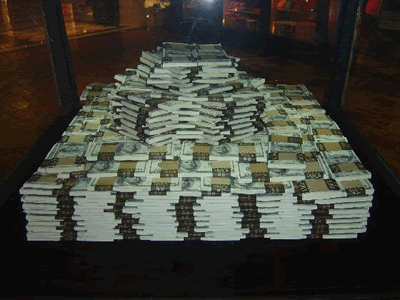 Yesterday, we brought you the insurance company that wouldn't insure a 17-pound infant because he was too heavy. Today, we bring you the investment bank that manages to double its bonuses during the worst recession since the Great Depression.
On Thursday, Goldman Sachs will announce the firm's bonus payments for 2009. Analysts expect the bonus pool to mushroom to $23 billion — double the bonus pool paid to employees in 2008. Earlier this year, Goldman Sachs said that it had put aside $11.4 billion for bonuses during the first half of the year.
"The absolute size of compensation payouts will rise significantly," Keith Horowitz, an analyst at Citigroup, wrote in a note to clients two weeks ago, highlighted by Andrew Sorkin in The New York Times' dealbook column Tuesday.
How much is $23,000,000,000?
For one thing, it's enough to send 460,000 full paying students to Harvard University for one year, or 115,000 for four years.
It's enough to pay the health insurance premium for the average American family ($13,375) 1.7 million times.
It's enough to upgrade 191 million computers to Windows 7 operating system (priced at $119.99), or to buy 115 million iPhones at $199.99 (provided the recipient was willing to sign a two-year contract).
Or, apparently, it's enough to reward the employees of Goldman Sachs for a bonanza trading year, at a firm where average employee compensation was recently $622,000 — and likely to be greater this year.
The $23 billion figure could leave some American taxpayers woozy — the US government bailed out Goldman Sachs with a multi-billion payment last year, which the firm has since repaid.
But while Goldman is likely to pay its biggest bonuses ever to employees, the firm pays very little in taxes worldwide. In 2008, the company was said to have paid just $14 million in taxes worldwide, and paid $6 billion in 2007.
The firm's corporate tax rate? About 1 percent. According a prominent tax lawyer, "They have taken steps to ensure that a lot of their income is earned in lower-tax jurisdictions."
Sorkin says Goldman's CEO is trying to hold off criticism by making a big charitable donation.
"Now there's talk inside Goldman that it is considering making a huge charitable donation — perhaps more than $1 billion — as a way to help deflect the criticism," Sorkin says. "Such a donation would be a welcome gesture that would no doubt benefit many needy organizations. But it would most likely be seen for what it is: a one-time move to draw attention away from where most of the money is really going. A large charitable donation also raises questions about the company's fiduciary duty to its shareholders; it could be seen as giving away profits that ostensibly belong to them."
'Go back to Harlem!': Florida woman has n-word laced meltdown after bumping black woman's shopping cart
On Saturday, the Atlanta Black Star reported an incident in Florida, in which a white woman screamed racial slurs at a black woman at a Publix supermarket in Miami after their shopping carts jostled each other.
After the woman allegedly banged into Nicki Johnson's cart, she refused to apologize, saying, "I didn't hit you with my cart, and f**k you,  you f**king n****r."
Johnson whipped out her cell phone camera, and began recording the incident, saying "You, why don't you call me a n****r again?"
"You thinking I'm sorry?" snapped the woman. "Let me tell you something, I don't have to call you anything. Get away from me, I will call security and there are surveillance videos. Get away from me!"
'I'm a nurse, what are you?': Tennessee lawmaker humiliates anti-choice activists in brutal public grilling
Anti-choice activists in Tennessee were unprepared for the grilling they got from a Democratic Party lawmaker when making the case for a bill that would outlaw abortion before many women knew they were pregnant.
One of the speakers in favor of the fetal heartbeat bill was Baptist Pastor Randy Davis, who was questioned by state Sen. Katrina Robinson (D-Memphis).
"How many women executive pastors do you have in your convention?" Robinson asked Davis. "Or senior pastors."
"None," Davis replied.
"So is it the same ideology that restricts access to women being able to lead a congregation that leads you all to support women not being able to make a medical decision about their body?" Robinson asked.
Trump is doing everything he did in 2016 to get elected — and it's failing this time: columnist
On Saturday, Washington Post columnist Dan Balz wrote that President Donald Trump is relying on the same old bag of tricks that let him lurch blindly to a surprise victory in 2016 — but that that playbook is unlikely to get him elected again, let alone deliver sound domestic or foreign policy.
"After a week in which the threat of recession rocked global financial markets, his trade war with China showed no signs of progress and the government of Israel got into a nasty dispute with two members of Congress, President Trump went to bed Thursday night with other weighty issues on his mind. 'Great news,' he tweeted. 'Tonight we broke the all-time attendance record previously held by Elton John at #SNHUArena [Southern New Hampshire University] in Manchester!'" wrote Balz. "This is the frivolous mind-set of the president of the United States. Trump's flurry of statements over the past few days have brought into focus once again something fundamental about him: He has little understanding of what it means to govern. He would rather tweet from the bleachers."