Don't miss stories. Follow Raw Story!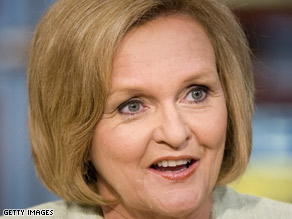 Missouri Sen. Claire McCaskill has some fighting words for former North Carolina Sen. and onetime presidential candidate John Edwards.
You're "disgusting."
The senator made the comments on a St. Louis radio show Tuesday. Asked what she'd do if she ran into the former trial lawyer and anti-poverty advocate, she said, "I think he's disgusting. I don't think the guy has a soul."
McCaskill continued: "To have somebody like that who was so narcissistic and so full of himself get out there and lie like that, and use his wife's sickness for political gain…
"You wonder why people think politicians are bad people," she added. "It's because of people like that."
Audio of the exchange is available here.
The first commenter on a post about the remark on Huffington Post quipped: "Few things are worse than denying you are the father of a child if you are in fact the father."
Edwards acknowledged having a child with a former videographer last week after denying he was the father for more than a year.
"I am Quinn's father," Edwards said in a statement Jan. 21. "I have been able to spend time with her during the past year and trust that future efforts to show her the love and affection she deserves can be done privately and in peace," he continued. "It was wrong for me ever to deny she was my daughter and hopefully one day, when she understands, she will forgive me."
The National Enquirer first exposed Edwards affair with the videographer, and recently claimed that Edwards had been caught cheating again. He remains married to his wife, Elizabeth Edwards, who has been diagnosed with terminal cancer.