Missouri senator: John Edwards 'disgusting,' 'has no soul'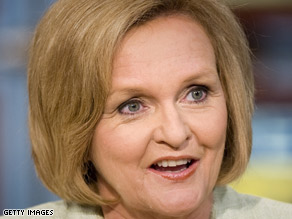 Missouri Sen. Claire McCaskill has some fighting words for former North Carolina Sen. and onetime presidential candidate John Edwards.
You're "disgusting."
The senator made the comments on a St. Louis radio show Tuesday. Asked what she'd do if she ran into the former trial lawyer and anti-poverty advocate, she said, "I think he's disgusting. I don't think the guy has a soul."
McCaskill continued: "To have somebody like that who was so narcissistic and so full of himself get out there and lie like that, and use his wife's sickness for political gain…
"You wonder why people think politicians are bad people," she added. "It's because of people like that."
Audio of the exchange is available here.
The first commenter on a post about the remark on Huffington Post quipped: "Few things are worse than denying you are the father of a child if you are in fact the father."
Edwards acknowledged having a child with a former videographer last week after denying he was the father for more than a year.
"I am Quinn's father," Edwards said in a statement Jan. 21. "I have been able to spend time with her during the past year and trust that future efforts to show her the love and affection she deserves can be done privately and in peace," he continued. "It was wrong for me ever to deny she was my daughter and hopefully one day, when she understands, she will forgive me."
The National Enquirer first exposed Edwards affair with the videographer, and recently claimed that Edwards had been caught cheating again. He remains married to his wife, Elizabeth Edwards, who has been diagnosed with terminal cancer.
Trump campaign mocked after unveiling new red hats: 'Do you have arm bands as well?'
President Donald Trump's 2016 "Make America Great Again" hats have been replaced with new "Keep America Great" hats.
Trump re-election campaign manager Brad Parscale modeled one of the hats on Twitter.
Here is some of what people were saying:
https://twitter.com/LazarusLeBaron/status/1165430924093165568
Here I made an arm band design for you pic.twitter.com/inTyqVi2wo
— Christopher Goodwin (@LazarusLeBaron) August 25, 2019
'This will not end well': Far-right extremism expert warns of Trump's intensifying authoritarianism
An expert on the far-right in America warned of President Donald Trump's "genuinely dangerous levels" of authoritarianism on Saturday.
Author David Neiwert posted a long Twitter thread on the commander-in-chief's "Social Dominance Orientation" -- and warned it will not end well.
Neiwert is the author of the 2017 book Alt-America: The Rise of the Radical Right in the Age of Trump.
Here is the thread he posted:
https://twitter.com/DavidNeiwert/status/1165428067138846720
https://twitter.com/DavidNeiwert/status/1165428524808724480
https://twitter.com/DavidNeiwert/status/1165429018486702081
'The Mooch' attended Biden fundraiser in the Hamptons — because Trump 'has lost his mind'
Former White House press secretary Anthony Scaramucci attended a fundraiser for former Vice President Joe Biden on Saturday.
CBS News reporter Ben Mitchell posted a photo of Scaramucci at the event, and subsequently interviewed "The Mooch."
Scaramucci said he was still a registered Republican, but added that Trump "has lost his mind."
Spotted at a Biden event in the Hamptons: Fmr. Trump WH Comms Director Anthony @Scaramucci pic.twitter.com/PWVTZ8Qm15