MI5 chief rues 'emerging pattern of US mistreatment of detainees after 9/11′
Don't miss stories. Follow Raw Story!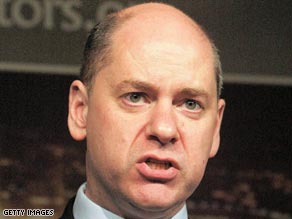 LONDON — The head of Britain's domestic spy service Friday defended his organisation's work amid an escalating row over claims it tried to cover up its involvement in torture.
Writing in the Daily Telegraph, MI5 director-general Jonathan Evans hit out at the allegation from one of Britain's most senior judges that the agency had a "culture of suppression."
In rare public comments, he said the accusation — which came in a draft court ruling relating to the case of a Guantanamo Bay inmate — was the "precise opposite of the truth."
He admitted that British intelligence was "slow to detect" US mistreatment of detainees after the September 11 attacks in the United States.
But he added: "We in the (British) agencies did not practise mistreatment or torture then and do not do so now, nor do we collude or encourage others to torture on our behalf."
In his harsh critcism of MI5, which was removed from the final published court judgement but leaked out, Judge Lord Neuberger also accused the service of failing to respect human rights and misleading parliament.
Judges handed down the ruling Wednesday as they ordered the release of once-secret information about the case of former detainee Binyam Mohamed, which showed he had been subject to abuse at the hands of US authorities.
The CIA had passed the information to British intelligence, and judges released it after Foreign Secretary David Miliband lost an appeal court bid.
The publication of the seven-paragraph summary showing Britain was aware of the US authorities' abuse, combined with the judge's criticism, has intensified a row here about MI5's alleged attempts to conceal its collusion in torture.
Evans also warned that Britain's enemies could use the escalating row as "propaganda to undermine our will and ability to confront them."
Ethiopian-born Mohamed — who came to Britain in 1994 seeking asylum — claims that in Morocco in 2002 he was questioned by people using information that could only have come from the British intelligence service.
Miliband disclosed Wednesday that police were investigating allegations of criminal actions by a British official linked to the case.
Mohamed was arrested in Pakistan in 2002 while trying to return to Britain and spent nearly seven years in US custody or in countries taking part in the US-run rendition programme of terror suspects.
After a lengthy campaign by his supporters, he became the first prisoner to be released from Guantanamo under the Obama presidency and returned to Britain in February last year.
Further excerpts from Evans editorial:
As head of the security service, I know that the reason the Government appealed against the Divisional Court judgment in the Binyam Mohammed case was not to cover up supposed British collusion in mistreatment, but in order to protect the vital intelligence relationship with America and, by extension, with other countries. We cannot protect the UK without the help and co-operation of other countries. The US, in particular, has been generous in sharing intelligence with us on terrorist threats; that has saved British lives and must be protected.

….

The United States does not have to share intelligence with us. Nor do other countries. The US government has expressed its deep disappointment at the publication of the paragraphs and has said that the judgment will be factored into its decision-making in future. We must hope, for our safety and security, that this does not make it less ready to share intelligence with us.

There have also been a series of allegations that MI5 has been trying to "cover up" its activities. That is the opposite of the truth. People who choose to work in the service do so because they want to protect the UK and its liberties. We are an accountable public organisation and take our legal and oversight responsibilities seriously. The material our critics are drawing on to attack us is taken from our own records, not prised from us by some external process but willingly provided by us to the court, in the normal way. No cover-up there.

Likewise, we co-operate willingly with the Intelligence and Security Committee so that it can fulfil its oversight role, which we support and which benefits the service. Sometimes the ISC draws attention in its reports to aspects of our work that it believes fall short of what it, and through it the public, might expect. That is right and proper in a democratic system. One shortfall it highlighted in 2005 and again in 2007 was that the British intelligence community was slow to detect the emerging pattern of US mistreatment of detainees after September 11, a criticism that I accept.
FULL JONATHAN EVANS EDITORIAL AT THIS LINK