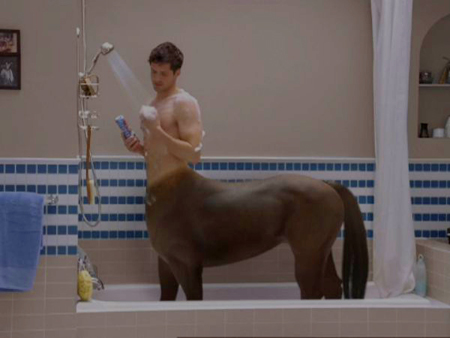 Sen. John McCain — despite supporting the military's "don't ask, don't tell" prohibition on openly gay servicemembers — has been a staunch critic of a national amendment to ban same-sex unions.
In fact, during debate on the federal marriage amendment in 1994, he called the push to ban same-sex marriage "un-Republican."
His Republican primary challenger, however, is singing a rather different tune. Humming, maybe — or neighing.
On an Orlando radio station Sunday, McCain challenger J.D. Hayworth said that gay marriages, under Massachusetts law, could lead to "man on horse" unions.
"You see, the Massachusetts Supreme Court, when it started this move toward same-sex marriage, actually defined marriage — now get this — it defined marriage as simply, 'the establishment of intimacy,'" Hayworth remarked. "Now how dangerous is that? I mean, I don't mean to be absurd about it, but I guess I can make the point of absurdity with an absurd point — I guess that would mean if you really had affection for your horse, I guess you could marry your horse. It's just the wrong way to go, and the only way to protect the institution of marriage is with that federal marriage amendment that I support."
The clip was allegedly forwarded to The Huffington Post from a "Republican source," raising questions of the motivation of its publication online.
The Post's Sam Stein notes that Hayworth's comment echoes one made by then-Sen. Rick Santorum (R-PA) almost a decade earlier.
"In every society, the definition of marriage has not ever to my knowledge included homosexuality," Santorum said. "That's not to pick on homosexuality. It's not, you know, man on child, man on dog, or whatever the case may be."
Wondering about the above photograph? It's a screen-cap from Old Spice's two-in-one campaign, in which a "half-man/half-horse lathers up while speaking about the benefits of being 'two things in one: a man and a pretty smart shopper.'"
Bill Maher dances on David Koch's grave: 'I'm glad he's dead and I hope the end was painful'
HBO "Real Time" host Bill Maher celebrated the death of right-wing billionaire David Koch, who died of prostate cancer.
"I guess I'm going to have to reevaluate my low opinion of prostate cancer," Maher said.
"Condolences poured in from all the politicians he owned and mourners are being asked, in lieu of flowers, to just leave their car engine running," he said.
"I know these seem like harsh words and harsh jokes, and I'm sure I will be condemned for them on Fox News, which will portray Mr. Koch as a principled libertarian who believed in the free market," Maher said. "He and his brother have done more than anybody to fund climate science deniers -- for decades."
HBO's Bill Maher slams Trump's White House lawn press conferences: 'Brought to you by Adderall'
HBO's "Real Time" host Bill Maher ripped Donald Trump on Friday.
"I've had so many sh*tty weeks, but this was a sh*tty week, I'm telling you," Maher said.
Rep. Rashida Tlaib (D-MI) called for a boycott of Maher's show this week.
"The one bright spot I could find, Trump finally found some white people to fight with. Denmark. He's fighting with Denmark, because, you know this, he's been wanting to buy Greenland
Rachel Maddow reveals 9 major reasons so many Democrats are running against Trump in 2020
The host of "The Rachel Maddow Show" on MSNBC listed nine major reasons Democrats are running to take on President Donald Trump in 2020.
"As we close in on the third round of Democratic presidential primary debates, the acute angle of the funnel that the candidates are going through right now is starting to pinch a little bit," Maddow noted.
"I think it's fair to say that the Democratic Party knew that a lot of people were going to get into this presidential primary to try to earn the right to challenge this incumbent president. Right? It's not rocket science to figure that out," she continued. "It's nothing personal about the president."