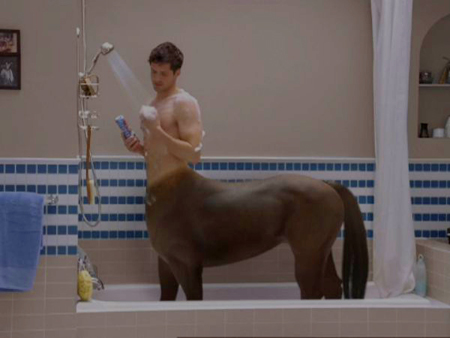 Sen. John McCain — despite supporting the military's "don't ask, don't tell" prohibition on openly gay servicemembers — has been a staunch critic of a national amendment to ban same-sex unions.
In fact, during debate on the federal marriage amendment in 1994, he called the push to ban same-sex marriage "un-Republican."
His Republican primary challenger, however, is singing a rather different tune. Humming, maybe — or neighing.
On an Orlando radio station Sunday, McCain challenger J.D. Hayworth said that gay marriages, under Massachusetts law, could lead to "man on horse" unions.
"You see, the Massachusetts Supreme Court, when it started this move toward same-sex marriage, actually defined marriage — now get this — it defined marriage as simply, 'the establishment of intimacy,'" Hayworth remarked. "Now how dangerous is that? I mean, I don't mean to be absurd about it, but I guess I can make the point of absurdity with an absurd point — I guess that would mean if you really had affection for your horse, I guess you could marry your horse. It's just the wrong way to go, and the only way to protect the institution of marriage is with that federal marriage amendment that I support."
The clip was allegedly forwarded to The Huffington Post from a "Republican source," raising questions of the motivation of its publication online.
The Post's Sam Stein notes that Hayworth's comment echoes one made by then-Sen. Rick Santorum (R-PA) almost a decade earlier.
"In every society, the definition of marriage has not ever to my knowledge included homosexuality," Santorum said. "That's not to pick on homosexuality. It's not, you know, man on child, man on dog, or whatever the case may be."
Wondering about the above photograph? It's a screen-cap from Old Spice's two-in-one campaign, in which a "half-man/half-horse lathers up while speaking about the benefits of being 'two things in one: a man and a pretty smart shopper.'"
Trump lawyer cites former GOP senator to discredit impeachment — but leaves out he supports convicting the president
During the Senate impeachment trial on Monday, White House lawyer Robert Ray attempted to contrast the impeachment of President Donald Trump with that of President Richard Nixon, by arguing that unlike in the former case, Republicans came together with Democrats to call for removing Nixon. As part of the comparison, he brought up then-Rep. William Cohen, who went on to become a U.S. senator from Maine and Secretary of Defense for President Bill Clinton.
"Together these six Republicans made history," said Ray. "They did so with no sense of triumph and no fist bumps."
What Ray chose not to mention, however, is that Cohen has specifically weighed in on the Trump case, and said that he should be impeached and removed over the Ukraine scheme.
There are 51 votes to approve calling witnesses in Trump impeachment trial: PBS
After pieces of John Bolton's manuscript leaked to the press confirming President Donald Trump's bribery of Ukraine, Republicans have turned to support the witnesses they once opposed.
Sens. Mitt Romney (R-UT) and Susan Collins (R-ME) both voted against witnesses and were leaning against them until Bolton's manuscript was leaked to the press after it was turned over to the White House for approval.
PBS News Hour reporter Lisa Desjardins tweeted Monday evening that the news tipped the scales and there were officially 51 votes to approve witnesses.
https://twitter.com/LisaDNews/status/1221951089647538177
'Give me a break': CNN analyst explains why Trump defense of Rudy Giuliani was terrible
While the Senate impeachment trial against President Donald Trump paused for a dinner break, CNN analysts responded to the White House's afternoon defense of the president was by blaming the Biden family.
Political commentator Gloria Borger noted that Trump lawyer, Eric Herschmann, going after former President Barack Obama just seemed desperate.
"Give me a break," she said. "What does that have to do with any of this right now? His defense boiled down to, 'He did it, so what? He did it. He was trying to root out corruption.' But if he was concerned about rooting out corruption, why haven't we seen more of that? His defense was, 'He had a reason to do it. It's OK. Therefore it was in the national interest.' This wasn't just about Joe Biden."