Don't miss stories. Follow Raw Story!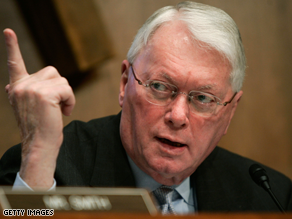 ABC News producer Zach Wolf said he was given the middle finger by Republican Sen. Jim Bunning (R-KY), when a fellow reporter asked why the senator had put a hold on a federal highway bill that has furloughed more than 2,000 federal workers.
Wolf didn't elaborate, but Tweeted, "Jim Bunning just flipped your trusty Senate producer the bird as we pursued him onto the Senators only elevator."
ABC posted video of the Bunning's exchange with ABC reporter Jonathan Karl online, but it doesn't show the finger. It does, however, display a visibly angry Bunning vexed at the reporter's questions as he gets into a Senators-only elevator in the Capitol building.
"Excuse me," Bunning exclaims.
Karl, the ABC reporter in the video, also alleged that Bunning pitched a middle finger off camera in a follow-up Tweet.
"An Irate Jim Bunning kicks me off the elevator "This is a Senators-only elevator!" Off-camera: He flipped the bird," he wrote.
AP notes: "The furloughs and freeze on payments were the result of a decision last week by Republican Sen. Jim Bunning to block passage of legislation that would have extended federal highway and transit programs, the department said. Those programs expired at midnight Sunday."
"The extension of transportation programs was part of a larger package of government programs that also expired Sunday, including unemployment benefits for about 400,000 Americans."
Pressed to rescind his persistent objections Friday to extending the jobless benefits, Bunning reportedly responded by saying "tough shit."
This isn't the first time Bunning has been reported as behaving oddly.
Salon noted in 2004: "It's no secret in Kentucky that Sen. Jim Bunning, a Republican who was expected to coast to reelection on Nov. 2, has been acting strange. Over the past few months, Bunning has angrily pushed away reporters, exchanged testy words with a questioner at a Rotary Club and stuck to brief, heavily scripted remarks at campaign events, delivered in a halting monotone. The former major league baseball star now travels the Bluegrass State with a special police escort, at taxpayer expense. His explanation? Al-Qaida may be out to get him."
This video is from ABC News, broadcast March 1, 2010.
Download video via RawReplay.com