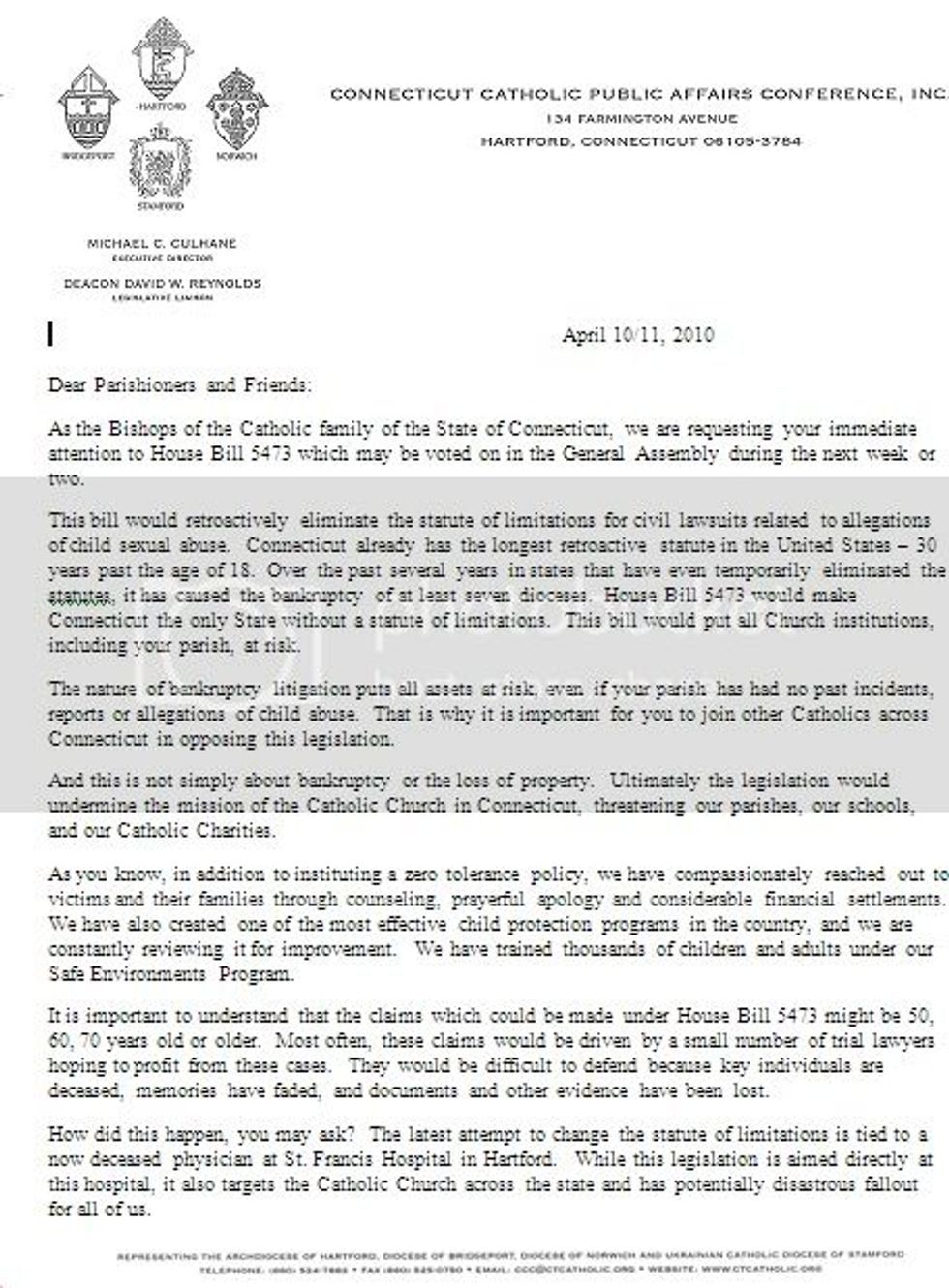 Read that headline again. I am not making that up. In fact, it's impossible to make something this sick up, given the state of disarray, denial and continuing revelations about priests, child-rapes and coverups by Papa Ratzi's hierarchy. Look at what the bishops in Connecticut are doing. (CNN):

---
A bill in Connecticut's legislature that would remove the statute of limitations on child sexual abuse cases has sparked a fervent response from the state's Roman Catholic bishops, who released a letter to parishioners Saturday imploring them to oppose the measure.

Under current Connecticut law, [minor] sexual abuse victims have 30 years past their 18th birthday to file a lawsuit. The proposed change to the law would rescind that statute of limitations.

The proposed change to the law would put "all Church institutions, including your parish, at risk," says the letter, which was signed by Connecticut's three Roman Catholic bishops.

The letter is posted on the Web site of the Connecticut Catholic Public Affairs Conference, the public policy and advocacy office of Connecticut's Catholic bishops. It asks parishioners to contact their legislators in opposition of the bill.

The "legislation would undermine the mission of the Catholic Church in Connecticut, threatening our parishes, our schools, and our Catholic Charities," the letter says.
What about the molested and raped children who never came forward, who were cowed into silence with threats of excommunication who are now adults, and realize the evil must be held accountable? From the web site:

When similar bills passed in California and Delaware, the result was over 1,250 plaintiffs filing suit against Catholic institutions, two dioceses in bankruptcy, efforts to foreclose on parish and diocesan properties, and the transfer of over $1.3 billion from Catholic institutions and their insurers to claimants and their counsel.
Oh my -- so the legislation is wrong because the church had to take a bath when there were judgments against it for kiddy diddling by its employees, the priests that got shuffled around from diocese to diocese, left to molest more innocents. Man, I didn't think the church would go this far in admitting it has a problem, but apparently the smell of desperate fear of it all coming down is in the air and driving them stark raving mad.
But wait, there's more below the fold. One of my baristas, Keori, had this to say in her post:
The Hartford Courant has more:

State Rep. Beth Bye, a sponsor of the bill, called the letter inflammatory and said it contains several inaccuracies. Among them, she said, is the bishops' claim that the bill targets the church and St. Francis Hospital and Medical Center, a Catholic hospital facing more than 135 lawsuits involving sexual abuse...

Although the proposal would apply to all child sexual abuse victims, it would almost certainly affect the cases against St. Francis Hospital involving Dr. George Reardon, who practiced at the hospital from 1963 to 1993 and is believed to have abused as many as 500 children. Reardon died in 1998, but in 2007, the owner of Reardon's former home found more than 50,000 slides and 100 movie reels of child pornography hidden in a wall. Since then, more than 135 people have sued the hospital, alleging negligence for failing to stop the abuse.

The hospital has said that it did not know of the specific allegations against Reardon until 1993, when state health officials moved to revoke Reardon's license.

More than 50 plaintiffs were beyond the statute of limitations when their lawsuits were filed. Their cases are proceeding but could face a challenge.

So it's not just Catholic priests raping children, and the dioceses covering it up. It's their doctors doing it, and their hospitals are also complicit.

The church has demonstrated with its past and present behavior, at all levels from Youth Ministers and Parish Priests on up to the Pope, that it has failed and continues to fail at protecting the children entrusted to its care. By refusing to even support laws designed to help victims of child sex crimes, the Catholic Church is failing to demonstrate a modicum of decency regarding its own culpability. What is it going to take for the Catholic Church to hold itself accountable for the evil of enabling the rape and torture of children in its parishes, schools, and medical facilities?