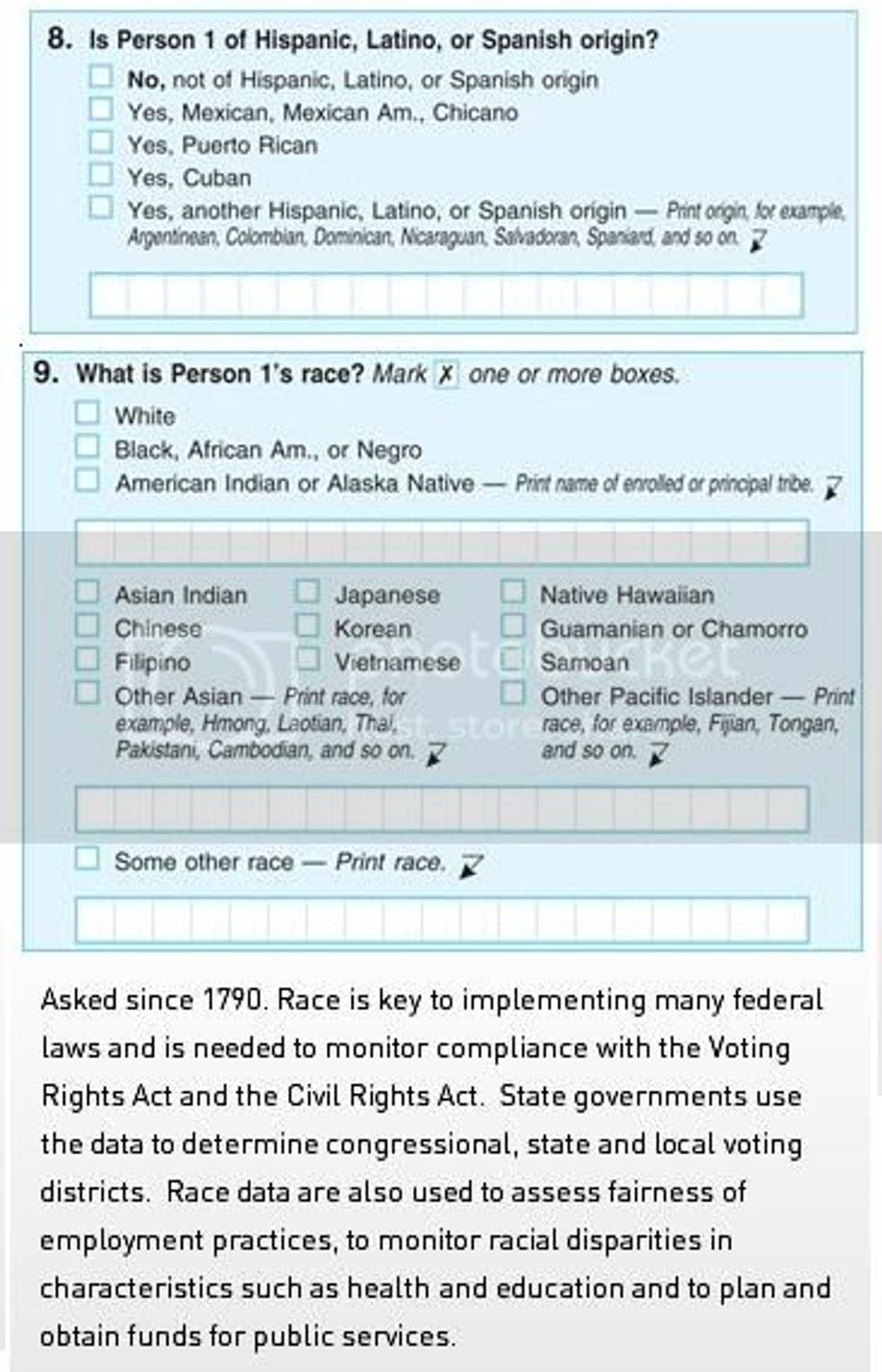 We're really going to learn a lot more from the 2010 census about the browning of America, as well as how many of us identify racially -- understanding that "race" is an artificial construct. The white supremacists' worst fear will be realized -- we're increasingly mixing up the gene pool; most would say that's a good thing (for those thinking of hybrid vigor), but from the supremacist's perspective the white race is being contaminated. How can you hate when you can't tell what anyone is? Oh, so sad. Bring out the tiny violin.
---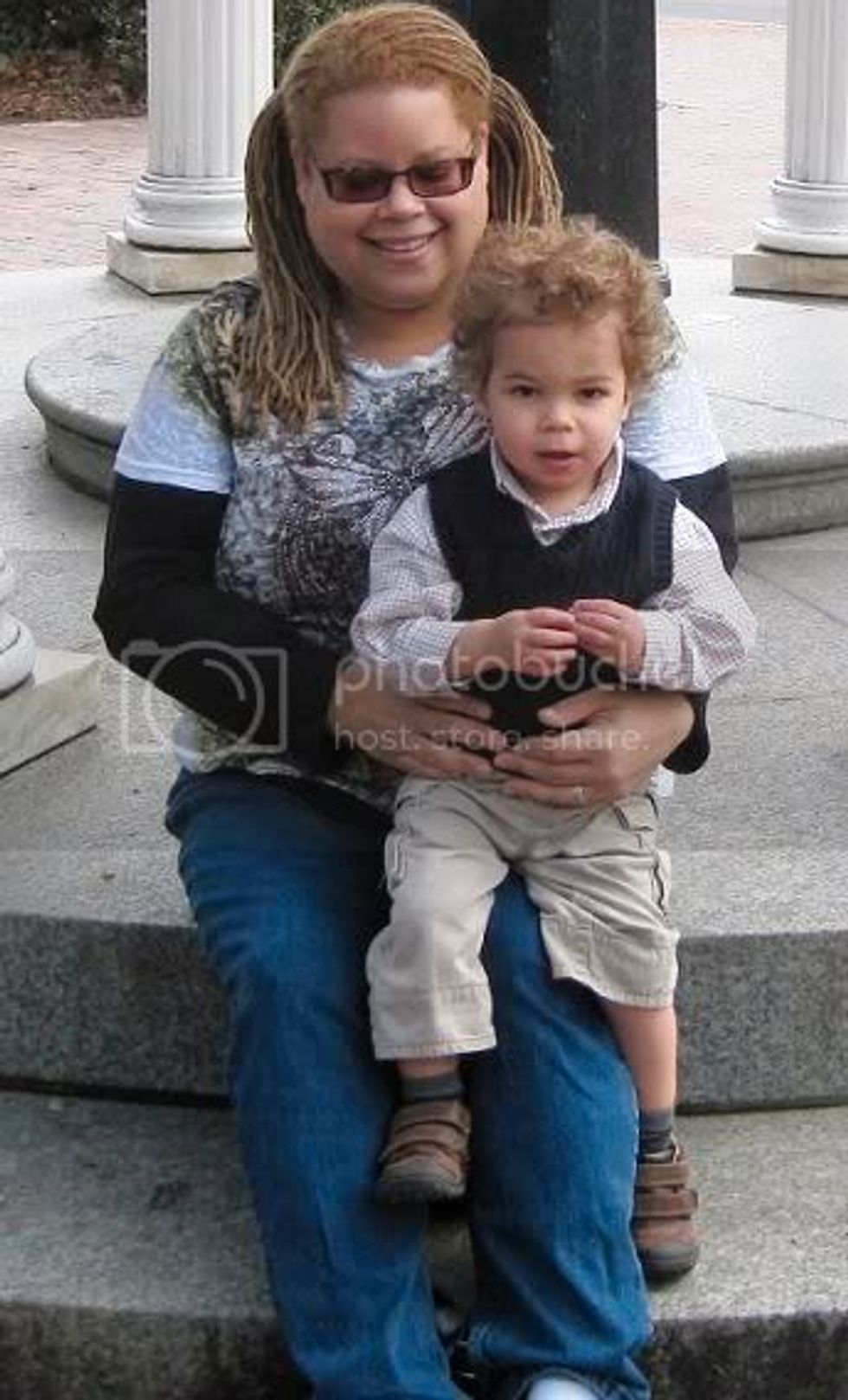 When my brother and sister-in-law came down to visit the other weekend, we discussed how my little biracial nephew Mr. E (seen with me at left) will view the world when he's old enough to understand the bizarre notion of race. Many questions ran through my mind, such as how he will identify? Nearly everyone who sees Mr. E and I together see the strong family resemblance, even down to our complexions. My brother, who is a bit darker than I am, had straighter, darker hair; he and I are not biracial, but the products of two light-skinned black parents who themselves were born of lighter-skinned blacks and black/Native American and West Indian heritage. Neither of us can pass for white, but obviously we have white relatives somewhere in there, but they are generations back in the family tree.
But it's also interesting to think about those who deal in the politics of race when it comes to mixing black and white. For instance, our biracial President has chosen on the census to select "black."
He may be the world's foremost mixed-race leader, but when it came to the official government head count, President Barack Obama gave only one answer to the question about his ethnic background: African-American.

The White House confirmed on Friday that Obama did not check multiple boxes on his U.S. Census form, or choose the option that allows him to elaborate on his racial heritage. He ticked the box that says "Black, African Am., or Negro."
And that's his prerogative. Biracial could have been a write-in option, or more than one race could be selected.

Mr. Obama could have checked white, checked both black and white, or checked the last category on the form, "some other race," which he would then have been asked to identify in writing.

There is no category specifically for mixed race or biracial.

Instructions for the census's American Community Survey, which poses the question in the same way as the 2010 form, say that "people may choose to provide two or more races either by marking two or more race response boxes, by providing multiple write-in responses, or by some combination of marking boxes and writing in responses."
That the President selected ""Black, African Am., or Negro," suggests he politically and culturally identifies as black AND because he cannot pass for white. Some who are biracial or multiracial can pass, or come across as some vague ethnicity -- in those cases my guess you'll likely see a boost in mixed identifications written in on census forms. When it comes to Latinos, as you see there is a separate question there. And there will be many more minority babies likely to be born in United States during 2010 than white babies, according to a recent study.

There may be more minority babies born this year in the U.S. than white babies for first time ever.

It could be a "tipping point" that propels our population toward minorities becoming the U.S. majority over the next 40 years.

In 1990, 37% of children born in the U.S. were minorities, but by 2008 it was 48%. This means the country is on track to become a minority-majority country by the middle of the century, according to Kenneth Johnson, of the University of New Hampshire. He researched many of the racial trends in a paper being released Wednesday, the week before the 2010 population count, which begins in earnest next week when more than 120 million U.S. households receive census forms in the mail.

The baby trend doesn't hold true everywhere, however. In New York City, Manhattan and Brooklyn kids are more likely to be white, he said.
Who's biracial in this series of photos?* The answer is below the fold.

Another oddity of the census, something that my wife Kate, who is Lebanese and white has noticed, is why those of Arab descent are officially counted as "white," unless the self-identify otherwise. This clearly this seems bizarre, given many Lebanese-Americans are darker than I am, and certainly the KKK wouldn't classify them as white either, but when it comes to race, so much doesn't make sense. The history behind it.:
Among the great ironies of Arab life in the US is that Arabs and other Middle Easterners are legally white in the eyes of government categorization. The reasons for this are complicated; basically, first wave Syrian/Lebanese Christian immigrants who arrived as part of the great wave of Southern and Eastern European immigrants in the late 19th and early 20th century successfully lobbied to be considered white under naturalization law, which only allowed for free white persons to become US citizens. (This was during the period of the Asian Exclusion Act; not a good time to be ambivalently white.) Because the folks in question were Christian, phenotypically no darker than other European immigrants of the time, and generally working their way into the middle class, their petition to become white folks was accepted. Fast forward seventy years to the 1990s. Arabs and Muslims are highly stigmatized in pop culture and politics: they're the terrorist bad guys in every movie, their campaign contributions get returned, their political opinions go unheard. Classifying Arab Americans as white, and leaving them ineligible for protection and benefits under federal guidelines, seems vaguely insulting in this context. Worse, for scholars of the community, this means that information on Arab ancestry was only collected on the long form, which structurally undercounts small groups like Arab Americans. (This year, in fact, the long form has been eliminated entirely.) This is when the campaign to add an 'Arab' or 'Middle Eastern' origin question, parallel to the Hispanic origin question, began.
It's also noted that many people read: Arab = Muslim, which is of course, ludicrous. Many Arabs are Christian, and many Muslims are white. Kate's family happens to be Maronite Catholic. It seems a huge detriment that the census doesn't break some of these numbers down so that we get a more accurate picture of the browning and seasoning of our country over time -- and how they perceive themselves racially.
When I compare my heritage to that of Obama's, I often wonder how being officially identified as biracial is perceived in this country today in comparison to someone who is a fair-skinned black who is not biracial. When you start breaking it down like this it all begins to sound absurd, but the political reality is that claiming your racial identity, one way or the other, has social consequences, a fork in the road, as it were, because other people want to be able to put you in a box they can easily identify.
I guess for two-year-old Mr. E., seen here doing his first Easter Egg hunt, he can enjoy a blissful existence for while longer, innocent of the insanity we color-aroused adults have created and continue to foster.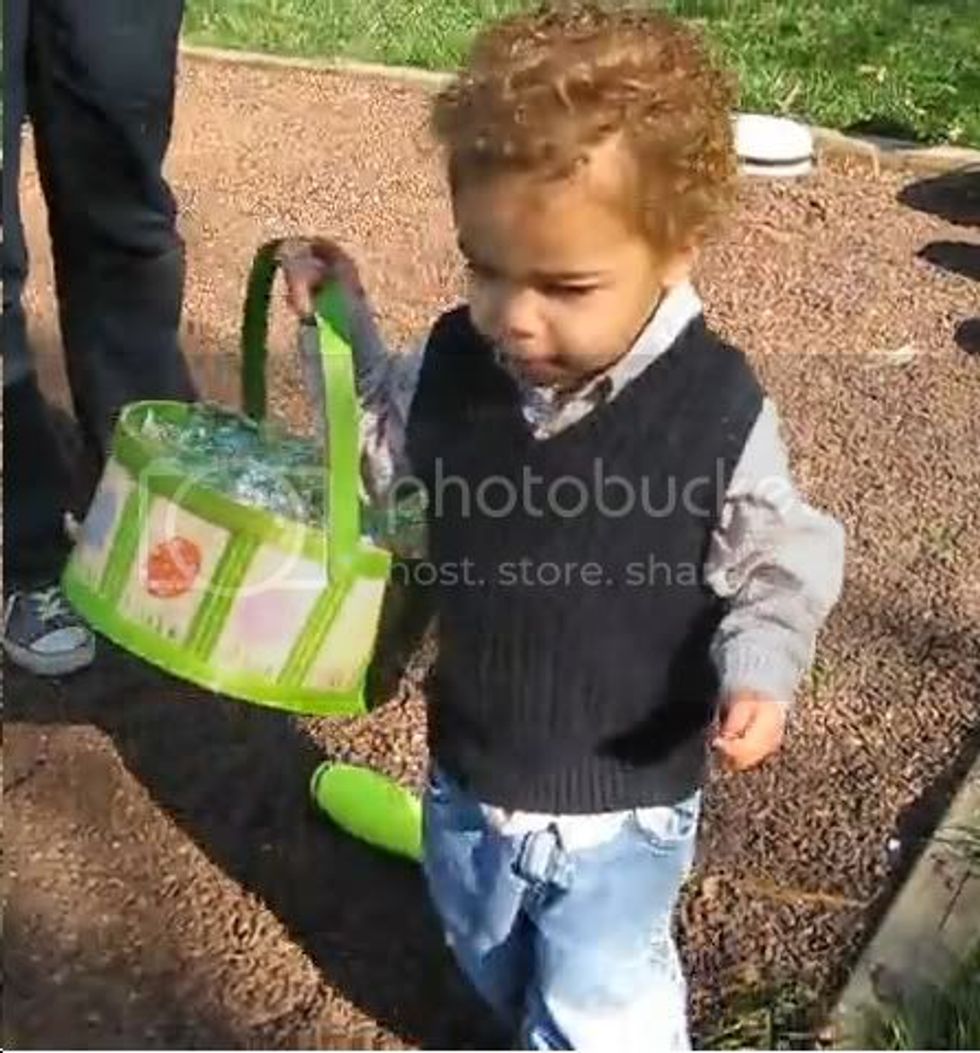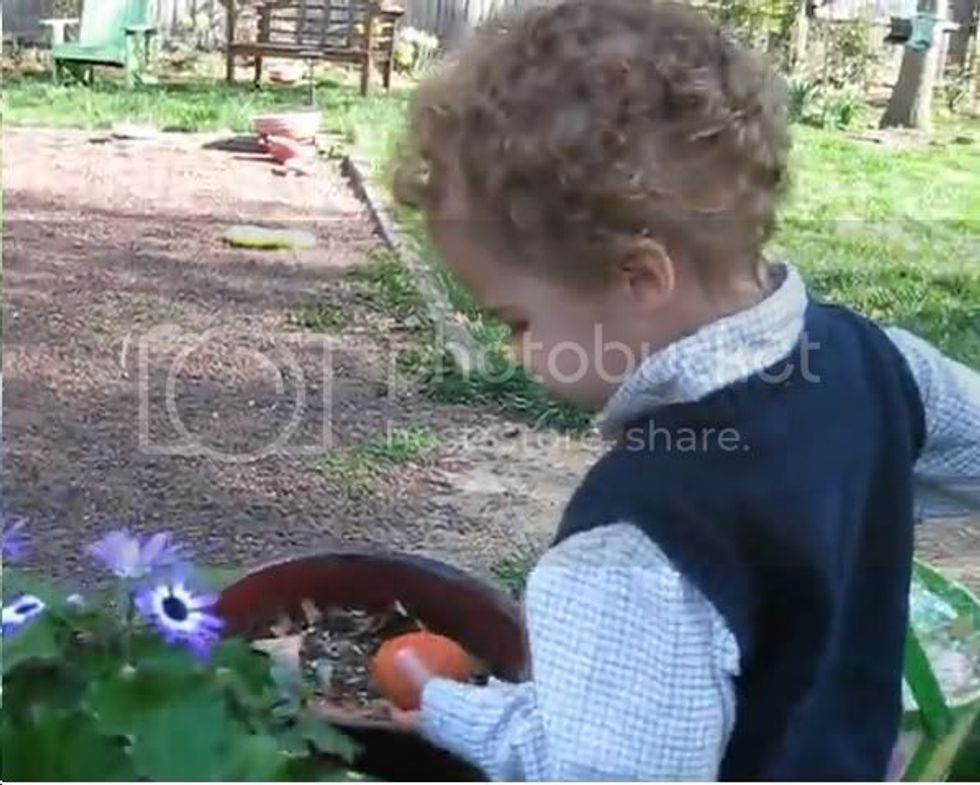 I joke with Tim and my sister-in-law that Mr. E has the same blondish hair that I had as well at his age, so there's a good chance those little curls are going to nap up into a 'fro around 5 or 6 years old, and maybe darken as mine did.
Related:

* Here we go - now I'm a 'half-breed' for criticizing the admin

* CNN does Black in America 101

* The browning of Top 10 surnames

* Bigoted Louisiana Justice of the Peace: 'I'm not racist, I let blacks use my bathroom'
* The answer to the biracial question above the fold? Only the baby (Mr. E, the top row, second from right).
***
In other news related to the census...

Census Bureau To Unveil 2010 Census Lgbt PSAs With Actor George Takei And Honorable Christine Quinn

Historic ceremony to mark new chapter in Census Bureau outreach to LGBT community

New York, NY – On Monday, April 5th, the U.S. Census Bureau will officially present a series of six public service announcement (PSA) videos, which will comprise the first-ever round of Census video communications specifically focused on encouraging the LGBT community to fill out and mail back their census forms. Each of the six videos features a different well-respected community leader appealing to the LGBT community. The videos can be found on the Census Bureau's YouTube page: www.youtube.com/user/uscensusbureau# and at www.2010Census.gov in the Multimedia section.

Special guests include actor George Takei (Star Trek, Heroes) and husband Brad Altman, who will deliver special remarks, and screen their own 2010 Census PSA, "Be Counted," which was made by the Equal Roots Coalition in Los Angeles. NYC Council Speaker Christine Quinn and the Executive Director of the LGBT Center, Glennda Testone will also speak. Timothy P. Olson, Assistant Division Chief, Field Division of the U.S. Census Bureau will speak on behalf of the U.S. Census Bureau.

Logo will begin airing the six Census PSAs on their network on Monday evening, April 5th in partnership with the Census Bureau. Lisa Sherman, Executive Vice President & General Manager of Logo says "Logo is honored to assist with this historic initiative. The Federal Government is reaching out to the LGBT community in a way we've never seen. The Census Bureau's progressive message of inclusion is something we support whole-heartedly. We are proud to be able to do our part as LGBT Americans."

The press conference will be streamed live on the web at http://glaadbackup.com/LIVEFEED/index.html


Journalists and members of the public also may submit questions to the speakers during the Q&A portion of the conference by emailing LGBTCensusPSA@gmail.com.

LGBT Census FAQ's:

How does the 2010 Census count lesbian, gay, bisexual and transgender (LGBT) people?


The 2010 Census does not ask about sexual orientation or gender identity. LGBT people living with a spouse or partner can identify their relationship by checking either the "husband or wife" or "unmarried partner" box.

How do same-sex couples answer the relationship question?


The 2010 Census will be the first to report counts of both same-sex partners and same-sex spouses. The person filling out the form (Person 1) is asked to identify how all other individuals in the household are related to him or her. Census data are based on how individuals self identify and how couples think of themselves. Same-sex couples who are married, or consider themselves to be spouses, can identify one other adult as a "husband or wife," Other same-sex couples may instead decide to use the term "unmarried partner." In general, people who identify as unmarried partners are in a close personal relationship but are not married or do not think of themselves as spouses. Census data are based on how individuals self identify. This includes same-sex couples who live somewhere their relationship is not recognized.

What about transgender individuals?


The 2010 Census asks a question about each person's sex. Transgender respondents should select the sex with which they identify. Mark only one box.

A note to bi-racial/ethnic couples:


Census reports some statistics on the race/ethnicity of the "household." Bi-racial/ethnic couples should note that this is determined using the race/ethnicity of Person 1, the person who fills out the Census form for the household.