Stories Chosen For You
Police responded Tuesday to false reports of school shootings at multiple schools across Michigan.

"This morning there have been calls to Okemos High School and Jackson High School about an active shooter which has been found to be a hoax. Reminder that reporting a false threat against schools or business is a crime," Michigan State Police First District tweeted Tuesday morning.
🚨HAPPENING NOW!!!🚨 This morning there have been calls to Okemos High School and Jackson High School about an active shooter which has been found to be a hoax. Reminder that reporting a false threat against schools or business is a crime.
— MSP First District (@MSPFirstDist) February 7, 2023
According to a Michigan State Police (MSP) letter sent to school districts, posted on Facebook by Muskegon Public Schools, "the [Detroit and Southeast Michigan Intelligence Center (DSEMIIC)] and the [Michigan Intelligence Operations Center (MIOC)] have become aware of several swatting calls that are targeting educational facilities around the state, including K-12 schools in Detroit, Jackson, Ann Arbor and Okemos."
MSP said that the DSEMIIC and the MIOC "assess that these are the actions of a coordinated campaign" targeting Michigan schools.
"At this time, neither the DSEMIIC or the MIOC are aware of any specific or credible threats to K-12 educational facilities in Michigan," MSP wrote in the letter.
The letter to schools says that multiple law enforcement agencies reported that the caller, with a heavy accent, stated the school's name, gave the address for the school, stated that they are a teacher in the school, reported that a student has shot another student and stated the shooting occurred in room numbers that are found to not exist in the school.
Michigan State Police did not respond to a request for further information or a list of all affected school districts.
Michigan Advance is part of States Newsroom, a network of news bureaus supported by grants and a coalition of donors as a 501c(3) public charity. Michigan Advance maintains editorial independence. Contact Editor Susan Demas for questions: info@michiganadvance.com. Follow Michigan Advance on Facebook and Twitter.
CONTINUE READING
Show less
A newly elected North Carolina Republican is active in a white nationalist church where Olympic bomber Eric Rudolph was radicalized.
State Rep. Rep. Donna Henderson (R-Calvin), who was elected with a slate of Donald Trump-aligned populist legislators, has extensive ties to the Church of Israel and its notorious founder's family, according to the Jamestown Sun columnist Rob Port.
"I appreciate your interest in my personal life, Rob," Henderson said, when asked for comment, "but I don't think that is any of your business."
Henderson has six children with her husband Paul Henderson, a longtime conservative activist who has served in local and regional leadership positions for the state GOP, and social media posts show three of her sons have married women from Schell City, Missouri, a tiny town that's home to the Church of Israel.
IN OTHER NEWS: Katie Porter uses GOP's oversight hearing to dismantle their Biden-bashing talking points
All three women have ties to the church and its private K-12 Christian Heritage Academy, and two of church founder Don Gayman's daughters expressed support for Henderson's campaign on social media.
Gayman has long been an influential white nationalist and has appeared at gatherings organized by Christian Identity groups with Richard Butler, the founder of the Aryan Nations white supremacist group.
Rudolph, who was convicted of the deadly 1996 Olympic bombings, spent time at Gayman's church, according to both of their family members, and his time there shaped his extremist political views.
CONTINUE READING
Show less
Research published Monday shows that Google is targeting lower-income users with advertisements for so-called crisis pregnancy centers, anti-choice organizations known to steer people away from accessing abortion care.
As the Tech Transparency Project (TTP), which conducted the analysis, explained: "Crisis pregnancy centers—which critics have dubbed 'fake abortion clinics'—appear to offer medical services but instead push an anti-abortion message, providing free ultrasounds and baby supplies with the aim of persuading women to carry unwanted pregnancies to term. Abortion rights advocates accuse them of using deceptive tactics to get women in the door—and targeting their advertising at low-income women and women of color in urban areas."
For its investigation, TTP established Google accounts for test users in Phoenix, Arizona; Atlanta, Georgia; and Miami, Florida. The users were characterized as 21-year-old women belonging to three different household income groups as defined by Google: average- or lower-income, moderately high-income, and high-income. While logged into each account, researchers entered 15 abortion-related search terms, including "Abortion clinic near me" and "I want an abortion," and then recorded ads that appeared on the first five pages of results. Researchers used a Google Chrome browser with no previous history, and they used virtual private networks to make it look like the users were conducting searches from their respective cities.
TTP found that Google showed ads for crisis pregnancy centers to women on the lower end of the income scale at a higher rate than their wealthier counterparts in two of the three cities. In Phoenix, average- or lower-income women saw 56% of ads come from crisis pregnancy centers, higher than what moderately high-income women (41%) and high-income women (7%) saw. In Atlanta, 42% of the ads targeted at average- or lower-income women came from crisis pregnancy centers, more than Google showed to moderately high-income women (18%) and high-income women (29%).
"By pointing low-income women to [crisis pregnancy centers] more frequently than higher-income women in states with restrictive laws, Google may delay these women from finding an actual abortion clinic to get a legal and safe abortion," TTP director Katie Paul toldThe Guardian on Tuesday.
"The time window is critical in some of these states," said Paul.
Abortion is banned after 15 weeks of pregnancy in Arizona and Florida. In Georgia, abortion is banned after six weeks, before many people know they are pregnant.
Because it can cost thousands of dollars in lost wages, child care, transportation, and lodging, lower-income people are less likely to be able to travel for abortion care.
Women on the lower end of the income scale did not receive ads for crisis pregnancy centers at the highest rate in every city in TTP's study. In Miami, researchers observed an inverse pattern: high-income women saw a larger share of ads from anti-abortion organizations (39%) than moderately high-income women (10%) and average- or lower-income women (15%).
"It's not clear why Miami diverged from the other cities, but one possibility is that crisis pregnancy centers, which often seek to delay women's abortion decisions until they are past the legal window for the procedure, are more actively targeting lower-income women in states like Arizona and Georgia, which have more restrictive abortion laws than Florida," TTP hypothesized. Although Republican lawmakers in Arizona and Florida have both prohibited abortion after 15 weeks, Arizona's ban comes with heightened restrictions.
Still, even if high-income women in Miami received more crisis pregnancy center ads on the top five pages of search results, that doesn't mean those are the ones they saw first. Ad rank is significant, and according to TTP, Google showed ads for anti-abortion organizations "higher up in the search results for lower-income women than it did for women of other income levels," as shown below.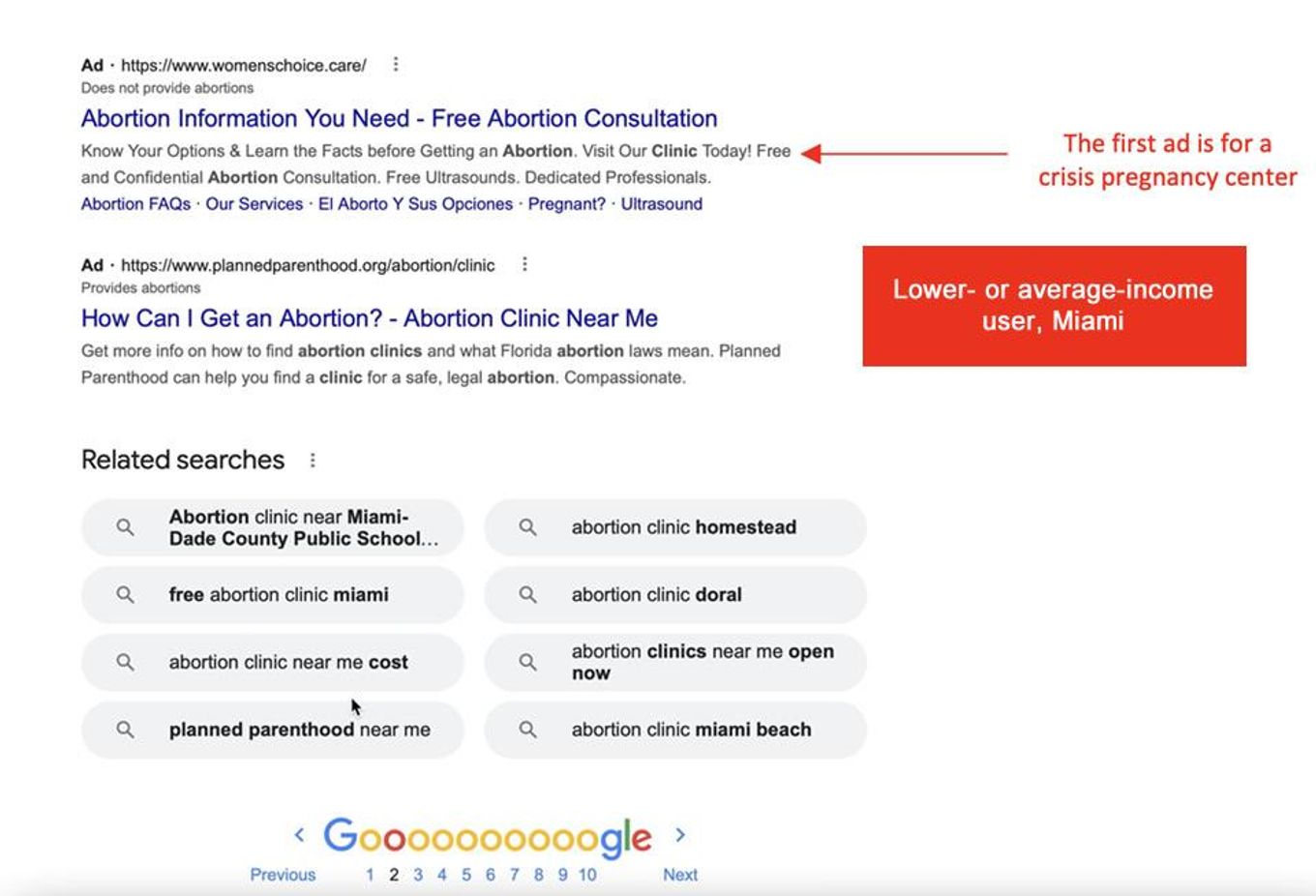 In Miami, the first ad shown to an average- or lower-income Google user searching for 'Abortion clinic near me' is for a crisis pregnancy center.(Photo: Tech Transparency Project)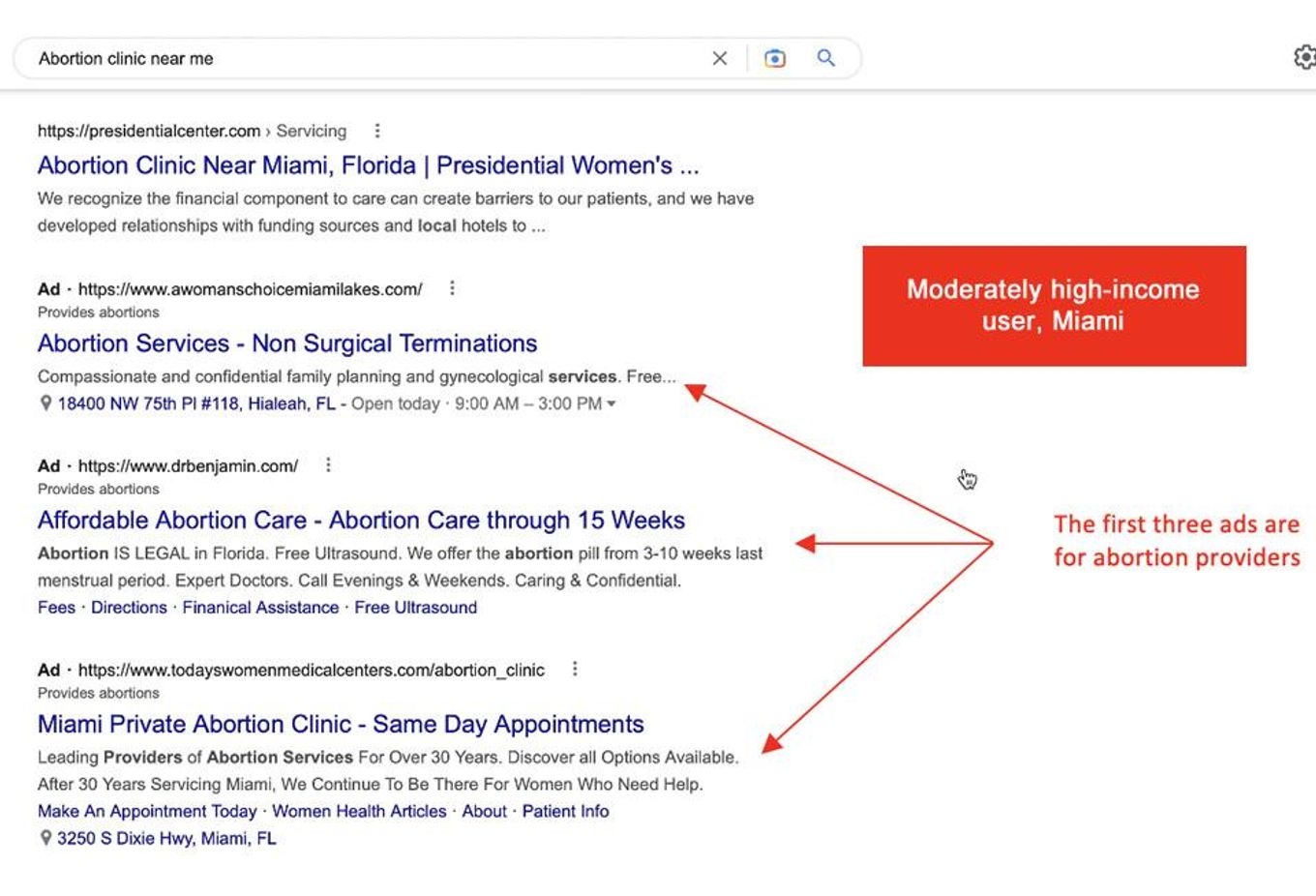 In Miami, the first three ads shown to a moderately high-income Google user searching for 'Abortion clinic near me' are for abortion providers.(Photo: Tech Transparency Project)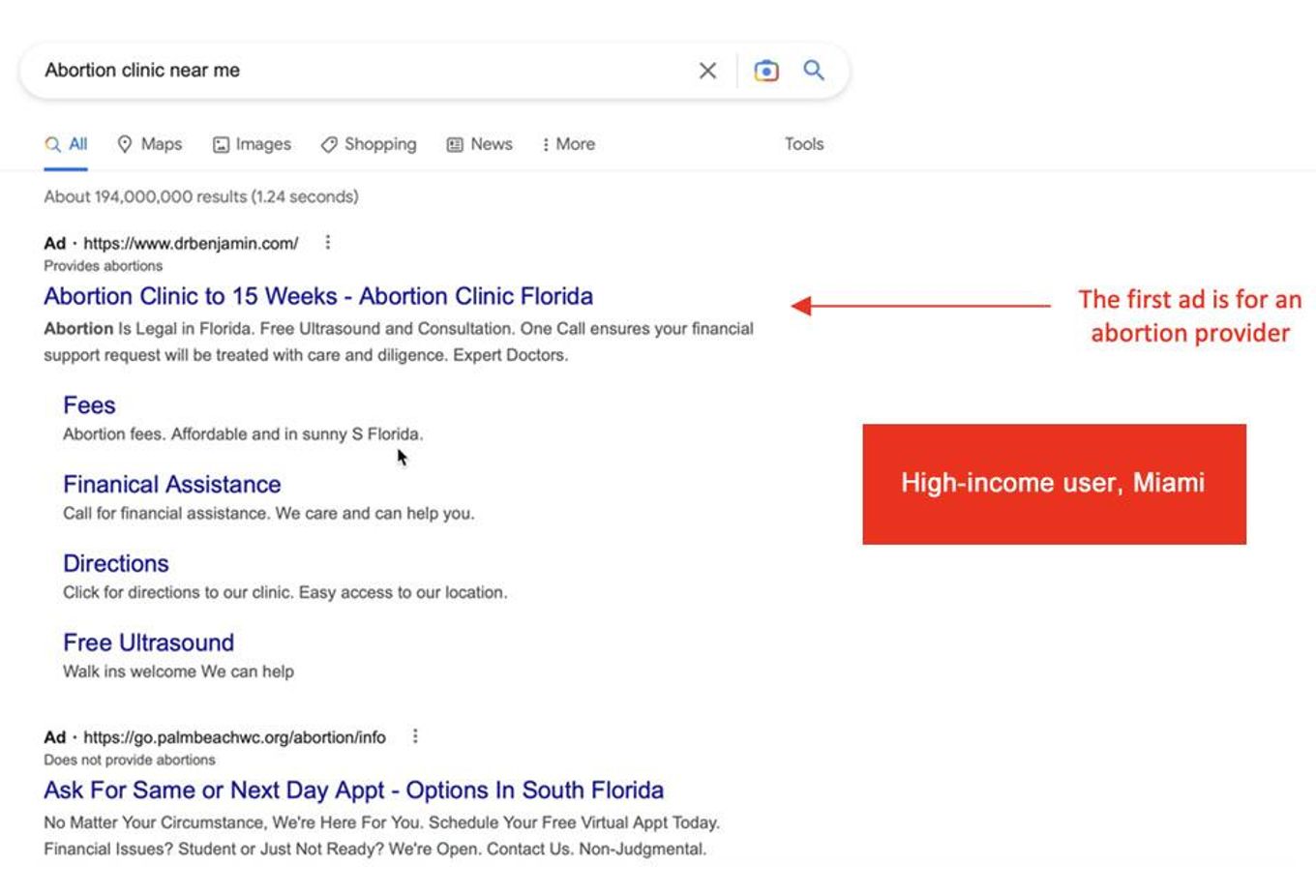 In Miami, the first ad shown to a high-income Google user searching for 'Abortion clinic near me' is for an abortion provider.(Photo: Tech Transparency Project)
The search terms used are also important. Several queries in TTP's experiment yielded only crisis pregnancy center ads for lower-income women.
"Although companies buying ads with Google can selectively target the groups they want to reach–including by income–Paul adds that many users won't be aware they are being targeted by Google in this way," The Guardian reported.
"Google has a large share of influence, particularly in the United States when people are trying to search for authoritative information," Paul explained. "People generally tend to consider Google's search engine as an equalizer. They think the results they get are the results that everyone's going to get. But that's just not the case."
"Lower-income women are being targeted," she said, "and they're the ones that are going to suffer the most under these policies."
As TTP pointed out: "Google is helping these centers reach their intended audience. Abortion rights groups and academic studies have noted that crisis pregnancy centers typically target women of lower socioeconomic classes, in part by advertising free services on public transportation and in bus shelters."
Crisis pregnancy centers have sought to expand their reach since the U.S. Supreme Court's far-right majority overturnedRoe v. Wade last summer.
These facilities have "been known to employ a number of shady tactics to convince women seeking an abortion to keep their pregnancies," The Guardian noted. "Those include posing as abortion clinics online though they do not offer abortion care, refusing pregnancy tests for women who say they intend to have an abortion, and touting widely disputed research about abortion care to patients. Crisis centers,which go largely unregulated despite offering medical services, have been known to target low-income women precisely because they find it harder to travel out of state for abortion care."
Previous reports have shown that Google is increasingly aiding these anti-abortion organizations, particularly in the GOP-led states that eliminated reproductive freedom as soon as the constitutional right to abortion was revoked.
TTP's new findings "add to growing questions about Google's handling of crisis pregnancy centers," the group wrote. "Bloomberg News has reported that Google Maps routinely misdirected users searching for abortion clinics to crisis pregnancy centers and that Google often failed to affix a warning, as promised, to crisis pregnancy center ads indicating they do not provide abortions. (In response to the first report, Google pledged to clearly label U.S. facilities that provide abortions in Google Maps and search results.)"
"Last fall, TTP also found that Google frequently served ads for crisis pregnancy centers that falsely suggest they offer abortions, violating the platform's policy against advertising that misleads users," the group noted.
During its new investigation, "TTP found similar omissions in multiple ads."
CONTINUE READING
Show less
{{ post.roar_specific_data.api_data.analytics }}