Stories Chosen For You
The head of Common Cause Georgia on Wednesday welcomed the news that a Fulton County special grand jury investigating 2020 election interference subpoenaed seven key allies of former President Donald Trump.
"We need to know those who broke our laws in their dangerous attempts to hold on to power be held accountable."
"The coordinated attempts by former President Donald Trump and his associates to discount and ignore the will of Georgian voters during the 2020 election cannot be swept under the rug," said Aunna Dennis, the advocacy group's executive director, in a statement.
"That's why I am encouraged that the Fulton County grand jury is continuing their necessary work to uncover the truth of what happened by calling on those who perpetrated Trump's Big Lie to testify," she added, referencing the former president's false claim—frequently repeated by his allies—that the election was stolen from him.
As The Atlanta Journal-Constitution first reported, the subpoenas target U.S. Sen. Lindsey Graham (R-S.C.) along with attorneys Kenneth Chesebro, John Eastman, Jenna Ellis, Rudy Giuliani, Cleta Mitchell, and Jacki Pick Deason.
According to the newspaper:
The subpoenas were filed July 5 and signed by Fulton Superior Court Judge Robert McBurney, who is overseeing the special grand jury. They noted that all seven people were "a necessary and material witness" to the investigation.
Unlike subpoenas issued to Georgians, the summons required McBurney's blessing since they are for people who reside outside the state.
The 23-person special grand jury has heard testimony in recent weeks from a parade of witnesses, including some who had direct contact with Trump and his associates in late 2020 and early 2021. But Tuesday's subpoenas are the closest jurors have gotten to the Trump campaign or inner circle of the former president.

Common Cause Georgia's leader asserted Wednesday that the state, widely known for its voter suppression efforts in recent years, "cannot continue to be the testing grounds for sensationalized propaganda attempts that are designed to deter voters from the ballot box."
"We need to know those who broke our laws in their dangerous attempts to hold on to power be held accountable," she continued. "The transparency in this investigation into potential criminal misdeeds has bolstered my hopes that justice will ultimately be served."
"Our democracy," Dennis declared, "is dependent upon all of us in Georgia participating in the election process, and by knowing that voters' choices will be respected and accepted going forward."
Fani Willis, the Democratic district attorney in Fulton County, launched a probe after an infamous January 2, 2021 phone call in which Trump asked Georgia GOP Secretary of State Brad Raffensperger to "find" over 11,000 votes to reverse the state's 2020 presidential election results.
In her first public comments since the subpoenas, Willis told NBC News on Wednesday that more subpoenas targeting members of Trump's inner circle are coming. Asked whether that will include the former president, she replied that "anything is possible."
"We'll just have to see where the investigation leads us," Willis said. "I think that people thought that we came into this as some kind of game. This is not a game at all. What I am doing is very serious. It's very important work. And we're going to do our due diligence and making sure that we look at all aspects of the case."
Willis convened the special grand jury in May and its work can continue for up to a year. The DA said Wednesday that she will pause the probe's activities in October, when early voting begins in Georgia, to avoid any appearance of election interference.
Graham on Wednesday announced in a statement from his attorneys that he plans to challenge the subpoena in court and accused the Fulton County investigators of engaging in "a fishing expedition and working in concert" with the congressional committee probing a pro-Trump mob's January 6, 2021 attack on the U.S. Capitol.
The New York Times reported Wednesday that Trump White House Counsel Pat Cipollone, who was subpoenaed by the January 6 panel last month, has reached a deal with the committee to "sit for a videotaped, transcribed interview" on Friday, rather than testifying publicly.
According to an email reviewed by the Times, the interview can include his account of the events on January 6 as well as discussions of a meeting with Justice Department official Jeffrey Clark, Trump's interactions with Eastman, and any contact with members of Congress.
CONTINUE READING
Show less
The muted response from the White House following the July 4 mass shooting at a parade in Highland Park, Illinois has intensified frustration felt by progressives over the Biden administration's approach to the crises facing the United States, coming less than two weeks after the Supreme Court gutted abortion rights for millions of Americans.
At an Independence Day barbeque on Monday, President Joe Biden briefly mentioned the shooting which killed seven people, injured 46 others, and left a toddler orphaned, telling the crowd, "We've got to get this under control."
"[Supreme Court Justice Samuel] Alito must be delighted. He bet that Biden wouldn't seriously push back against Dobbs, and he was right."
READ: Trump looms large as Republicans scope out 2024 presidential prospects in Iowa midterm campaigns
He later added in a longer statement, "There is much more work to do."
In contrast, Democratic Illinois Gov. J.B. Pritzker took aim directly at lawmakers who have obstructed far-reaching gun control legislation that would include bans on assault weapons and high-capacity ammunition magazines and universal background check requirements for gun purchases.
"If you are angry today, I'm here to tell you to be angry," Pritzker said. "Our founders carried muskets, not assault weapons. And I don't think a single one of them would have said you have a constitutional right to an assault weapon with a high capacity magazine—or that that is more important than the right of the people who attended this parade today to live."
Biden and Vice President Kamala Harris both called on Congress to go further than the bipartisan gun control package that was passed late last month, but progressives expressed dissatisfaction with the White House's tone and commitment to making sure more significant progress is made, even as more than 30 mass shootings have taken place in the 11 days since the bill was signed into law.
READ: Renowned trophy hunter shot dead and left on the side of the road in South Africa: police
"This is our time to dig in and be absolutely furious because these one-half measures are not working," Camille Rivera, a Democratic strategist and partner at the progressive firm New Deal Strategies, told Politico. "Our rights are being infringed upon and then there were two shootings on the exact day that people are supposed to be celebrating their 'independence.' I really don't understand where this passivity comes from in this situation."
Progressive strategist Adam Jentleson expressed sympathy that with a razor-thin Senate majority and Republicans refusing to support far-reaching gun control reforms despite their popularity across the political spectrum, "there's very little they can do legislatively" to restrict access to guns.
"But in moments of crisis, the president is called upon to be a leader," Jentleson told The Washington Post on Tuesday. "And when people are feeling scared and angry and outraged, they look to him for that, and they're not getting much."
After the Highland Park shooting on Monday, Jentleson warned that because the Democratic Party was forced to negotiate with the GOP to finalize the gun control package instead of passing broadly popular reforms, the resulting law "gives Republicans cover on days like today."
Biden has faced criticism for his inconsistent approach to calling for filibuster reform, which progressives including Sens. Bernie Sanders (I-Vt.) and Elizabeth Warren (D-Mass.) have repeatedly demanded in order to pass legislation to protect voting rights, reproductive rights, and other key Democratic priorities. The president did not publicly mention filibuster reform as a method of codifying abortion rights into federal law until a week after Roe was overturned on June 24.
READ: Joe Biden is probably the least militaristic president of the last 40 years
Since the ruling—a historic challenge to rights that the Democratic Party has vowed for decades to protect—the central message from Democratic leaders has focused on mobilizing voters to support the party in the November midterm elections, both with their votes and their donations.
Days after the decision was handed down and as protests erupted across the country, Rep. Alexandria Ocasio-Cortez (D-N.Y.) expressed empathy for a young woman who told NBC News that she'd received a text message from the Biden campaign saying it was her "responsibility to rush $15 to the Democratic National Party," adding that reproductive rights "should not be a fundraising point" for the party, particularly if the White House won't act to protect them.
"We have been sounding the alarm about this for a long time," Rep. Alexandria Ocasio Cortez (D-N.Y.) said in response to the interview. "We simply cannot make promises, hector people to vote, and then refuse to use our full power when they do. We still have time to fix this and act. But we need to be brave."
The fundraising push angered documentary filmmaker and climate justice advocate Josh Fox, who demanded the party's leaders "roll up [their] sleeves and fight for us."
As journalist Rebecca Traister noted in May after the deadly school shooting in Uvalde, Texas, the Democrats' get-out-the-vote message regarding abortion rights and gun control is somewhat complicated by the fact that party leaders including House Speaker Nancy Pelosi (D-Calif.) and Majority Leader Steny Hoyer (D-Md.) endorsed Rep. Henry Cuellar (D-Texas)—a forced-pregnancy proponent who opposes gun control—over progressive, pro-choice challenger Jessica Cisneros just weeks ago.
Ocasio-Cortez is among the progressive lawmakers who have called for filibuster reform, an expansion of the Supreme Court to counter the right-wing majority secured by former President Donald Trump and Senate Minority Leader Mitch McConnell (R-Ky.), and for the establishment of abortion clinics on federal lands to ensure people have access to care.
Harris said last week that the White House is not considering setting up abortion clinics on federal property, instead calling on voters to "change the balance" of Congress. The administration is also not considering a push to expand the Supreme Court.
Democratic leaders have been "basically [reduced] to begging for people to vote," Aaron Chappell, political director of the grassroots group Our Revolution, told The Hill, but the party is offering "no clear plan, no promises of what those votes will translate to."
Echoing Ocasio-Cortez, Slate on Wednesday outlined actions the Biden administration can take to protect abortion rights without the Senate and House, including establishing a "whole of government response" by directing every federal agency to take steps to ensure people have access to care; directing the Food and Drug Administration (FDA) to preempt abortion pill bans; and declaring a public health emergency.
Instead, tweeted Slate journalist Mark Joseph Stern on Tuesday, the White House's response to the ruling—which promptly eliminated abortion rights in at least eight states—has amounted to "a total abdication of leadership on an issue that sits at the heart of the Democratic Party."
"[Supreme Court Justice Samuel] Alito must be delighted," Stern said. "He bet that Biden wouldn't seriously push back against Dobbs, and he was right."
CONTINUE READING
Show less
Nasa has recently announced US$600,000 (£495,000) in funding for a study into the feasibility of sending swarms of miniature swimming robots (known as independent micro-swimmers) to explore oceans beneath the icy shells of our Solar System's many "ocean worlds". But don't imagine metal humanoids swimming frog-like underwater. They will probably be simple, triangular wedges.
Pluto is one example of a likely ocean world. But the worlds with oceans nearest to the surface, making them the most accessible, are Europa, a moon of Jupiter, and Enceladus, a moon of Saturn.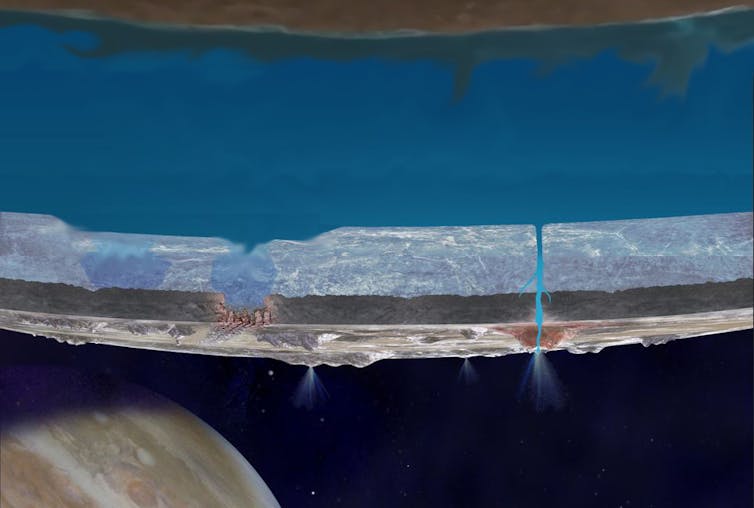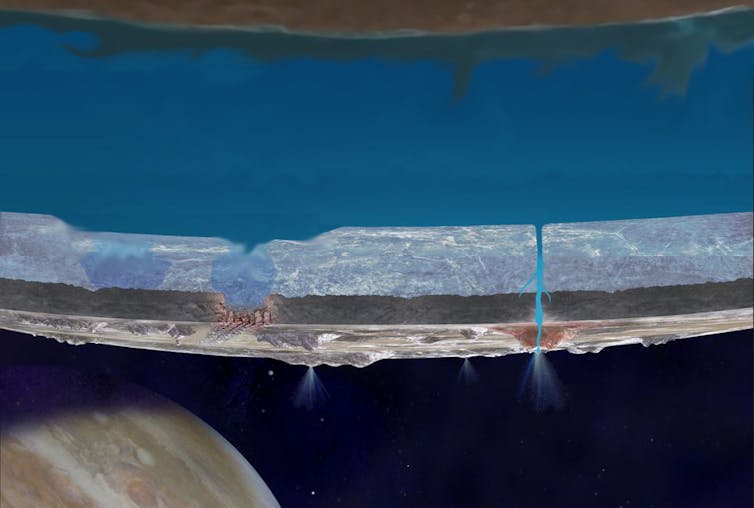 Cross-section through the outer zone of Europa's south polar region showing plumes, the fractured ice shell, the liquid water ocean (cloudy at the base near hydrothermal plumes) and the rocky interior.
Life inside ocean worlds
These oceans are of interest to scientists not just because they contain so much liquid water (Europa's ocean probably has about twice as much water as the whole of Earth's oceans), but because chemical interactions between rock and the ocean water could support life. In fact, the environment in these oceans may be very similar to that on Earth at the time life began.
These are environments where water that has seeped into the rock of the ocean floor becomes hot and chemically enriched – water that is then expelled back into the ocean. Microbes can feed off this chemical energy, and can in turn be eaten by larger organisms. No sunlight or atmosphere is actually needed. Many warm, rocky structures of this sort, known as "hydrothermal vents", have been documented on Earth's ocean floors since they were discovered in 1977. In these locations, the local food web is indeed supported by chemosynthesis (energy from chemical reactions) rather than photosynthesis (energy from sunlight).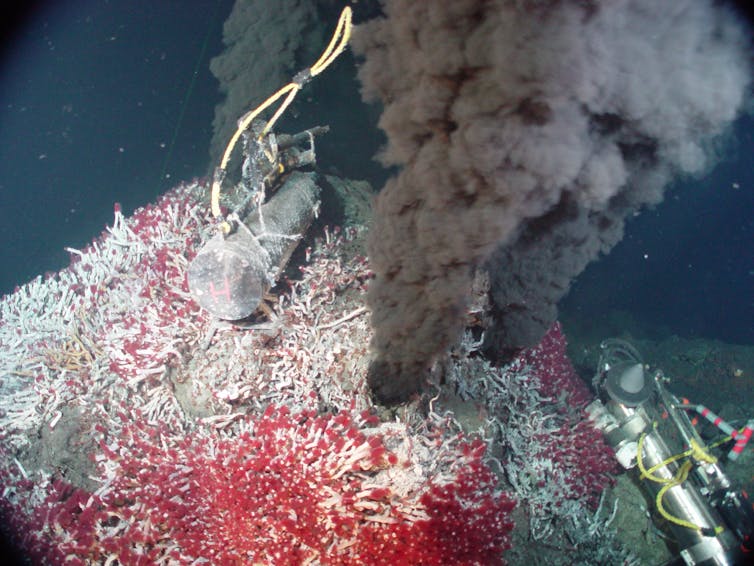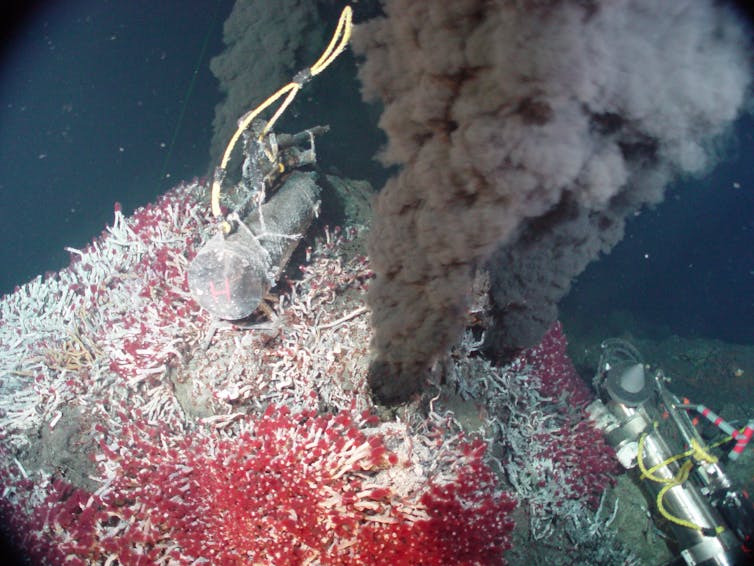 A vent on the floor of the northeast Pacific. A bed of tube worms feeding on chemosynthetic microbes covers the base.
NOAA/PMEL
In most of our Solar System's ocean worlds, the energy that heats their rocky interiors and prevents the oceans from freezing all the way to the base comes principally from tides. This is in contrast to the largely radioactive heating of the Earth's interior. But the chemistry of the water-rock interactions is similar.
Enceladus's ocean has already been sampled by flying the Cassini spacecraft through plumes of ice crystals that erupt through cracks in the ice. And there are hopes that Nasa's Europa Clipper mission may find similar plumes to sample when it begins a series of close Europa flybys in 2030. However, getting inside the ocean to go exploring would potentially be much more informative than merely sniffing at a freeze-dried sample.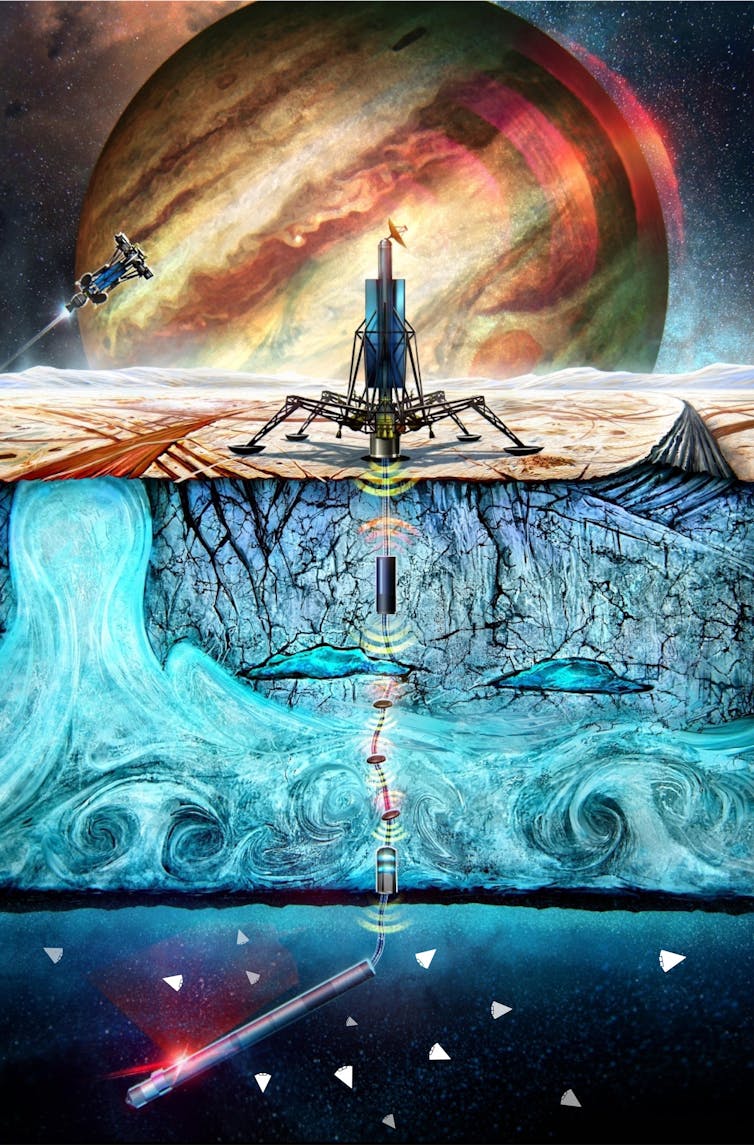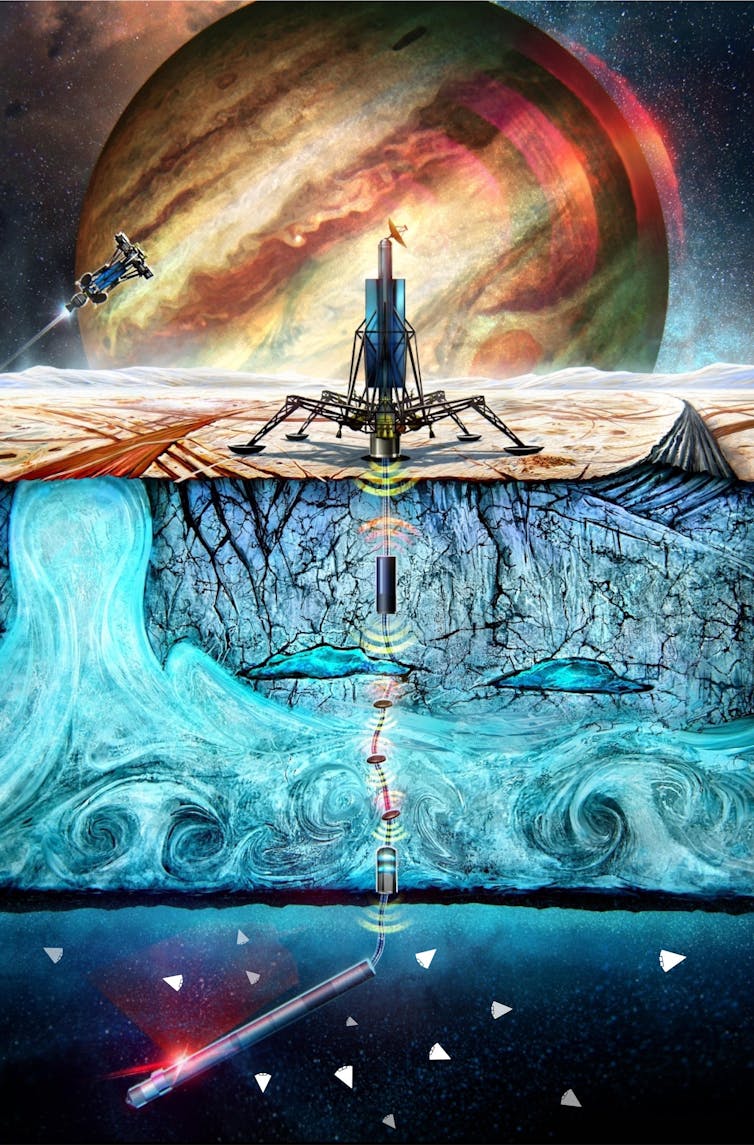 A lander of Europa uses a probe to melt a hole through the ice, which then releases a swarm of swimming robots. Conceptual impression, not to scale.
Nasa/JPL-Caltech
In the Swim
This is where the sensing with independent micro-swimmers (Swim) concept comes. The idea is to land on Europa or Enceladus (which would be neither cheap nor easy) at a place where the ice is relatively thin (not yet located) and use a radioactively heated probe to melt a 25cm-wide hole through to the ocean – located hundreds or thousands of metres below.
Once there, it would release up to about four dozen 12cm long, wedge-shaped micro-swimmers to go exploring. Their endurance would be much less than that of the 3.6m long autonomous underwater vehicle famously named Boaty McBoatface, with a range of 2,000km that has already achieved a cruise of more than 100km below the Antarctic ice.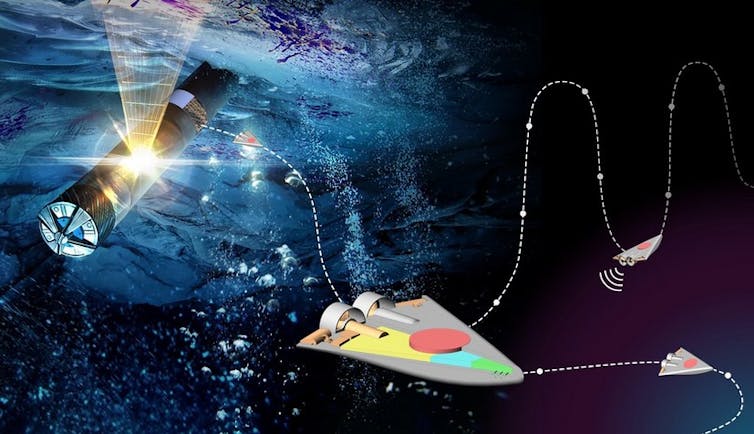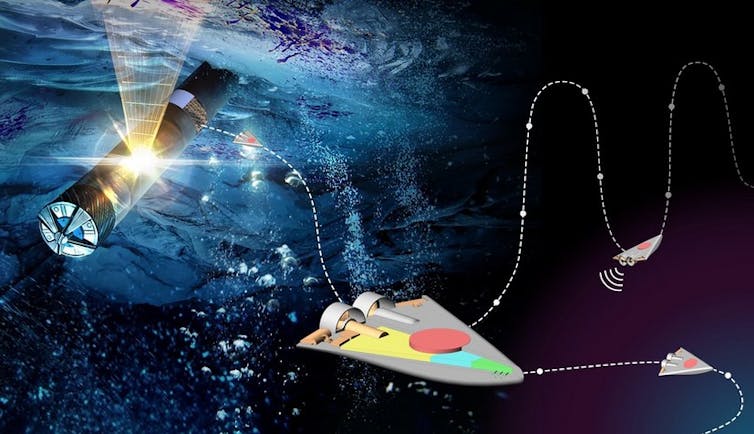 Independent micro-swimmers, deployed from a probe that has penetrated the ice crust of a moon. Not to scale.
Nasa/JPL
At this stage, Swim is merely one of five "phase 2 studies" into a range of "advanced concepts" funded in the 2022 round of Nasa's Innovative Advanced Concepts (NIAC) programme. So there are still long odds against Swim becoming a reality, and no complete mission has been scoped out or funded.
The micro-swimmers would communicate with the probe acoustically (through sound waves), and the probe would send its data via cable to the lander on the surface. The study will trial prototypes in a test tank with all subsystems integrated.
Each micro-swimmer could explore maybe only tens of metres away from the probe, limited by their battery power and the range of their acoustic data link, but by acting as a flock they could map changes (in time or location) in temperature and salinity. They may even be able to measure changes in the cloudiness of the water, which could indicate the direction towards the nearest hydrothermal vent.
Power limitations of the micro-swimmers may mean that none could carry cameras (these would need their own light source) or sensors that could specifically sniff out organic molecules, though. But at this stage, nothing is ruled out.
I think finding signs of hydrothermal vents is a long shot, however. The ocean floor would, after all, be many kilometres below the micro-swimmer's release point. But, to be fair, pinpointing vents is not explicitly suggested in the Swim proposal. To locate and examine the vents themselves, we probably do need Boaty McBoatface in space. That said, Swim would be a good start.

David Rothery, Professor of Planetary Geosciences, The Open University
This article is republished from The Conversation under a Creative Commons license. Read the original article.
CONTINUE READING
Show less
{{ post.roar_specific_data.api_data.analytics }}