Nearly half of Texas voters want to ban Muslims from entering the United States
Almost half of the state's voters support banning non-U.S. Muslims from entering the country, and more than half support immediate deportation of undocumented immigrants now living in the United States, according to the latest University of Texas/Texas Tribune Poll.
"I really see evidence of how the combination of the politics of national security and terrorism have merged in Texas with the politics of immigration and border security," said Jim Henson, co-director of the poll and the head of the Texas Politics Project at the University of Texas at Austin. "We see a lot of reluctance, particularly among conservatives, to open the state's borders to outsiders — almost any way that you ask."
Forty-six percent of Texas voters said they would support a ban on non-citizen Muslims entering the country, while 41 percent said they would oppose it. Within those groups, 26 percent said they would "strongly support" such a ban and 22 percent said they would "strongly oppose" one.
The overall numbers cloak partisan and racial differences. For instance, 58 percent of Democratic voters would oppose banning Muslims from entering the country, while 53 percent of independents and 62 percent of Republicans would support a ban. Among voters who identify with the Tea Party, 78 percent said they would favor a ban.
White voters would support a ban 49 percent to 41 percent, and Hispanic voters by 45 percent to 38 percent. Black voters, however, would oppose such a ban: 38 percent said they would support it while 48 percent would oppose it.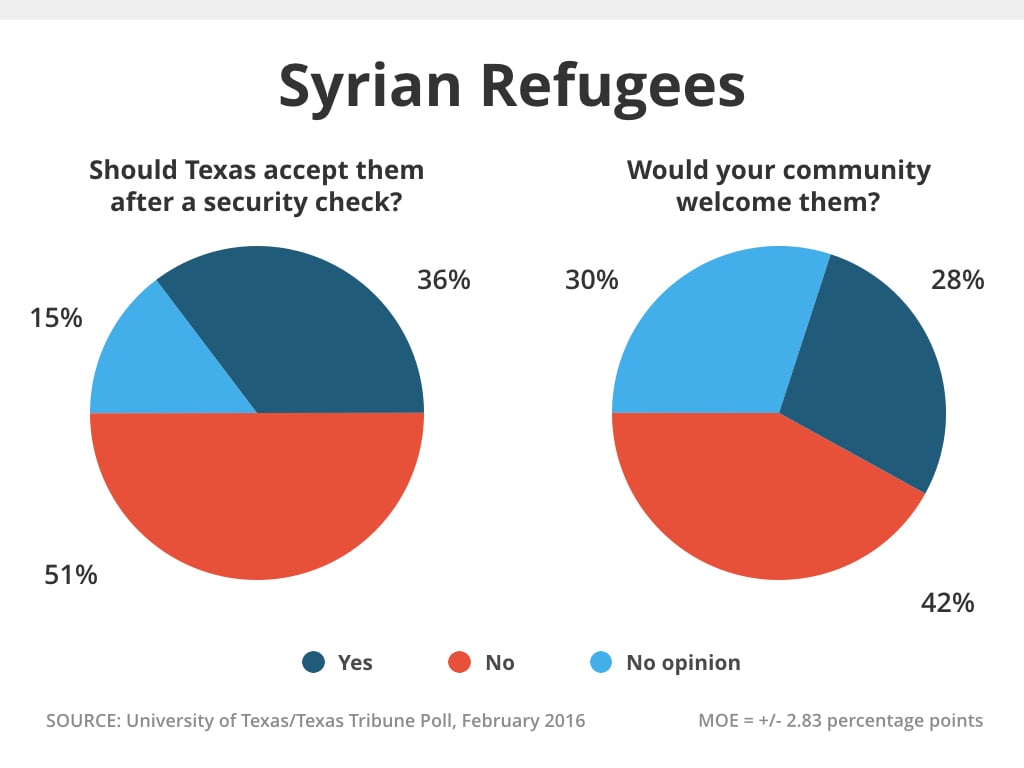 Just more than half of the voters said they would disapprove of accepting Syrian refugees into Texas even with a security clearance process in place. Another 36 percent said they would accept those refugees.
Voters were slightly less negative about what would happen if some of those Syrian refugees moved into their communities. They would not be welcomed, according to 42 percent. They would be welcomed, according to 28 percent. The rest — nearly a third — either said they didn't know or had no opinion about it.
Democrats and Republicans split on that question, with 58 percent of Democrats saying Texas should accept Syrian refugees and 76 percent of Republicans saying the state should not accept them.
Immigration
Asked about immigration in general, a small majority — 53 percent — agree with this statement: "newcomers from other countries enrich Texas with their hard work and values." About a third disagreed with that statement.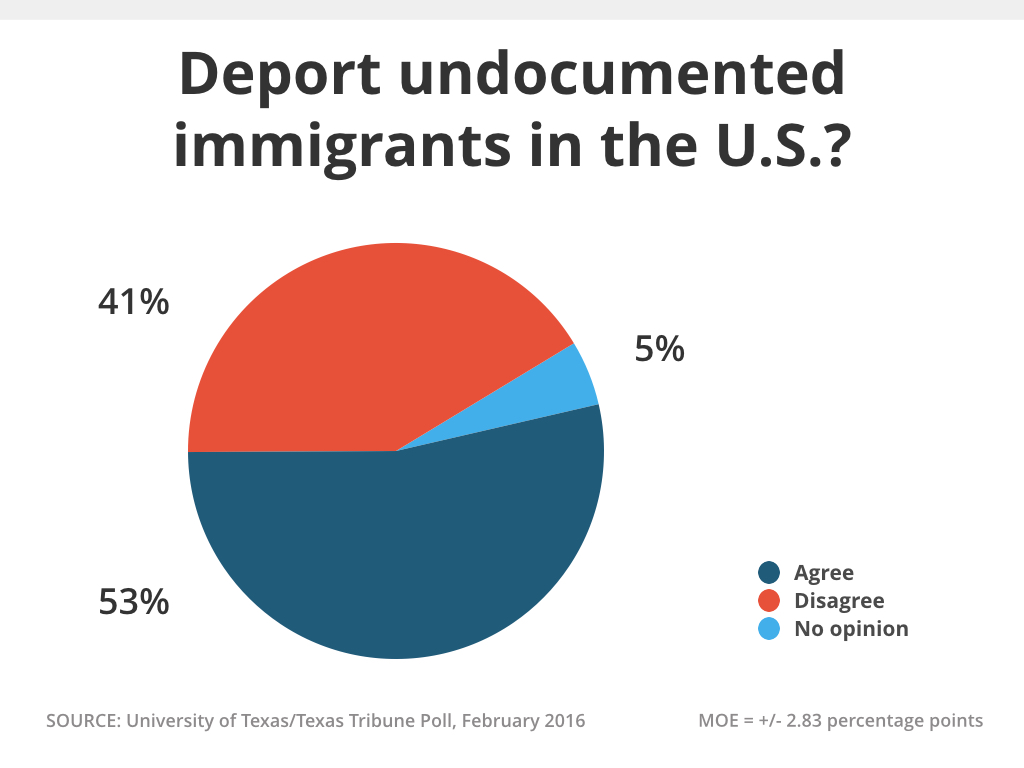 A similar majority, however, agreed with this statement: "undocumented immigrants currently living in the United States should be deported immediately." About two in five voters disagreed.
"Talking about border security is a winner, but excluding or deporting all these immigrants, it's not workable for candidates," said Daron Shaw, a government professor at UT-Austin and co-director of the poll.
But, he added, the candidates have found a way to talk about voters' concerns. "Is it contradictory to say, 'I think newcomers really add a lot, but people who come here illegally are bucking the system, showing disrespect for the law'?"
Shaw said that appeal — that some immigrants have broken the law coming to America — is part of what has worked for Donald Trump in his rise to the top tier of Republican candidates.
The partisan splits in reactions to the deportation statement are striking: 74 percent of Republicans and 56 percent of independents agreed with that deportation statement, while 59 percent of Democrats disagreed. Among Republicans who identify with the Tea Party, 86 percent agreed.
While 38 percent of Hispanic voters in Texas agreed with the statement, 59 percent of white voters and 50 percent of black voters agreed. More than half of the Hispanic voters surveyed disagreed with the idea of immediate deportation.
Sanctuary cities, where "local law enforcement officials do not actively enforce some federal immigration laws," have the support of only 21 percent of Texas voters; 59 percent oppose those policies.
An overwhelming share of Republican voters — 87 percent — disapproves of sanctuary cities. Sixty-two percent of independent voters take the same position. Democrats are divided: 36 percent approve, 34 percent disapprove, and 30 percent take no position. Two-thirds of white voters and just less than half of black voters disapprove of sanctuary cities. Hispanic voters are divided, with 33 percent approving and 39 percent disapproving.
The University of Texas/Texas Tribune Internet survey of 1,200 registered voters was conducted from Feb. 12 to Feb. 19 and has an overall margin of error of +/- 2.83 percentage points. Among self-identified Republican primary voters, the margin of error is +/- 4.27 percentage points; among self-identified Democratic primary voters, it is +/- 4.57 percentage points. Among likely voters in the Republican primary race, the margin of error is +/- 4.86 percentage points. Among likely voters in the Democratic primary race, the margin of error is +/- 5.44 percentage points. Numbers in charts might not add up to 100 percent because of rounding.
This is one of a series of stories from the latest University of Texas/Texas Tribune Poll. Also today: Texans on handguns and other issues. Tuesday: How the candidates stand a week before the Republican and Democratic primary elections. Wednesday: Voter impressions of the presidential candidates. Tomorrow: The mood of the state.
Disclosure: The University of Texas at Austin is a corporate sponsor of The Texas Tribune. A complete list of Tribune donors and sponsors can be viewed here.
Former acting CIA director explains why Trump's inaction on Russian bounty scandal will make things worse
It was revealed nearly two weeks ago that the Russian government is paying a bounty to the Taliban for killing American soldiers.
Since then, President Donald Trump has denied that he and his administration didn't know anything about it. Then he claimed it was a hoax. Now it has become clear that the stories are not only true but that if Trump read his presidential daily briefing in 2019, he would have been aware of the problem.
Speaking to the House Thursday, Trump's former acting CIA director Michael Morell explained that things are being made far worse by the president's denial.
Here are 7 hilarious videos about wearing COVID-19 masks to send people who won't wear them
While late-night shows are off for a Summer break, Americans are glued to TikTok and Twitter for their humor and every folks have delivered.
The latest trend is to mock fools who refuse to wear masks. While many people who refuse to wear a mask tuck their tails and sulk as they walk away, some take it to a whole new level of fury. Those precious souls are being mocked and shamed all around the world.
Here are seven videos that are hilarious or adorable that encourage wearing masks during the COVID-19 pandemic:
Wearing a mask is like wearing a lifejacket.https://twitter.com/mattbooshell/status/1280933495674732544
Trump tells Fox News the 'Black Lives Matter' sign on Fifth Avenue is like he's being 'prosecuted'
President Donald Trump appeared to reveal another quid pro quo during an interview with Fox News host Sean Hannity.
MSNBC's Lawrence O'Donnell pointed it out during an interview with Sen. Kamala Harris (D-CA).
"I was very nice to Mayor de Blasio. I got him ventilators when he needed them... I got him the gowns. I got him the masks. I got him everything. Then he throws a big Black Lives Matter sign right down in the middle of Fifth Avenue. I was so good to him and to Gov. Cuomo, like nobody's ever been good. And then all you end up doing out of that place is getting prosecuted."