A Confederate flag display allegedly used for an art show at The First Academy school in Florida. (Facebook)
An Instagram post has led to accusations that a Christian school in Orlando, Florida has turned a blind eye to racism and homophobia on the part of students, WKMG-TV reported.
---
The allegations against The First Academy (TFA) began when New York Daily News columnist Shaun King shared a picture on Facebook attributed to a current white student asking all her "fans" about how to use the "N-word."
"Is it n**ga or n**ger" the student asked. "I think n**ga is more respectful and [another student] thinks it isn't supposed to be used as a respectful term. So. Like for n**ger comment for n**ga."
King then began publishing what he described as emails he received from both First Academy alumni and current students.
"The student body is very racist," a TFA student said in one post. "They, for example, hang confederate flags from their cars, and place them as their iPhone backgrounds. They even, believe it or not, sculpt them and submit them into TFA art shows."
The post included a picture of what appeared to be a flag matching that description, as seen below: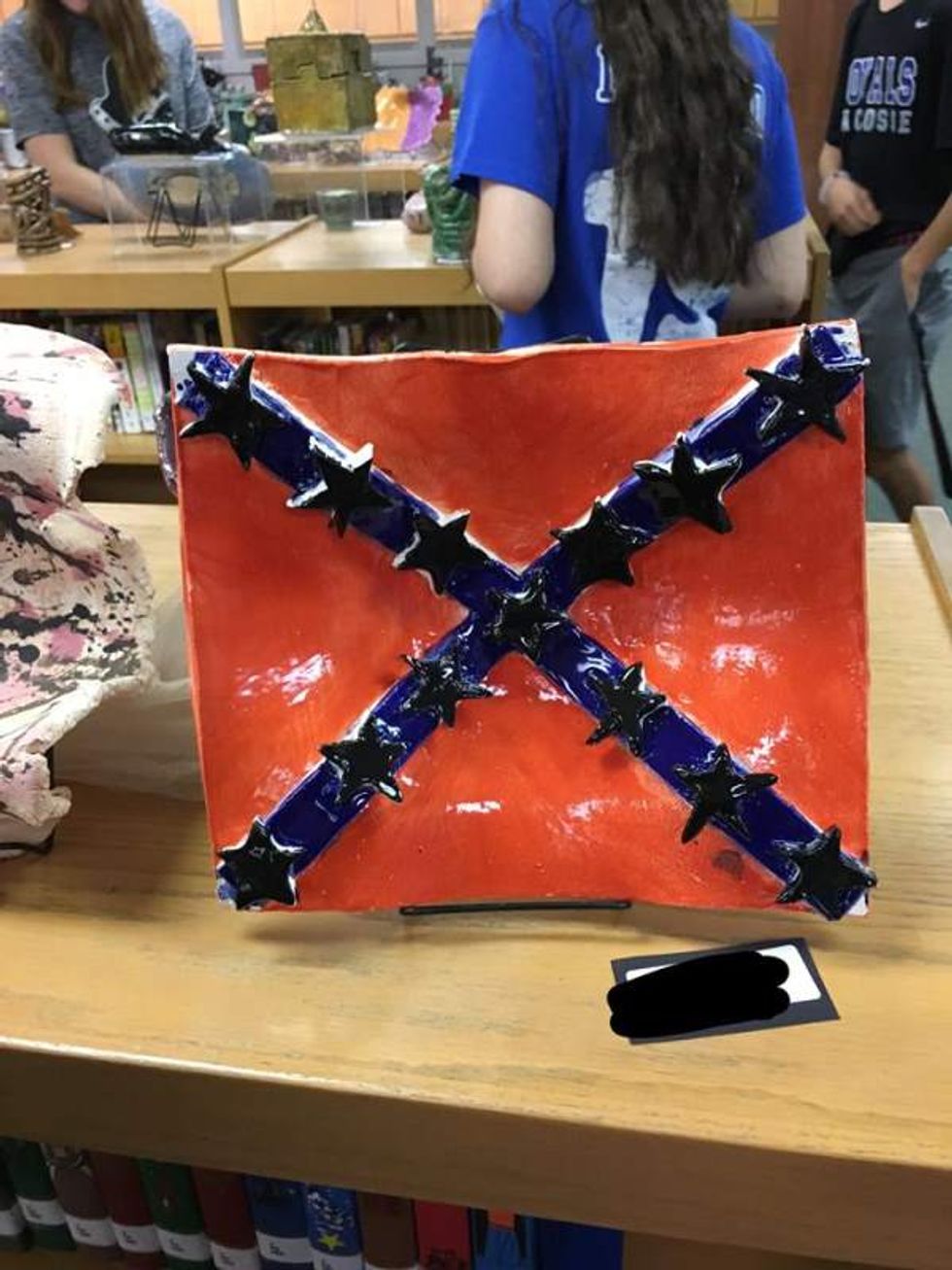 King also posted a letter from someone describing themselves as a student at First Academy from pre-K through their sophomore year of high school, who said officials "covered up sexual assault, children bringing alcohol to school and drinking in mid day, severe bullying, inappropriate teachers, failing students, cheating students, harrassment, forced religious beliefs."
The same person said another student was forced to submit to counseling for being gay under the threat of expulsion.
Another post, from an alumnus identifying himself as a gay man read in part:
... In my last period class this one upperclassman girl exclaimed "oh my god he's gay!" and the whole class fell silent and the teacher didn't even do a thing.

This began my spiral into 4 years of hell and me relapsing into depression. I constantly had to keep my sexuality under wraps, the school's hate filled atmosphere changing my perception on not only my own parents or how the world felt towards me but driving me away from God.
On Thursday morning, King wrote that the school "is going to need serious legal representation" based on the letters he had received.
"I'm sure as they read this, they know full well what I'm talking about," he said. "They have to."
Officials with the school, which is affiliated with the First Baptist Church or Orlando, have not responded to King's allegations aside from the issue involving the post with the anti-black slur. According to WKMG, officials took "disciplinary action" against the students involved but did not specify how they were punished.
"Have we been doing enough? The answer is no," school president Steve Whitaker said in a statement. "However, we will continue to learn from this experience and are committed to the necessary and important work to grow as a school community in this area of racial reconciliation."