Stories Chosen For You
Most of the roughly 40 trillion cells of your body have nearly identical copies of your genome – the DNA inherited from your parents, containing instructions for everything from converting food to energy to fighting off infections. Healthy cells become cancerous through harmful mutations in the genome. If a cell's genome is damaged by ultraviolet light, for example, it can result in mutations that tell the cell to grow uncontrollably and form a tumor.
Identifying the genetic changes that cause healthy cells to become malignant can help doctors select therapies that specifically target the tumor. For example, about 25% of breast cancers are HER2-positive, meaning the cells in this type of tumor have mutations that cause them to produce more of a protein called HER2 that helps them grow. Treatments that specifically target HER2 have dramatically increased survival rates for this type of breast cancer.
Scientists can now readily read cell DNA to identify mutations. The challenge is that the human genome is massive, and mutations are a normal part of evolution. The human genome is long enough to fill a 1.2 million-page book, and any two people can have about 3 million genetic differences. Finding one cancer-driving mutation in a tumor is like finding a needle in a stack of needles.
I am a computer scientist who explores large and complex genetic data sets to answer fundamental questions about biology and disease. My research team and I recently published a study using DNA from thousands of healthy people to help identify disease-causing mutations by using the principle of natural selection.
While genetic mutations are an everyday part of life, some can lead to cancer.
Using big data to find cancerous mutations
When determining what type of cancer mutation a patient has, the gold standard is to compare two samples from the patient: one from the tumor and one from healthy tissue (typically blood). Since both samples came from the same person, most of their DNA is identical; focusing only the genetic regions that differ from each other drastically narrows the location of a possible cancer-causing mutation.
The problem is that healthy tissue isn't always collected from patients, for reasons ranging from clinical costs to narrow research protocols.
One way to get around this is to look at massive public DNA databases. Since cancer-driving mutations are detrimental to survival, natural selection tends to eliminate them over time in successive generations. Of all the mutations in a tumor, the ones that occur less frequently in a given population are more likely to be harmful than changes that are shared by many people. By counting how often a mutation occurs in these databases, researchers can distinguish between genetic changes that are common and likely benign and those that are rare and potentially cancerous.

One cancer-driving mutation can lead to a cascade of other mutations that lead to uncontrollable cell division.
National Cancer Institute/Wikimedia Commons
Given the power of this approach, there has been a recent surge of projects to collect and share the DNA sequences from hundreds to thousands of individuals. These projects include the 1000 Genomes Project, Simons Genome Diversity Project, GnomAD and All of Us. There will likely be many more in the future.
Estimating how likely a mutation causes disease by how frequently it appears in a genome is common for small genetic changes called single-nucleotide variants (SNVs). SNVs affect just one position in the 3 billion neuclotide human genome. It could, for example, switch one thymine T to a cytosine C.
Most researchers and clinical pathologists use a catalog of variants that have been detected across thousands of samples. If an SNV identified in a tumor is not listed in the catalog, we can assume that it's rare and possibly drives cancer. This works well for SNVs because detection of these mutations is usually accurate, with few false negatives.
However, this process breaks down for genetic changes across longer strands of DNA called structural variants (SVs). SVs are more complex because they include the addition, removal, inversion or duplication of sequences. Compared to much simpler SNVs, SVs have higher error rates in detection. False negatives are relatively frequent, resulting in incomplete catalogs that make comparing mutations against them difficult. Finding a tumor SV that isn't listed in a catalog could mean that it's rare and a cancer-driving candidate, or that it was missed when the catalog was created.
Focusing on verification
My colleagues and I solved these problems by moving from a process focused on detection to one that focuses on verification. Detection is difficult – it requires processing complex data to determine if there is enough evidence to support the existence of a mutation. On the other hand, verification limits decision-making just to whether or not the evidence at hand supports the existence of a specific event. Instead of looking for a needle in a stack of needles, we are now simply considering whether the needle we have is the one we want.
Our method leverages this strategy by searching through raw data from thousands of DNA samples for any evidence supporting specific SV. In addition to the efficiency benefits of only looking at the data flanking the target variant, if there is no such evidence, we can confidently conclude that the target variant is rare and potentially disease-causing.
Using our method, we scanned the SVs identified in prior cancer studies and found that thousands of SVs previously associated with cancers also appear in normal healthy samples. This indicates that these variants are more likely to be benign, inherited sequences rather than disease-causing ones.
All of Us is a research program from the National Institutes of Health with the aim of making medicine more tailored to individual needs.
Most importantly, our method performed just as well as the traditional strategy that requires both tumor and healthy samples, opening the door to reducing the cost and increasing the accessibility of high-quality cancer mutation analysis.
My team and I are exploring expanding our searches to include large collections of tumors from different types of cancers such as breast and lung. Determining which organ a tumor originated from is critical to prognosis and treatment because it can indicate whether the cancer has metastasized or not. Because most tumors have specific mutational signatures, recovering evidence of an SV within a specific tumor sample could help identify the patient's tumor type and lead to faster treatment.

Ryan Layer, Assistant Professor of Computer Science, University of Colorado Boulder
This article is republished from The Conversation under a Creative Commons license. Read the original article.
CONTINUE READING
Show less
Imagine inhaling just a few drops of liquid or mist to get protected from COVID-19. That is the idea behind nasal COVID-19 vaccines, and they have been getting a lot of attention recently as a spray or liquid. These nasal vaccines would be based on the same technology as normal vaccines given by injection. But as Mayuresh Abhyankar, a University of Virginia researcher who studies infectious diseases and works on nasal vaccines, explains, vaccinating someone right where the coronavirus is likely to start its attack comes with many immunological benefits.
1. What are nasal vaccines?
Nasal vaccines are administered, as the name suggests, through the nose. More accurately called intranasal vaccines, these vaccines are liquids that can be given as a spray or through a dropper or syringe. The most common nasal vaccine is FluMist, a nasal spray that uses inactivated flu virus to protect against influenza. An intranasal vaccine could be a weakened live virus similar to FluMist, a nucleic acid vaccine like mRNA coronavirus vaccines or a protein vaccine like Hepatitis B vaccines or the CorbeVax coronavirus vaccine.
Intranasal vaccines are best suited to protect against pathogens that enter through the nose, like the flu or the coronavirus. By mimicking the first step of natural exposure to an airborne pathogen, these vaccines help train a person's immune system at the potential place of infection. Scientists have shown that the first immune response in the respiratory tract after a person is exposed to an airborne virus can influence how sick a person gets. So in theory, intranasal vaccines could provide better protection than vaccines given through a shot in the arm.
2. How does the coronavirus infect people?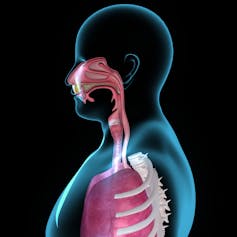 Nasal vaccines differ from intramuscular vaccines because they mimic the mechanism of infection and trigger a stronger immune response in the throat and nose specifically.
7activestudio/iStock via Getty Images
SARS-CoV-2, the virus that causes COVID-19, usually enters the body through the nose and lands on the mucus membrane at the back of the nasal passage and in the throat. The virus then enters the cells it touches, replicates and spreads.
Just underneath these cells of the mucus membrane are many types of immune cells that form what is called the mucosal immune system. Cells of the mucosal immune system are the first to identify invading coronavirus particles and start mounting a protective response.
In an unvaccinated individual, it takes about two weeks for these immune cells to build up a protective response after encountering the coronavirus. By that time, the virus can easily have infected other body parts, like the lungs, which can lead to severe disease.
Nasal vaccines follow a lot of the same steps. When you inhale a nasal vaccine, the particles land on the mucus membrane in your nasal cavity or the back of your throat, enter the cells in those places and trigger an immune response. This process teaches the body about the coronavirus and allows it to deal with any future real infections.
3. How are nasal and intramuscular vaccines different?
When you get a COVID-19 shot in your arm, the vaccine triggers a strong immune response in the cells near where you got the shot. It also causes your immune system to produce some coronavirus-specific antibodies and other immune cells in other locations throughout your body.
When the coronavirus begins infecting cells in a person's respiratory tract, the immune cells nearby will start mounting a defense. Your body will also send anti-viral immune cells and antibodies from other locations to the site of infection. But by the time enough coronavirus-specific immune cells gather around the infection site to stop the virus from replicating, the virus has likely already begun to spread throughout the body, making it difficult for the immune system to keep up.
Nasal vaccines mimic the virus in order to prepare the immune system against a virus, just like any other vaccine. But importantly, they mimic the process of infection, too, and boost protective response within the mucosal immune system of the nose and throat. In simple terms, intranasal vaccines are like knowing there is going to be a break-in and putting your guards in the right location before the trouble even starts.
The science bears this idea out. In a head-to-head comparison, AstraZeneca's COVID-19 vaccine provided greater protection in hamsters that were vaccinated intranasally compared to those vaccinated intramuscularly.
Nasal vaccination could also be used in concert with intramuscular immunization. In a recent study, my colleagues and I gave some mice both a nasal and intramuscular vaccine and exposed them to a lethal dose of SARS-CoV-2 – 100% of these mixed-vaccinated mice survived, compared to only 10% of the unvaccinated mice. We are now testing if this mixed approach is superior to just intranasal or just intramuscular approaches on their own.
Finally, intranasal vaccines are painless, noninvasive and do not require specialized training to use.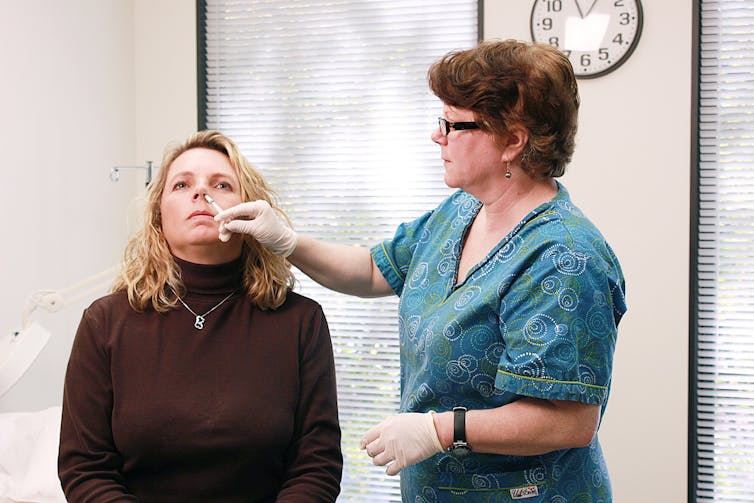 Nasal vaccines, like the liquid flu vaccine the nurse is giving to a patient here, are easier to administer and don't require needles, but it can be harder to make sure the full dose is absorbed.
CDC/Douglas Jordan via Wikimedia Commons
4. What are the risks of nasal vaccines?
Getting the dosage correct can be harder with nasal vaccines than a shot, especially with young children. If someone has a stuffy nose or sneezes out a part of the vaccine before it's completely absorbed, this can result in a lower-than-desired dose.
There are some unique health risks too. All vaccines go through rigorous safety testing and clinical trials, but these processes are especially important for nasal vaccines due to the simple fact that the nose is close to the brain. In 2000, 27.7% of people who received an inactivated intranasal influenza vaccine in Switzerland developed transient facial paralysis – also known as Bell's palsy. Later, researchers found that a bacterial toxin added to the vaccine to enhance the immune response was the culprit.
This is the only reported instance of neurological issues stemming from intranasal vaccines, but it is something to consider.
5. How long until intranasal COVID-19 vaccines are ready?
As of late May 2022, there are no approved COVID-19 intranasal vaccines for human use. There are currently seven in clinical trials, and three of them – manufactured by Beijing Wantai Biological Pharmacy, Bharat Biotech, and Codagenix and Serum Institute of India – are in phase-3 human trials.
In the coming months, the results of these trials will not only show how safe these promising new vaccines are, but also if they perform better than the vaccines in use today.

Mayuresh Abhyankar, Associate Professor of Infectious Diseases and International Health, University of Virginia
This article is republished from The Conversation under a Creative Commons license. Read the original article.
CONTINUE READING
Show less
Appearing on MSNBC's "The Katie Phang Show," a retired NYPD detective expressed disgust with Sen. Ted Cruz (R-TX) over his attempts to dismiss the idea of new gun laws to protect children in schools and instead is insisting America needs to turn schools into fortresses.
In interviews and appearing at the NRA convention this weekend in Houston, Cruz has vociferously disregarded the easy availability of high-powered weapons and instead focused on a door that was left open at the elementary school where the shooting occurred.
After host Phang shared a clip of the Texas Republican making his case, she asked former law enforcement detective Marq Claxton his thoughts on what Cruz was proposing.
Calling the controversial senator "boldly ignorant," he proceeded to rip Cruz's proposal apart.
"Marq, I was a prosecutor for half my career, I never prosecuted somebody for leaving a door open. How absurd is this proposal by Ted Cruz that the solution is to make sure that we don't have too many doors at our schools?' host Phang asked.
"Ted Cruz's statements were boldly ignorant and dismissive of the clear obvious danger that is faced by so many people in society because of the prevalence of violence and gun violence in particular," he replied. "It really shows just how so many political electeds lack the fortitude to move forward and do the right thing: save lives."
"Instead of sloganeering, Mr.Cruz and his other elected colleagues really should be working on legislation that provides, or minimizes the risk of damage, and could quite possibly and probably save lives," he continued. "That is some additional gun restrictions, some background checks, there are other things that are out there that will undoubtedly be effective and save lives, and prevent these gun violence deaths."
Watch the segment below or at this link.
MSNBC 05 28 2022 07 23 35 youtu.be
CONTINUE READING
Show less
{{ post.roar_specific_data.api_data.analytics }}