Promising to continue the fight for justice that animated her campaign, Nina Turner conceded defeat Tuesday night to establishment opponent Shontel Brown in the special election to fill a vacant seat in Ohio's 11th congressional district, marking the close of a heated Democratic primary fight that drew national attention and a late torrent of super PAC cash.
"Tonight my friends, we have looked across the promised land, but for this campaign, on this night, we will not cross the river," Turner, a former Ohio state senator, said in her concession speech. "Tonight, our justice journey continues, and I vow to continue that journey with each and every one of you."
"We are going to continue to travel all over this country to ensure that progressives are not left alone when evil lurks," she continued. "Until justice rings for all, justice rings for none."
At press time, Turner trailed Brown by just under six percentage points. Business owner Laverne Gore prevailed in the Republican primary, but she stands little chance of overtaking Brown in Ohio's solid-blue 11th congressional district.
Bolstered by strong grassroots fundraising and the support of both national progressive organizations and local leaders, Turner appeared to be in control of the race early on, with internal polling showing her with a massive lead over Brown and other Democratic contenders.
But the contest's momentum shifted as establishment forces quickly consolidated behind Brown, the chair of the Cuyahoga County Democratic Party. In June, Rep. Jim Clyburn (D-S.C.)—the third-ranking Democrat in the House—threw his support behind Brown, as did former Democratic presidential nominee Hillary Clinton.
The political arm of the Congressional Black Caucus soon followed, touting Brown's "commitment to affordable and quality healthcare, strong unions, fair wages, and a thriving public school system." While Brown has said she would support Medicare for All legislation if it reaches the House floor, she has also criticized the proposal as an attempt to "eliminate employers from providing care for their employees."
HuffPost's Daniel Marans argued Tuesday that "the most important factor of all" behind Brown's late surge "was an influx of outside support from the pro-Israel super PAC Democratic Majority for Israel," a group founded by longtime Democratic pollster Mark Mellman and bankrolled by an oil and gas executive. The organization has also received money from Republican donors.
"At the end of June, the group initiated a $1.9-million TV, digital, and field effort attacking Turner and bolstering Brown," Marans noted, a push assisted by a $500,000 digital campaign by Third Way, a corporate-backed Democratic organization.
Last month, Democratic Majority for Israel circulated mailers falsely characterizing Turner as an opponent of a higher minimum wage, universal healthcare, and immigration reform. Former Ohio Democratic Party chair David Pepper said at the time that the mailers were a "bankrupt and twisted" attempt to "fool people into thinking she holds the opposite views."
In a tweet late Tuesday, Turner said her campaign was unable to "overcome the influence of dark money."
"We knew this would be an uphill battle from the moment we started this campaign," Turner wrote. "While we didn't cross the river, we inspired thousands to dream bigger and expect more."
The youth-led Sunrise Movement, which endorsed Turner in May, applauded the progressive firebrand for running a campaign that centered "a Green New Deal, Medicare for All, raising the minimum wage, and more."
"Thank you Senator Turner for running a people-powered movement," the group added. "Big donors and PACs fought to keep your progressive values out of Congress, but the fight isn't over. We're committed to doing what it takes to ensure we pass a Green New Deal to make a better world for all of us."
CONTINUE READING
Show less
CNN anchor Chris Cuomo testified as part of the NY AG's investigation into his brother, confirming that he was part… https://t.co/XCdyKaBXTV

— Alex Weprin (@Alex Weprin) 1628005832.0
Chris Cuomo was part of his brother's team of advisors trying to push back against the scandal.

"CNN anchor and brother of the governor Chris Cuomo was part of "the Governor's team of advisors from within and outside the Chamber [who] had ongoing and regular discussions about how to respond to the allegations publicly," Evan Hill tweeted.
As the investigative report began circulating, Twitter users began weighing in. Manya argued Chris Cuomo's actions created an inherent conflict of interest because of his role as a journalist.
Saeed Jones tweeted, " A journalist advising a politician (who happens to be a relative) how to spin multiple allegations — later found to be credible by an investigation— is not a journalist who can be trusted to report on politics… which is his job. Don't act brand-new because Chris Cuomo is hot."
Others also had similar interpretations of Chris Cuomo's involvement in his brother's ordeal and some Twitter users are even calling for the CNN anchor to be fired.
Others pointed to Chris Cuomo's own troubling past conduct toward Amanda Knox as further reason to question his role in journalism.
Chris Cuomo should be immediately fired. This is an extraordinary breach of journalistic ethics. https://t.co/BvJxf5KiV5

— Leonid Baezhnev 🔥 (@Leonid Baezhnev 🔥) 1628008226.0
CONTINUE READING
Show less
On the night of Dec. 12, 2020, the day of the first Stop the Steal rally in Washington and three weeks ahead of the Jan. 6 Capitol insurrection, several guests of then-Rep.-elect Lauren Boebert, R-Colo., received an exclusive after-hours tour of the Capitol building from the far-right firebrand.
There are several unanswered questions about this visit, which appears to have violated normal Capitol protocol in various ways. It's not clear who authorized it, since Boebert was not yet a member of Congress and had no official standing in D.C. It's perhaps even stranger that it occurred on a Saturday night, when the Capitol complex is closed. Later, in the aftermath of the Jan. 6 attack, Boebert repeatedly denied rumors that she had offered "reconnaissance tours" to would-be rioters shortly before that event. But her ambiguous comments appeared to avoid any specific discussion of this unexplained December tour.
According to materials reviewed by Salon, the Dec. 12 tour led by Boebert involved various parts of the Capitol complex, including the staircase in the Senate's empty Brumidi Corridors, Senate room S-127 and the Senate briefing room, as well as the then-vacant Capitol Rotunda.
A maskless Capitol Police officer accompanied Boebert's mother and teenage son to the observation deck at the top of the Capitol Dome for a photo taken by a fourth person, presumably Boebert herself. This is the culmination of any Capitol tour, only available to visitors hosted by a member of Congress, and involves an arduous climb up roughly 300 steep and winding stairs to reach the high perch overlooking the city.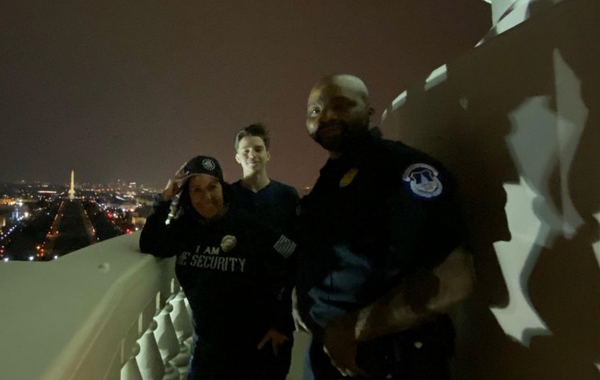 Boebert's guests were clearly enjoying themselves, as can be seen in the photos. But everything about their presence on the observation deck alongside a Capitol Police officer remains unexplained. As mentioned above, the rules for observation deck tours stipulate that a member of Congress and an official guide must accompany each group that climbs the Capitol Dome. There's no indication that either a member or a guide was present on this occasion.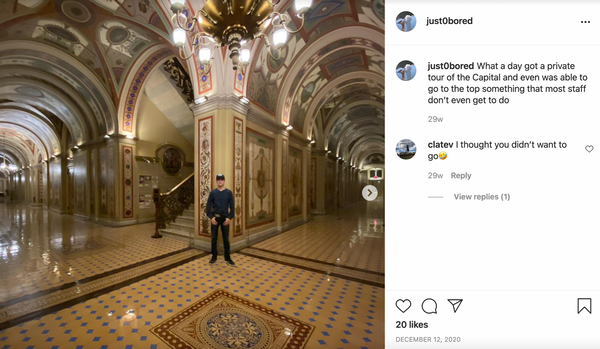 Furthermore, spots for such tours are not readily available, with only eight reservations available on any given day. It's true that Boebert was a member-elect at the time, but that's an important distinction: She certainly was not a sworn member of Congress and had no office, no staff and no official status in the Capitol complex. It's even more puzzling that this tour took place on Saturday night. The guidelines for member-led Capitol tours state they are only available on weekdays from 9 a.m. to 3 p.m., and also that all visitors must sign liability waivers and all tours must be led by official Capitol guides, not Capitol Police officers.
U.S. Capitol Police didn't immediately return Salon's request for comment on this story.
After Rep. Pramila Jayapal, D-Wash., and other lawmakers accused Boebert of "involvement in instigating and aiding the violent riot at the Capitol Building" after Jan. 6, Boebert responded by saying that she hadn't given tours to anyone but her family during the 117th Congress, which began on Jan. 3, the day she was sworn in as a member.
Her choice of words was notably specific, and potentially significant: "I haven't given a tour of the U.S. Capitol in the 117th Congress to anyone but family," she said, specifically not addressing the unauthorized tour she seems to have given during the 116th Congress.
In a January interview with Salon, Boebert denied giving "reconnaissance tours" on Jan. 5, the day before the Capitol assault, saying, "I did not. No." She has issued similar denials to numerous other publications.
This video makes clear that Boebert was in Washington on the day of the first "Stop the Steal" rally on Dec. 12, and also that on Jan. 6 Boebert and her mother visited the Save America rally at around 8:15 a.m., posing for photos with VIPs at the front of the stage.
Jan. 6 rally organizer Ali Alexander can be seen directly behind Boebert in the clip. She is visible in the video for about 10 minutes. Around that time, at 8:30 a.m., Boebert tweeted, "Today is 1776."
The House met at 12 noon that day, and Boebert said on the floor during that session, "Madam Speaker, I have constituents outside of this building right now. I promised my voters to be their voice."
Boebert later told the Daily Sentinel of Grand Junction, Colorado, that her mother took no part in the Capitol insurrection on Jan. 6, declaring, "During the riot, my mother was barricaded inside of my office alongside my staff until the all-clear was given by Capitol Police."
In another report published by the Colorado site News9 after the Jan. 6 attack, Boebert said, "Unfortunately, due to COVID-19, I haven't given any Capitol tours except to show my children around where I'll be working while I'm away from home."
It is unclear whether Boebert or her family members attended the Dec. 12 "Stop the Steal" rally, and exactly how they managed to tour the Capitol Dome that evening without a member of Congress and an official guide. Boebert's office did not respond to Salon's request for comment.
CONTINUE READING
Show less

Don't Sit on the Sidelines of History. Join Raw Story Investigates and Go Ad-Free. Support Honest Journalism.
Subscribe Annually
$95 / year — Just $7.91/month
Subscribe Monthly
$1 trial
I want to Support More
$14.99 per month
{{ post.roar_specific_data.api_data.analytics }}