More than 100 Roger Stone accounts, pages removed from Instagram and Facebook
A network of more than 100 social accounts and pages related to former Trump adviser Roger Stone were removed Wednesday. The under the radar raid reportedly consisted of 54 Facebook accounts, 50 Facebook pages and four accounts on Instagram, a photo-sharing platform owned by Facebook.
Approximately 260,000 accounts followed one or more of these Pages and 61,500 people followed one or more of these Instagram accounts. Several of the pages were also linked to the Proud Boys, a far-right group banned from Facebook in 2018.
The pages and accounts in question appeared to have "coordinated inauthentic behavior" focused on audiences in the U.S., targeting Stone directly, political issues in Florida, and hacked materials released by WikiLeaks during the 2016 presidential election cycle.
"The people behind this activity used fake accounts — some of which had already been detected and disabled by our automated systems — to pose as residents of Florida, post and comment on their own content to make it appear more popular than it is, evade enforcement, and manage Pages," Nathaniel Gleicher, Facebook's head of cybersecurity policy, wrote in a blog post for the social media giant. "Several of these Pages had links to Proud Boys, a hate group we banned in 2018. Some Pages appeared to have acquired followers from Pakistan and Egypt to make themselves seem more popular than they were."
The network was most active between 2015-2017, according to Gleicher.
"Since then, the majority of these accounts have been dormant, and some were permanently deleted by the users," he wrote. "The Page admins and account owners posted about local politics in Florida, Roger Stone and his Pages, websites, books, and media appearances, a Florida land and water resources bill, the hacked materials released by Wikileaks ahead of the US 2016 election, candidates in the 2016 primaries and general election, and the Roger Stone trial."
Gleicher added, "We first started looking into this network as part of our investigation into the Proud Boys' attempts to return to Facebook after we had designated and banned them from the platform. We identified the full scope of this network following the recent public release of search warrants pertaining to the investigation by Special Counsel Robert Mueller in response to a joint petition from The New York Times, CNN, the Associated Press, The Washington Post, and Politico. Our investigation linked this network to Roger Stone and his associates."
Gleicher's team concluded that advertising spent on the campaigns totaled less than $308,000.
Examples of the posts are below.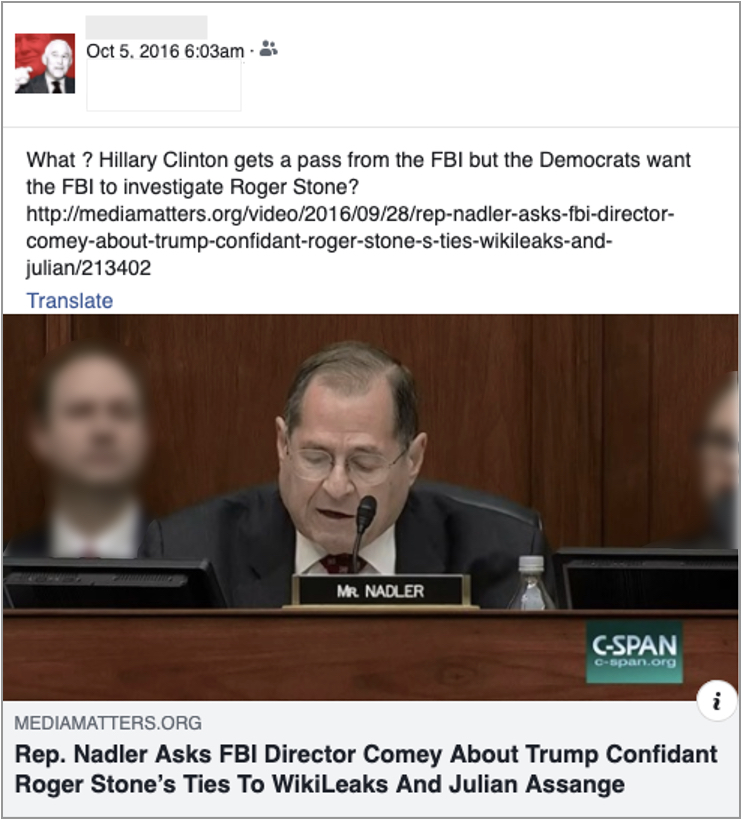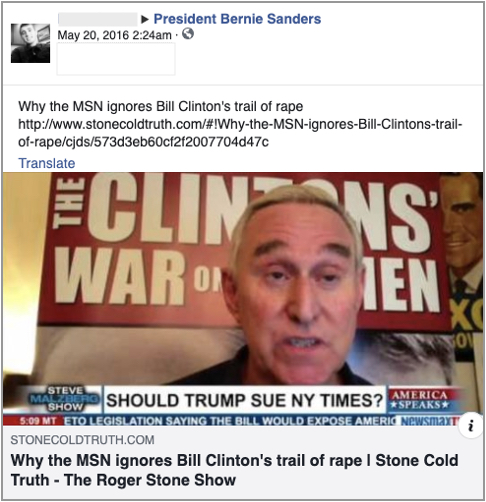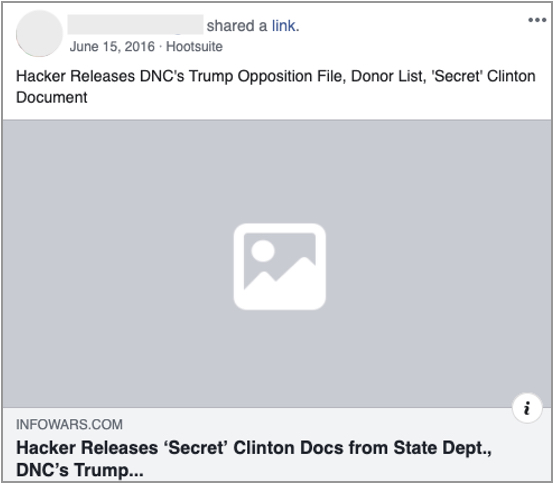 This past February, Stone was sentenced to 40 months in prison following his conviction of lying to Congress, witness tampering and obstructing a proceeding related to the Robert Mueller investigation into the 2016 election and Russian interference.
Trump can 'rage from the balcony' but he 'will not succeed': Dem super lawyer promises to protect the vote
President Donald Trump has a lot of options available to him when it comes to his attempt to steal the election. That doesn't mean they'll work, however.
In an interview with Democratic "super-lawyer" Bob Bauer, "The Circus's" John Heilemann listed a few scenarios for Trump trying to steal the election.
"We already have an electoral infrastructure -- a voting system -- that is not always adequately resourced or supported," Bauer explained. "You take that system, you layer on top of it a pandemic, you lay on top of that destructive behavior by one of the major political parties who espouses this kind of nonsense, and you add on top of that the internet-distributed misinformation plays, and that just means that the task that you have to address these contingencies is much larger than it's been as a structural matter any time in the past."
Melania Trump cancels appearance at Pennsylvania rally due to 'lingering cough'
First Lady Melania Trump has cancelled an appearance at a Pennsylvania rally with President Donald Trump due to her ongoing COVID-19 symptoms.
The first lady was slated to travel with the president on Tuesday to her first rally since receiving the COVID-19 diagnosis.
"Mrs. Trump continues to feel better every day following her recovery from COVID-19, but with a lingering cough, and out of an abundance of caution, she will not be traveling today," a statement from the First Lady's Office said.
CONFIRMED: Melania Trump will no longer accompany her husband to PA tonight, per her spokeswoman: "Mrs. Trump continues to feel better every day following her recovery from COVID-19, but with a lingering cough, and out of an abundance of caution, she will not be traveling today."
Damning timeline shows Trump has falsely claimed the coronavirus will disappear 38 times
President Donald Trump this past February claimed that the novel coronavirus could soon "disappear" or "go away."
Eight months, 8.2 million infections and 220,000 deaths later, however, the coronavirus pandemic is still going strong with no end in sight.
CNN's fact-checking team of Daniel Dale and Daniel Wolfe have put together a damning timeline that shows Trump has claimed the virus would disappear or go away a total of 38 times over the past eight months, even during times when cases and deaths were surging.