Pandagon is daily opinion blog covering feminism, politics, and pop culture. Come for the politics, stay for the complete lack of patience for the B.S. and bad faith coming from conservative leaders and pundits.
Don't miss stories. Follow Raw Story!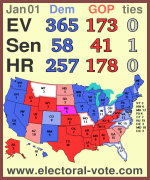 .MSNBC's First Read reports that there has been a shift to Obama in some of the swing states 270 is the magic electoral count needed to win. The new toss up states leaning Obama are Florida, Indiana, North Carolina (yippie) and Pennsylvania.
Likely Obama: CA, CT, DE, DC, HI, IL, ME, MD, MA, NY, RI, VT (157 electoral votes)
Lean Obama: IA, MN, NJ, NM OR, WA (55 votes)
Toss-up: CO, FL, IN, MI, NV, NH, NC, OH, PA, VA, WI (152 votes)
Lean McCain: MO, MT (14 votes)
Likely McCain: AL, AK, AZ, AR, GA, ID, KS, KY, LA, MS, NE, ND, OK, SC, SD, TN, TX, UT, WV, WY (160 votes)
How are things looking in your states? Do you see a big Dem win downticket if turnout is high?