Pandagon is daily opinion blog covering feminism, politics, and pop culture. Come for the politics, stay for the complete lack of patience for the B.S. and bad faith coming from conservative leaders and pundits.
Don't miss stories. Follow Raw Story!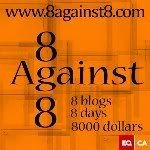 As regular readers, I live in North Carolina, a state where my wife and I have no legal rights here as a same-sex couple, even though we legally married in Canada in 2004. It is for that reason that I have donated to defeat Proposition 8. California's legislature, representing the people, and its courts, representing the rule of law, have moved to recognize the right of gay and lesbian couples to marry. We cannot allow an established civil right in the Golden State to be overturned at the ballot box.
Over the weekend, Grace Chu and Grace Rosen of www.gracethespot.com asked me to help get the word out and fundraise on behalf of Equality California's No on 8 campaign. Our eight-day collaborative online fundraising effort is called 8 Against 8 and it launched on Monday. Every dollar you can give in these last in these last few days helps fight the dollars donated to enshrine discrimination into California's constitution. As we've seen this election cycle, small dollar donations can make a huge difference.
Today is Day Three of our 8 Against 8 fundraiser, and it's been gratifying to see so much support out there for our project — 8 days, 8 lesbian bloggers trying to raise $8000 to support the No On 8 campaign in California. We've received a lot of press and bloglove over the last few days, and as a result we have raised $5,119 $6,054 so far..
My fellow bloggers:
If you can add a bit more to our mini war chest, there is a list of promotions offered by these blogmistresses.
Click over to my pad to learn more.