Pandagon is daily opinion blog covering feminism, politics, and pop culture. Come for the politics, stay for the complete lack of patience for the B.S. and bad faith coming from conservative leaders and pundits.
Don't miss stories. Follow Raw Story!
There's a wonderful blog, KansasPrairie.net, where Peg Britton blogs about many topics, but I was drawn to her blogging about Barack Obama's maternal family (the white relatives). There is a great post that features a photo of his mother, Stanley Ann Dunham and her parents, Stanley and Madelyn Dunham. Some background in the post.
"They secretly married on the spring weekend of the annual junior-senior banquet in 1940, Madelyn's senior year, several weeks before graduation, according to friends. Continuing to live with her parents, Madelyn didn't tell them about her marriage until she got her diploma in June. The news was not a big hit at the Payne family home, but parental objections didn't matter."

"When World War II came, Stanley enlisted in the Army. Madelyn became a Rosie-the-Riveter at Boeing Co.'s B-29 production plant in Wichita. And Stanley Ann Dunham arrived in late November 1942."

"The Dunhams were full-time working parents, renters and strugglers in pursuit of the next opportunity. After the war, Madelyn worked in restaurants while Stanley managed a furniture store on Main Street in El Dorado."

"Mack Gilkeson, a retired engineering professor who grew up in El Dorado and knew both Madelyn and Stanley, has watched their now-famous grandson too. "If I were to squint my eyes and look at Barack," he said, "I'd almost see his grandparents."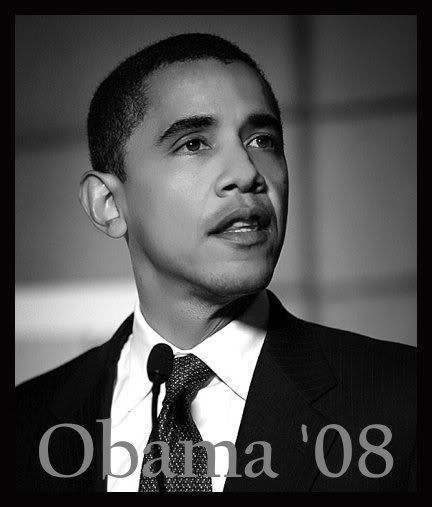 Barack Obama favors his grandfather to a great degree. I wonder what the race-obsessed people who are scared of electing a black president think about this photo (or this one), his family, who loved and cared for him. It chips away the ridiculous one-drop rule of assigning a person to a racial category based on appearance. It makes people discuss the complexity of culture, race and heritage.
For all of the desperate, color-aroused people denigrating Obama with ridiculous charges – fearing that he will enslave white people, or use the power of the presidency to "redistribute wealth" (read: take from the wealthy and give to those poor, lazy black people) — it's easier to only see his blackness (or, rather, what they imagine it to represent), choosing to ignore that his bloodline and upbringing is no less American than Joe the Plumber's. They don't want to face that. It makes some people still queasy about miscegenation squirm. They don't want to see themselves in Barack Obama; it's easier to dismiss the Other as alien or suspect.
Quite frankly, there's nothing we can do about attitudes that are irrational, even unhinged because of internalized racism and the desire to feel superior to groups historically targeted for discrimination.
Other Barack Obama posts at KansasPrairie.net are here.