Pandagon is daily opinion blog covering feminism, politics, and pop culture. Come for the politics, stay for the complete lack of patience for the B.S. and bad faith coming from conservative leaders and pundits.
Don't miss stories. Follow Raw Story!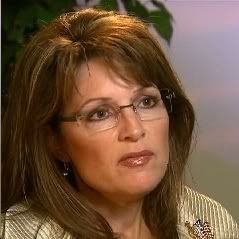 Log Cabin Republicans — do you need to know any more about Bible Spice's perspective on gay and lesbian relationships now? McCain doesn't support FMA, a fact the LCRs has touted early and often, even though it's misleading because he is merely taking a federalist position — he supports state amendments, and actually would support FMA if it looked like marriage equality was going to be the law of the land in a SCOTUS rulling.
But Governor Palin leaves no doubt about where she stands in this interview with David Brody, CBN News Senior National Correspondent (CBN has video):
Brody: On Constitutional marriage amendment , are, are you for something like that?

Palin: I am, in my own, state, I have voted along with the vast majority of Alaskans who had the opportunity to vote to amend our Constitution defining marriage as between one man and one woman. I wish on a federal level that that's where we would go because I don't support gay marriage. I'm not going to be out there judging individuals, sitting in a seat of judgment telling what they can and can't do, should and should not do, but I certainly can express my own opinion here and take actions that I believe would be best for traditional marriage and that's casting my votes and speaking up for traditional marriage that, that instrument that it's the foundation of our society is that strong family and that's based on that traditional definition of marriage, so I do support that.
Now how about her purported lifelong gay friend that she mentioned in past interviews — does she really believe that if her friend is in a committed same-sex relationship that there should be no legal recognition at all? It's nice to know she likes tossing her close friends under the bus like that.
I would love to see this friend come forward to comment on how she feels about Sarah Palin as a close confidante. Of course she may be an LCR for all I know.
Related:
* The Log Cabin Republican Delusional Denial Files