Pandagon is daily opinion blog covering feminism, politics, and pop culture. Come for the politics, stay for the complete lack of patience for the B.S. and bad faith coming from conservative leaders and pundits.
Don't miss stories. Follow Raw Story!
Sigh. I have to share with my Alabama-born wife this dreadfully wingnut news about a debate that was held for candidates in the 5th Congressional District race there.
Steve Johnson of CBS affiliate WHNT.com was the moderator of the debate and this is the first question he tosses out to Republican Wayne Parker and Dem State Senator Parker Griffith: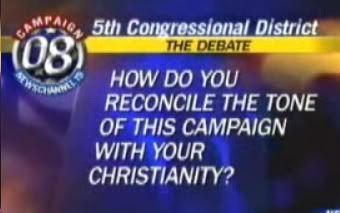 And purported journalist Johnson elaborates with this additional mind-blower — "Is this how Jesus wants to see you campaign? And maybe the best way to ask this is with a popular question — 'What Would Jesus Do?'"
I sh*t you not. Watch it — Parker gets the first crack at an answer. It's below the fold (with transcript).
PARKER: "That's a good question. You know that oftentimes Jesus is presented as meek and mild, but he was a man's man. He grew up a carpenter, he worked with his hands. And he had some really hard things to say to religious leaders of his time. He called some wolves in sheep's clothing, he called others hypocrites. So, I think what Jesus do is he would always speak the truth."

(Dem Griffith tries mightly to steer the debate into sane territory.)

GRIFFITH: "I think he'd probably be ashamed of both of us a little bit. I think the financial crisis that we are facing in America today begs for solutions, it doesn't beg for blame, it doesn't beg for finger-pointing, and throwing mud at each other. I think we've got families out there that are absolutely devastated by this, pensions are disappearing. Families don't know how they are going to educate their children, and I think we really, really have done ourselves a disservice by not discussing the issues."
Ironically, this district, in northern Alabama, has been a reliable Dem one for over 70 years. It includes Huntsville, a hub for NASA, and it hasn't been a hotbed of social conservatism until recently:
In the late 1950s Northern Alabama came to be dominated by the high-tech and engineering industries, a trend which has continued up to the present. In recent years, the United Launch Alliance has located its research center in Decatur. As a result, Huntsville has become the third largest and fastest growing metropolitan area in Alabama.

Thus the politics of the 5th district have been dominated over the past 70 or so years by liberal economics and disinterest in social issues – the hallmarks of the New Deal Democratic tradition in Northern Alabama. However, the Democratic stranglehold on this district has slowly loosened over the past two decades with the onset of civil rights and later traditional values as important political issues in the area.
Hat tip, Blue Gal.