Pandagon is daily opinion blog covering feminism, politics, and pop culture. Come for the politics, stay for the complete lack of patience for the B.S. and bad faith coming from conservative leaders and pundits.
Don't miss stories. Follow Raw Story!
For those of you who are voting today, share your experience. (I voted last Friday, and shot video at the polls).
* How were the lines?
* What's the weather like? It is rainy here, so I'm concerned turnout will be lower, though 66% of NC citizens have early voted.
* What was your wait time?
* What is the GOTV like in your area (we had Obama canvassers visit our home on Sunday)
As Amanda pointed out, call 1-866-OUR-VOTE and report if you have problems casting your ballot. You can record it at the Voter Suppression Wiki.
One of the contributors to PHB, Daimeon Pilcher, just sent in this one from his polling precinct in Virginia – 6AM, the line is out the door: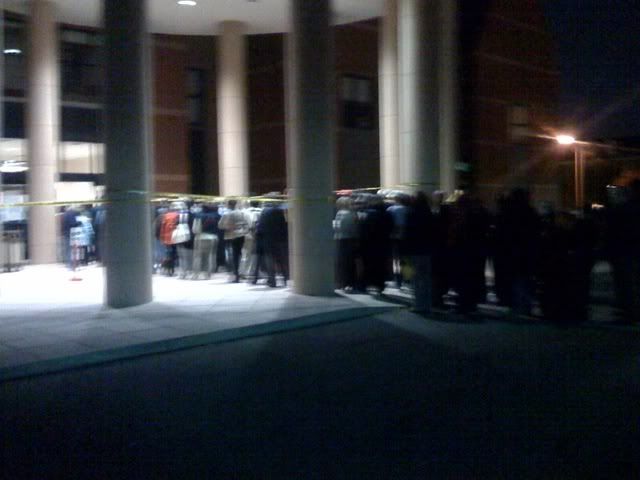 More below the fold. * If you want to go down memory lane and see all of the sad McSame gaffes, here is the site for you: John McCain Senior Moment Video Library.
* TV in NC polluted by Republican slime ads last night: A group called National Republican Trust had a heinous Jeremiah Wright commercial running all night here – it paid a boatload of bucks for an ad buy in NC. It was almost on a continuous loop all night during the SNL show that we were watching. There were nasty anti-Obama advertisements every commercial break, almost all of them by 527s, I don't recall seeing McCain campaign-sponsored ads.
Of course this was going to happen. McCain himself said he wouldn't "go there" with Wright, but that doesn't mean these 527s can't – and quite frankly, I don't think this tired old saw is going to work at this point.
**
Also, the 2008 Weblog Awards are open for nominations — the Best LGBT category is here. The master list of all categories is here, including Best Blog, Best Individual Blogger, Best Online Community, Best Liberal Blog – even Best Comic Strip.