Pandagon is daily opinion blog covering feminism, politics, and pop culture. Come for the politics, stay for the complete lack of patience for the B.S. and bad faith coming from conservative leaders and pundits.
Derek the Abstinence Clown pulls YouTube promo video
Don't miss stories. Follow Raw Story!
Now why would Ohio abstinence-only educator clown Derek Dye be offended by all the free publicity he recently received from the Blend? We posted about his hard work, alerting readers about how his employer the Elizabeth New Life Center landed an $800K grant to spread the word about the evils of sex. Federal funds enabled Dye to take his "Bachelor of Fun Arts" from Barnum Bailey Clown College, and his $50 abstinence-educator certificate and travel the Buckeye state making an *ss out of himself, juggling and saying things like "Having sex before you are married is just like juggling machetes!"
Apparently Dye wasn't interested in all the attention. [email protected]:
One would think that having such invaluable free advertising would please Mr. Dye (viewing this unedited promo video on YouTube), but it appears that his act was for "friendly eyes" only. Derek petitioned YouTube to take down the video, citing "copyright violations". Apparently, Derek was spooked that the American public was actually seeing, first hand, the fraud that our tax dollars are going to.

Following the video's removal from YouTube, I decided to directly embed this video into our site at Amplify, as the American public certainly has the right to see what kind of ridiculous shenanigans our tax dollars fund. The next day, we received an email from Kevin Freckman of the Elizabeth's New Life Center, the abstinence-only organization that received a $800,000 federal grant in 2007, and employs Derek Dye. Freckman demanded that we take down the video, and not use any images of Derek Dye on our site.

Holy purity ring, Batman!

Looks like somebody's really ashamed of the work they are doing with our tax dollars, doesn't it? Why the paranoia?
All we have left of the stellar sex ed is the screen scrape of the YouTube image: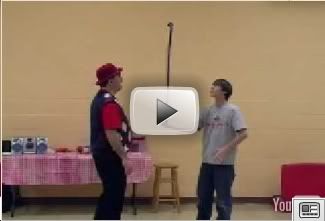 In the wake of his post on the Abstinence Clown, Joe actually decided to attend the National Abstinence Education Association conference, and to experience "a gathering of all of the different groups that have fleeced the government and endangered the sexual health of countless American youth over the last decade." He sent in his $150 registration fee and then this happened:
I received this email from Rachel Turner at the NAEA:

Joe,
Thanks for your interest, but I don't think our organization is a good fit. All members must demonstrate support for abstinence until marriage education and it's evident that you'd have trouble with our mission.

Below this message was a link to Pam's House Blend, where she cites my post about Derek the Abstinence Clown.

Oh well. If they don't want my $150, that's fine. But considering the fact that they might not have the government teat to feed off of very, very soon, maybe they should take whatever money they can get… they'll need it.
UPDATE: It looks like the video has resurfaced; it's below the fold. Let's see how long it's available. Protect thy keyboards…