Pandagon is daily opinion blog covering feminism, politics, and pop culture. Come for the politics, stay for the complete lack of patience for the B.S. and bad faith coming from conservative leaders and pundits.
Bzzzt – wrong answer: Miss California on marriage equality
Don't miss stories. Follow Raw Story!
It's not like folks are tuning in to see the next world leaders on the Miss USA pageant, but the producers clearly wanted to convey a tad more gravitas by having judges ask deeper questions than the usual "achieving world peace" variety. At this year's pageant, held at the Planet Hollywood Resort & Casino in Las Vegas, there were some fireworks.
When Miss California, Carrie Prejean, a motivational speaker (who also tried out to be a briefcase model on Deal or No Deal), stepped up to pull a judge's name from a fishbowl, she drew Perez Hilton's card, who proceeded to ask her the following question:
"Vermont recently became the fourth state to legalize same-sex marriage. Do you think every state should follow suit, why or why not?" Drum roll please…

"Well, I think it's great that Americans are able to choose one or another. Um, we live in a land that you can choose same-sex marriage or opposite marriage. And, you know what? In my country and in my family, I think that I believe that a marriage should be between a man and a woman. No offense to anybody out there, but that's how I was raised and that's how I think that it should be — between a man and a woman. Thank you!"
Um. That answer makes no sense — does she really believe that marriage for same-sex couples is available in every state? Needless to say she received boos from some audience members. Perez Hilton wasn't amused.
BTW, Miss North Carolina, Wilmington native Kristen Dalton (who holds a degree in Psychology and Spanish at East Carolina University), took home the crown; she had to answer a question about the taxpayer bailout of companies. Her answer as to where the stimulus funds should go: "education and school systems and welfare and health care. That's what out taxpayers money should go to, absolutely." Her quote on the win:
"It feels really natural. I've worked so be here and this has been my lifelong dream and it's finally here. And whoever knew you could win in a turquoise gown?"
I would have loved to hear her answer on marriage equality.
And as we all know, Miss California will still be able to put on the crown if Miss NC is unable to fulfill her duties.
I think I'll take a pass on the next round, which is the Miss Universe pageant in August.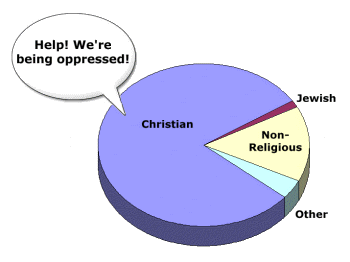 UPDATE: She's blaming her loss not on her ignorant answer, but the homosexual agenda. (Also see: Miss California's Bigotry: She Foists Loss on Homosexual Agenda @ La Figa.):
"It did cost me my crown. I wouldn't have had it any other way. I said what I feel. I stated an opinion that was true to myself and that's all I can do. It is a very touchy subject and he [Hilton] is a homosexual and I see where he was coming from and I see the audience would've wanted me to be more politically correct. But I was raised in a way that you can never compromise your beliefs and your opinions for anything."
You have to read Carrie Prejean's bio on the web page of San Diego Christian College. See it after the jump. Oh my…
"I knew there were secular judges,
but I felt I needed to express my
passion for the Lord."

Carrie Prejean is dedicated to serving the Lord and is not at all shy about her Christianity — even on national television. As the new 2009 Miss California USA, Carrie has shown that she can balance the pressures of national competition with her desire to share Christ's love with younger women.

Carrie has recently been serving with a ministry that seeks to reveal Christ's transforming love to women in the adult entertainment industry. Led by a young women who herself was delivered by Christ, the group "gets real" with these women and discusses their problems and life struggles. Carrie feels that she can connect with women her age and believes that God is using her to bring hope to others.

In addition to her passion for young women, Carrie has volunteered at the local International Ministry Center where she has helped refugees learn to speak English. She is also involved with Voices for Children, a mentor program for children in foster care. "I've been extremely passionate about that. I especially have a heart for helping young girls with low self-esteem. I want to focus on San Diego and give back to my community", she said.

Carrie is currently a student at San Diego Christian College, but has decided to leave for the spring semester of 2009 to compete in the Miss USA Pageant, which takes place in April 2009. Her goal is to return to SDCC to finish her Bachelors Degree, and to later obtain a Masters Degree in the field of Special Education.
Hat tips, Lisa Derrick and Towleroad.