Pandagon is daily opinion blog covering feminism, politics, and pop culture. Come for the politics, stay for the complete lack of patience for the B.S. and bad faith coming from conservative leaders and pundits.
Rick Warren lies about his homobigotry on Larry King Live
Don't miss stories. Follow Raw Story!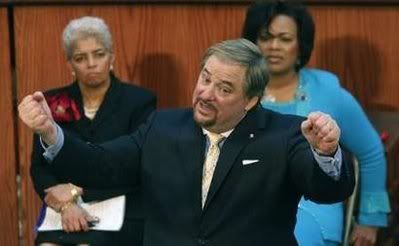 Saddleback Church mega-church pastor and the man who delivered the invocation at the President's inaugural, Rick Warren, went on Larry King last night and insisted, despite all the video footage out there of him on his anti-gay efforts, that he isn't against gays or same sex marriage. (!). Right. What was that about bearing false witness? From the transcript:
KING: How did you handle all the controversy that resulted about the president selecting you?

PASTOR RICK WARREN, DELIVERED PRAYER AT OBAMA'S INAUGURATION: Yes, you know, Larry, there was a story within a story that never got told. In the first place, I am not an anti-gay or anti-gay marriage activist. I never have been, never will be.

During the whole Proposition 8 thing, I never once went to a meeting, never once issued a statement, never — never once even gave an endorsement in the two years Prop 8 was going.
What? I can't stand it when these interviewers don't bother challenging outright BS like this statement! Witness Lie #1 – support for Prop 8:
Let's continue…
The week before the — the vote, somebody in my church said, Pastor Rick, what — what do you think about this?

And I sent a note to my own members that said, I actually believe that marriage is — really should be defined, that that definition should be — say between a man and a woman.

And then all of a sudden out of it, they made me, you know, something that I really wasn't. And I actually — there were a number of things that were put out. I wrote to all my gay friends — the leaders that I knew — and actually apologized to them. That never got out.

There were some things said that — you know, everybody should have 10 percent grace when they say public statements. And I was asked a question that made it sound like I equated gay marriage with pedophilia or incest, which I absolutely do not believe. And I actually announced that.

All of the criticism came from people that didn't know me.

WARREN: Not a single criticism came from any gay leader who knows me and knows that for years, we've been working together on AIDS issues and all these other things.
I don't think anyone has to know you, Rick, if they know how to READ.
Rick Warren: But the issue to me is, I'm not opposed to that as much as I'm opposed to the redefinition of a 5,000-year definition of marriage. I'm opposed to having a brother and sister be together and call that marriage. I'm opposed to an older guy marrying a child and calling that a marriage. I'm opposed to one guy having multiple wives and calling that marriage.

Steven Waldman: Do you think, though, that they are equivalent to having gays getting married?

Rick Warren: Oh I do. …
What is it with these people — fundies like Warren hate to be cornered on national TV being a bigot, even to the point of drop-dead, bald-face lying. The reason they can do this is because they know that a general-interest host will rarely be well-informed and have clips at the ready to smoke the lies out, and Warren knows a hell of a lot more people watch Larry King than saw that Beliefnet interview.
He continues trying to spin this, and flat out avoids commenting on the Iowa decision.
KING: All right. Do you, therefore, criticize or not comment on the Iowa court decision to permit gay marriage?

WARREN: Yes. I'm — I'm totally oblivious to — to what — that's not even my agenda. My agenda is two things.

One, today is the 15th anniversary of the genocide in Rwanda. It's a national day of mourning, which I — as you know, I've been heavily involved in — in Rwanda and helping rebuild that nation and I'm very concerned about that.
Wow, it was certainly on his agenda when he was urging his followers to support Prop 8 to protect marriage from the homosexuals.
This makes me sick. Will Rick Warren ever be held accountable for trying to rewrite his bigoted history? If he's so confident about his position, why has he refused to debate it in public? Why did he try to back out of meeting with gay and lesbian families from Soulforce who were invited to his church?
Larry King's staff needed to click over to the the Rick Warren file at my pad.