Pandagon is daily opinion blog covering feminism, politics, and pop culture. Come for the politics, stay for the complete lack of patience for the B.S. and bad faith coming from conservative leaders and pundits.
Don't miss stories. Follow Raw Story!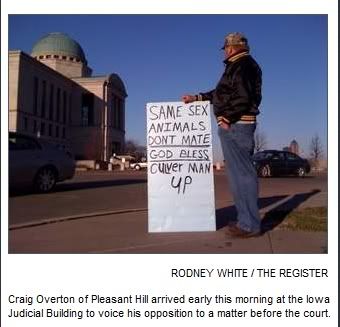 This photo by Rodney White of the Des Moines Register shows you the flaccid, irrelevant arguments left for people who oppose marriage equality. And at this point, even the fundies can't take the whackjobs in their movement.
Don Bailey of Marshalltown, who opposes gay marriage, traveled to the Judicial Branch Building this morning to stand with his fellow conservative activists.

…Bailey joined about 20 gay-marriage opponents who walked over to the Statehouse to seek a meeting with House Speaker Pat Murphy.

They want him to bring up for debate a House bill that would be the beginnings of a constitutional amendment declaring marriage as between a man and a woman. They went to Murphy's office, and rapped on the door, but no one was in, because the Legislature had finished work for the week.

Craig Overton of Pleasant Hill, who also was in the group, carried a homemade sign saying "Same sex animals don't mate." And "Culver man up."

Chris Nitzschke, director of operations for the Iowa Family Policy Center, asked Overton to put down the sign. Nitzschke explained that although his group wants gay marriage banned, Overton's sign wasn't projecting the right image. "Oftentimes, it's not just what you say, it's how you say it," Nitzschke told Overton. "It's not out of hate that we do it, it's out of compassion."
Sorry, guys, you OWN these people. When you ignore the fact that homosexuality exists in nature or compare the committed relationship of two consenting adults to bestiality, you're intimating that marriage doesn't involve consent or that one of the parties needn't the ability to oh, say, read, understand and sign a civil marriage license. Makes you wonder what these guys think of women, doesn't it?