Pandagon is daily opinion blog covering feminism, politics, and pop culture. Come for the politics, stay for the complete lack of patience for the B.S. and bad faith coming from conservative leaders and pundits.
The Lone Star State Legislator stupid…it burns
Don't miss stories. Follow Raw Story!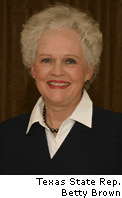 My Texan friends…can you all bounce State Rep. Betty Brown (R) out next time around? Voter ID legislation is being debated and Ms. Cultural Awareness wants Asians to change their names because, well, apparently Americans are too dumb to handle foreign sounding names.
"Rather than everyone here having to learn Chinese – I understand it's a rather difficult language – do you think that it would behoove you and your citizens to adopt a name that we could deal with more readily here?" Brown said.

Brown later told [Organization of Chinese Americans representative Ramey] Ko: "Can't you see that this is something that would make it a lot easier for you and the people who are poll workers if you could adopt a name just for identification purposes that's easier for Americans to deal with?"
Wow. And then Brown became indignant when asked to apologized saying that people are just trying to make this all about race. No, just plain garden-variety stupidity — has Chuck Norris set his secession plans into motion yet?