Pandagon is daily opinion blog covering feminism, politics, and pop culture. Come for the politics, stay for the complete lack of patience for the B.S. and bad faith coming from conservative leaders and pundits.
Don't miss stories. Follow Raw Story!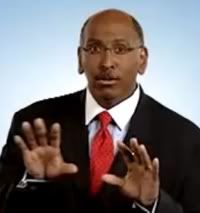 This is just a sad minstrel show at this point. Why is Michael Steele continually allowing himself to be publicly humiliated? Does the job of Top Tool pay that well?
RNC Chair Michael Steele has reached an agreement with dissident party members to work through their differences over proposed rules that would rein in his power to spend GOP money, Republican Party of Wisconsin Chair Reince Priebus told WisPolitics.

Several RNC members introduced the resolutions in the name of good governance, but Steele backers have bristled as the proposals, dismissing them as an attempt to undercut the chair's authority.

…Priebus told WisPolitics later Friday night that Steele was willing to live with rules that help reinforce the transparency that Steele has been trying to instill in the party since taking over.

"But Michael is not going to be handcuffed," Priebus said.
It's more like he'll have a Taser pointed at him by party folks to keep him in line. Steele, for his part, would only say
"Those who still want to wallow in name-calling and blaming and finger-pointing are welcome to do that. But they can do that without me."
Just pitiful.
Related:
* Uh oh — RNC's Steele may lose control of party purse strings