Pandagon is daily opinion blog covering feminism, politics, and pop culture. Come for the politics, stay for the complete lack of patience for the B.S. and bad faith coming from conservative leaders and pundits.
Don't miss stories. Follow Raw Story!
Just another one of those oddball weekend posts; I'll date myself — again. Whether you loved or hated high school, you'll probably identify with some of it. I happened to enjoy my nerdy years at Stuyvesant High School in NYC (class of '81). The Beastie Boys gave a nod to Stuy in the 1986 video "Fight for Your Right (to Party)." BTW, the group has pretty much disowned the song.
Ironically, the song was intended as a parody of party and attitude songs, such as "Smokin' In the Boys Room" and "I Wanna Rock." However, the irony was lost on most listeners. Mike D commented that, "The only thing that upsets me is that we might have reinforced certain values of some people in our audience when our own values were actually totally different. There were tons of guys singing along to 'Fight for Your Right' who were oblivious to the fact it was a total goof on them."…

Despite probably being the group's most famous song, the Beastie Boys have expressed distaste for it. In The Sounds of Science liner notes, MCA jokingly says the song "sucks," though they did not feel the album would be complete without it. The group has not performed the song live since 1987
My fellow
Stuyvesant High School
alums have been forever traumatized by gym class; each squad leader had to wear this infamous red Stuy T-shirt, so to see the shirt turn up in a video was pretty amusing.
That song isn't in my collection, but these two are…
Intergalactic: this video is so out there. Definitely captured the Godzilla insanity vibe. My brother and I used to watch those awful dubbed flicks every Saturday.
Sabotage: this song has had a resurgence because of its use in the latest Star Trek film where kiddo Kirk steals his stepdad's classic car for a joyride in the desert. The Spike Jonze video is another tasty gem for those of us who grew up on those ridiculous cop shows of the 70s.
***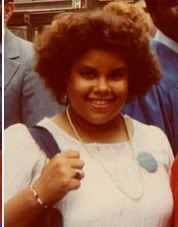 To complete this weekend nostalgia trip, seasoned with a little personal humiliation, here are some photos from my days at Stuyvesant High School (at its old location at 15th Street and 1st Avenue in Manhattan).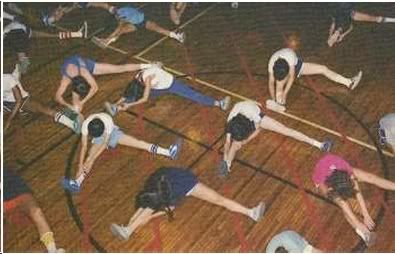 Left: A serious OMG Big Hair day, taken at graduation outside of Carnegie Hall. This is what my hair looked like when it was processed to within an inch of its life, and humidity still got the best of it. Right: The infamous gym class. I never got to be a squad leader — they got the red leader shirts as I mentioned above. Anyway, NO ONE liked gym. For my classmates out there — remember the gymnastics rotation? I nearly killed myself on the uneven parallel bars. One semester, I convinced one of the teachers to let me bring in a jump rope so that I could teach folks double dutch.
Below: Outside Stuy, 15th Street, after classes.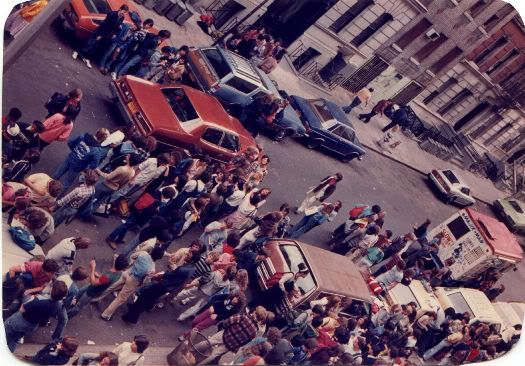 More pix of doom below the fold. My homeroom class.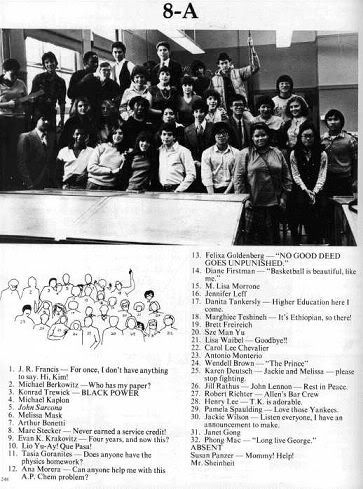 Frank McCourt (of Angela's Ashes fame, was one of my English teachers), one of my grade cards, and my diploma.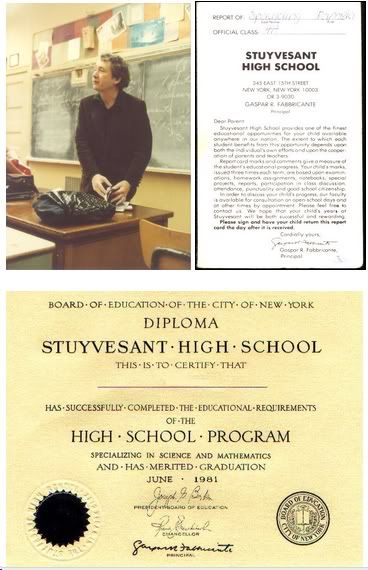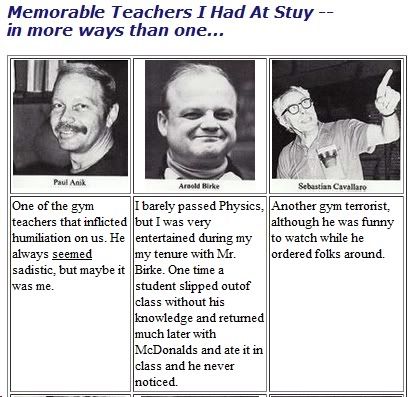 Part of my multi-culti bookworm Morning Crew at Stuy (I've kept in touch with most of the peeps in this pic over the years; many have attended one reunion or another).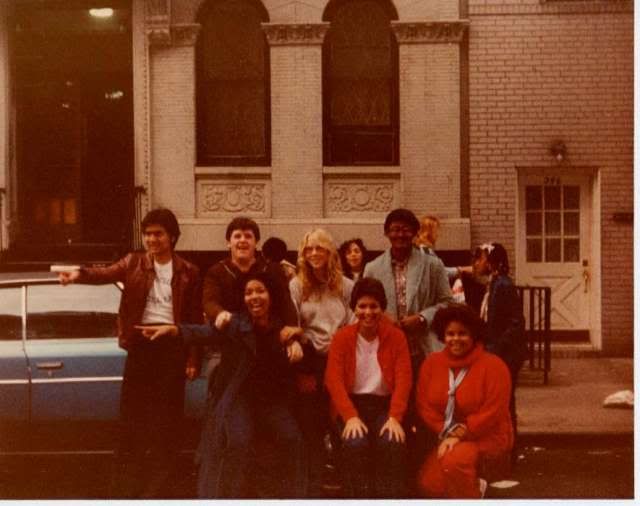 ***
The Stuyvesant High School Alumni Association web site. Notable alums include: Attorney General Eric Holder (1969), David Axelrod (1972), Dick Morris (1964), Jerrold Nadler (1965), James Cagney, Ben Gazzara, Tim Robbins.
Stuyvesant High School Class of 1981 web site
Pix from my 25th HS Reunion – we got to tour the Battery Park City Stuy on this trip (photos by Allan Lee):
At the new Stuy: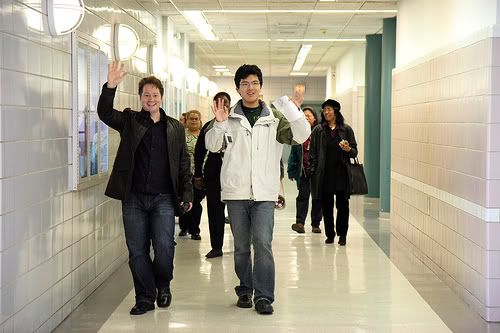 Morning Crew peeps looking over our Stuy '81 Yearbook to figure out who's aged gracefully…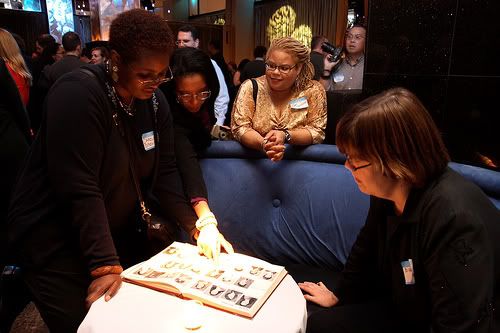 One of my friends updated me on the old building's current use and demographics of the new Stuy:
Is now shared by a high school of nursing professions and a small progressive 6-12th grade school. The populations of each school are VERY different: the former is majority minority and the latter is majority liberal artsy white. The old Stuy building is big enough for both schools to co-exist — the Stuy graduating Class of '81 was like, what, 800? And 10% of that year was African descent. According to insideschools.org, in the new building, it's 2% now. If NYC public schools were crappy in the 70's yet still minority children enrolled in Stuy, one can't blame the current state of the schools. What has changed, then? Geographical brain drain? The lure of private institutions? A mentality of fear and insecurity of success while being a minority in a rigorous school? Everyone passed the same test — graded blindly, so affirmative action accusation fears are unfounded. Is it the repression of showing one's smarts and being accused of "acting white" — whatever the hell that means? The reason for the decline is something that needs to be researched. Is there a minority alum arm at Stuyvesant who encourage kids to follow in their shoes?
My reply:
From what I have heard from friends still living in NYC, the competition to get into the three top public schools (Stuy, Bronx Science and Brooklyn Tech) is so fierce that you'll find the student pop is skewing much more well-to-do as parents eschew private schools and spend their money super-prepping their kids for the entrance exam as they would for an SAT.

When I took the entrance exam I didn't even bother studying for it, believe it or not. It sounds like kids are being prepped right at the elementary school level and obviously, minority populations who have the worst schools in their districts and a good number of parents who cannot afford to jump start their kids with private tutoring are probably the cause of the drop of minority representation at Stuy. This is a terrible development because one of the wonderful things about my years at Stuy was the ability to mingle and study with kids who weren't like me — different races, ethnicities, cultures, religions. And we were all there to learn. The goof-off level was minimal compared to a lot of schools. I wish more kids could be exposed to that level of diversity and common interest.
***
My high school was also in the news for a more somber occasion; Stuy moved to a brand spanking new building down in Battery Park City (near Wall Street) in 1992, and it played a significant role as a staging area in the immediate aftermath of 9/11.
Wikipedia notes:
In the months after September 11, Annie Thoms, an English teacher at Stuyvesant, a '93 alum, and the theater adviser at the time, suggested that the students take accounts of staff and students' reactions during and after 9/11 and turn them into a series of monologues. Thoms then published these monologues as With Their Eyes: September 11th – The View from a High School at Ground Zero
The school newspaper, The Spectator, printed an edition in the wake of 9/11 that was distributed by the NYT.
I attended my 20th reunion on October 13, 2001, and at time Ground Zero was still on fire, in fact the pilot of the plane I was on dipped over the site to show passengers a horrific view of the smoking hole in the ground. It was surreal. On the ground, access was very restricted south of Canal Street. In fact, some of my classmates showed up late to the event because they were doing recovery at Ground Zero. And quite a number of my classmates were working in the area on 9/11 and witnessed the collapse of the buildings and were part of the chaos to escape lower Manhattan that day; it was very apparent that they were still shaken. Despite that tension and sadness in the air, the gathering was good time to be thankful to be alive and to be able to see one another.
***
This makes me feel old…then again, in internet years, I AM OLD. But I recently had another reminder of my Stuy days, from a neighbor of mine, Doug Graves, who is chair of the Performing Arts Department at Durham's School of the Arts. Long-time readers may recall that Doug directed the school's award-winning production of The Laramie Project in 2005 that drew the Phelps KKKlan to my town. Kate and I — and plenty of area LGBTs and allies — turned out to "welcome" the bigots.
He is directing a production of "With Their Eyes: September 11th, The View From A High School At Ground Zero" this fall and wanted to have Stuy alums who could speak about attending this commuter specialized high school — the old Stuy and those who were at the new one during 9/11.
As I begin to unfold this piece with my students, next year, it would be nice to have some *real world* connections to NYC – Stuyvesant – 9/11/01, etc. I was wondering if you might be willing to come in and speak to my cast? I will be in rehearsal all of September and October, although I don't have specific dates yet.

It's hard to believe that we are nearly 10 years on the other side of 9/11/01 – – – when discussing this event, many of my students have no *real-time* memory of it – just what they have read in textbooks, heard from parents, seen pictures of, etc. It will be challenging to make it real for them through the words of these former Stuyvesant High School students, custodians, administrators and parents.
If they don't have direct memory of 9/11, they certainly have no idea about the period of time I attended the school and what life was like in NYC at that time. I told Doug that I'd be happy to meet with his cast to tell them about my days at Stuy, and I hope to meet some of the "kids" who were there on 9/11.